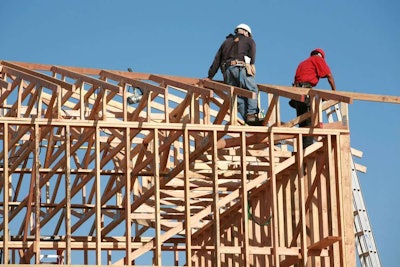 The housing recovery gained more momentum in October as construction began on the most homes and apartments since July 2008.
According to numbers released by the U.S. Commerce Department, privately-owned housing starts in October were at a seasonally-adjusted annual rate of 894,000. That's an increase of 3.6 percent above the revised September estimate of 863,000 and a 41.9 percent increase from the October 2011 rate of 630,000.
The increase was carried by apartment construction which saw a 10 percent increase from September to an annual rate of 285,000. Meanwhile, single-family home construction fell slightly by 0.2 percent to an annual rate of 594,000. The rate in October was a four-year high.
Housing completions saw an increase of 14.5 percent to a seasonally adjusted annual rate of 772,000. That's a 33.3 percent over the October 2011 rate of 578,000.
The Commerce Department reports that the seasonally adjusted annual rate for building permits granted fell 2.7 percent to 866,000. Despite the dip, this rate is 29.8 percent above the October 2011 estimate of 667,000.
Permits granted to single-family homes in October rose 2.2 percent to a rate of 562,000 while apartments were at a rate of 280,000.