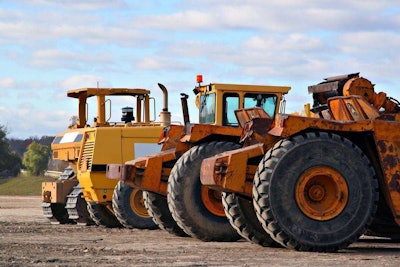 It is almost certain that at some point you will have your equipment fleet appraised. The outcome of that appraisal might affect your ability to borrow money, obtain bonding, purchase equipment and continue to operate and profit.
In other words, appraisals have become a big deal, and you as the fleet manager or fleet owner should be directly involved with the appraisal process.
That's the advice of Brett Hoffman, a 30-year veteran in the field and one of three senior appraisers at J. J. Kane Appraisal Services. Hoffman recently gave a presentation at the 2012 Fall Asset Management Symposium put on by the Association of Equipment Management Professionals, one of 18 presentations given over a day and a half symposium. (For more on the other presentations search AEMP in the search bar above, or simply click the "AEMP" tag in the "More From" box below this post." Here's what he Hoffman had to say.
Take an Active Role
"You want your equipment represented fairly," Hoffman told the AEMP members. It's important that you get a fair shake in your appraisals. The appraiser should be willing to listen to your concerns and seek your input regarding the repairs, overhauls or rebuilds that you have performed on your equipment. Equally, you should be upfront regarding any deficiencies or equipment requiring repairs. His goal should be to determine an independent and balanced opinion of value for all parties involved in using the appraisal.
"It's often to your advantage to be included in deciding who is going to perform your appraisal, especially when working with a lender," Hoffman says. "Usually you are going be paying for the appraisal, whether it be directly or the lender invoices you for it. It's your fleet and you should have a say in who is going to do it and how it's going to get done."
"It's your fleet and you should have a say in who is going to do it and how it's going to get done."
You might want to consider contracting directly with the appraiser rather than allowing the lender to determine who is going to do the work. That way, the final document will belong to you and can be used at other lenders when shopping for financing. If the appraiser is under contract with the lender, they might require that you obtain their permission to use the report at another lender. If you do contract with the appraiser directly, make sure that he is approved by all the parties using the appraisal.
Many lenders have a list of equipment appraisers they recognize as competent. Your appraiser should be willing to make sure he is on one of these lists or can get a lender's approval prior to starting the appraisal.
"The point of contracting directly with the appraiser isn't to get higher values on your equipment," Hoffman says. "A professional appraiser must maintain his credibility and his opinions must be determined independently. But his decisions will be based on the information that you provide him. Making sure that he has all the necessary information will insure that you are provided with a fair and credible report."
The appraiser may not always agree with you, Hoffman says, but he still needs your input. Let him go over his list and answer his questions. Communicate with your appraiser and be honest with him. If you have a machine that requires repairs, tell him. You should be upfront because that adds credibility to your appraisal.
Types of reports
There are two basic types of appraisal reports: the desktop report and the inspection report.
A desktop report is a list of your equipment that you send in, typically to a finance company, Hoffman says. "The values that they determine are usually conservative, since whoever is assigning the values can only assume that the items are in fair or average condition. If the appraisal is done by your lender, he might get some numbers off of the Internet, calculate the averages and plug in a value based on that information. They aren't going to give you credit for things like component rebuilds, undercarriage work or the PM programs that are part of your operation."
An inspection report, on the other hand, is where somebody actually comes out and looks at the equipment and talks to you about its condition and maintenance. If you're calling the shots on your appraisals, this might be a wiser choice.
"Most of you take care of your equipment better than the average operation," Hoffman says. "That doesn't mean everything in your fleet is cherry; just overall that your fleet is in better shape and deserves to get credit for that. You may think they're going to save you money and time by not having your equipment inspected, but you're going to end up losing a lot more by the outcome of your appraisal."
"You may think they're going to save you money and time by not having your equipment inspected, but you're going to end up losing a lot more by the outcome of your appraisal."
USPAP reports
In simple terms, the Uniform Standards of Professional Appraisal Practice (USPAP), is a set of "standards" for producing proper appraisal reports. These standards were developed by a committee that included various government agencies and professional associations involved in producing and using appraisals in the United States and Canada.
A lot of financial institutions ask for a USPAP report, Hoffman says. "The USPAP guidelines do not tell us what the numbers should be, but they are a guide on how to go about conducting our business, what kind of research we have to do, and how to qualify our product." Hoffman says his company, J. J. Kane Appraisal Services, does USPAP reports, as a routine matter because "it provides our customers with a professional standard that all parties can recognize no matter who uses the report."
Choosing your appraiser
Unlike real estate appraisers, there are no license requirements for equipment appraisers. "Anybody can be an appraiser tomorrow," Hoffman says. "But we recommend that you look for someone who can show you he has experience in producing equipment appraisals as well as an understanding of how to produce a proper appraisal report that meets the recognized standards of the appraisal practice.
Hoffman recommends you find an appraiser with affiliation with one of the professional appraisal associations, and references both the Equipment Appraisers Association of North America (EAANA) and the American Society of Appraisers (ASA). The EAANA is comprised of only equipment and machinery appraisers and all members observe the USPAP standards and maintain a professional level for the reports they produce.
Preparing for an appraisal
If the project requires inspection of the equipment, it's important that you have equipment lists, job locations, documentation and maintenance records ready prior to the inspector's arrival, Hoffman says. "We try to inform our client what we will need prior to the start of project so they have time to gather that information," Hoffman says. "We understand that equipment moves constantly from job to job but we try to have a game plan in place prior to showing up so that our inspection time is productive."
It's also important that you let your people know that an appraisal is being done, Hoffman says. An appraisal is a normal procedure for any contracting operation today. Having your people informed that the appraiser is going to be there makes the inspection process go a lot smoother.
"It's also important that you let your people know that an appraisal is being done."
The appraiser should be willing to do his inspection within the constraints your operation presents. Your operations must continue and can't always come to a halt so he can perform his inspections. Appraisers should also show up with all the appropriate safety gear, same as your employees wear. "He shouldn't have to ask you for that stuff," Hoffman says. "Above all, he should be considerate and understand that you are running a business and normal operations can't always stop due to his arrival.
"For our company, that includes a willingness to work on weekends, early mornings and evenings as well as during the day," Hoffman says. "I can see a lot more equipment after the job has stopped than I can if it's operating. I don't mind. I get a lot more done and a lot quicker."