Bridging the Gap
With a growing number of supply options, is now the time to explore alternative-fuel vehicles?
By Jeff Crissey
Adoption of alternative-fuel vehicles in trucking has faced some strong headwinds in the last five years. In addition to significantly higher vehicle costs, the nation's fledgling infrastructure – particularly for liquefied natural gas – has held truck owners back from considering such options. As of this May, only a handful of public and private LNG fueling stations are on the national grid.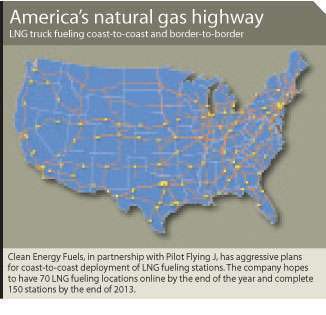 The slow buildout has led to small pockets of North America where LNG trucks can operate in local return-to-base applications, such as the one Southern Counties Express established in the ports of Los Angeles and Long Beach in 2007. In February, North American energy producer Encana opened an LNG fueling station in Frierson, Louisiana, to serve Heckmann Water Resources, which purchased 200 LNG trucks for use in the hydraulic fracking industry.
Meanwhile, nearly every major truck manufacturer now offers at least one LNG-powered truck in its equipment lineup. As the number of vehicle options grows, equipment costs drop and diesel prices continue to soar, more fleets are forced to at least consider the option of alternative-fuel options in certain operations.
Incentives also are in the works to spur investment in alternative fuels. President Obama announced plans in March to increase and expand the tax credit for advanced vehicles up to $10,000 to help offset higher equipment acquisition costs. Navistar will provide natural gas-powered International trucks at the same purchase price as a diesel model if a fleet agrees to fuel up at Clean Energy Fuels locations.
But in order for LNG trucks to take hold industrywide, a larger rollout of LNG fueling stations is required, particularly for truck owners that operate regionally or nationally.
Establishing corridors
In recent months, there has been a surge in optimism for a larger network of LNG stations, as collaboration among truckstops, LNG suppliers and natural gas producers such as Encana and Chesapeake Energy is taking shape.
"It has gained much more attention with hard assets being deployed," says Mark Hazelwood, executive vice president for Pilot Flying J. "It's been a lot of talk up until this point. Now it's starting to be reality."
Shell has announced an LNG pilot program in western Canada, where the company has formed a joint venture with Flying J to create a corridor between Edmonton and Calgary by installing LNG fuel stations at three Flying J locations along the route. The first station will be installed later this year, and the corridor should be completed by mid-2013.
"We feel we have found a way to effectively integrate the need for regionalized supply with an ability to deliver downstream solutions that work for customers," says Michael Williams, business development manager, LNG, for Shell. The most effective model allows sustainable and competitive LNG production across the Americas and not just in preferred markets where production may have been sited, Williams says. "Ultimately, it allows for every customer to feel comfortable that there is fuel availability and security of supply."
"It's not just a California or Texas thing anymore."
In the United States, Clean Energy is leading the charge for a much broader LNG fueling network. Earlier this year, the company entered an exclusive partnership with Pilot Flying J for developing 150 new LNG stations by the end of 2013, creating what the company calls "America's Natural Gas Highway" (ANGH). "That will jumpstart the national network of fueling stations," says Richard Kolodziej, president of Natural Gas Vehicles for America.
Clean Energy has completed four stations and has 90 stations under development. The goal is to establish LNG fueling stations every 250 to 300 miles along major freight movement corridors. Early highway segments for Clean Energy's ANGH include San Diego to Las Vegas by way of Los Angeles and Riverside, Los Angeles to Dallas, Houston to Chicago and Chicago to Atlanta, as well as a number of stations along Midwest highways.
Clean Energy's goal is to have 70 stations operating in 33 states by the end of the year, and 150 stations overall by the end of 2013. Hazelwood sees usage starting regionally in dedicated, drayage and intermodal applications. "Five years from now, I see it being used just as a diesel truck," he says. "I think five years from now, we will have LNG locations at 300 or more of our 550 current locations."
"It's been a lot of talk up until this point. Now it's starting to be reality."
Space is a consideration when selecting locations for LNG stations, and the average cost of installing a two-lane LNG station ranges from $1.5 million to $2 million. Clean Energy has devoted almost $500 million in resources toward developing the ANGH.
"Five years ago, the beta program was in the ports of Los Angeles and Long Beach," says Shaunt Hartounian, regional manager, national accounts for Clean Energy. "This was the incubator." Could trucks go out in a 300-mile radius and come back? Could they pull the load? "The program was successful, and now we are seeing demand all across the country," he says. "It's not just a California or Texas thing anymore." Hartounian hopes LNG infrastructure will support trucks on a Los Angeles-Texas corridor by yearend.
Other entities are taking a more cautious approach to future LNG infrastructure, but larger footprints would boost LNG adoption significantly if and when they do come online.
Tom O'Brien, president and chief executive officer of TravelCenters, operator of the TA and Petro Stopping Center brands, says the company believes it may be several years before demand is robust enough to warrant significant direct investment in LNG or compressed natural gas dispensing equipment "except perhaps on a limited or test basis."
TA's 237 large full-service travel centers average about 24 acres in size, with nearly all located along Interstates. "Those facts may uniquely position TA to become an integral part of a future over-the-road natural gas delivery infrastructure in the United States," O'Brien says.
Onsite solutions
Return-to-base fleets operating CNG vehicles – such as airports, waste management and transit companies – have had success installing and operating onsite fueling stations.
For fleets looking to jump into LNG sooner rather than later, a number of options exist to establish onsite public or private fueling stations. Jeff Scott, vice president of Agility Fuel Systems, says fleets with return-to-base operations and 20 or more LNG vehicles can make the case for onsite fueling stations.
Clean Energy has opened an LNG fueling station at a Pilot Flying J location in Seville, Ohio, for Dillon Transport to service Owens Corning. Dillon and Clean Energy also signed an agreement to open a public-access CNG/LNG fueling station on Dillon's property in Dallas to serve the fleet's LNG-powered tanker trucks.
Suppliers such as Linde Gas and Southeast LNG, a subsidiary of AGL Resources, offer turnkey solutions, from plant supply, onsite fueling and logistics management. "This isn't something we're planning – we can do it today," says David Jaskolski, senior account manager for Southeast LNG.
Truck owners wanting to adopt LNG-powered tractors don't need to commit to a full-blown station right away. "We have mobile refuelers we can put down in the interim and build the station when the time makes sense," says Jonathan Harris, merchant LNG technology manager for Linde Gas.
Whether you're considering an investment in alternative-fuel vehicles now or in the future, a rapidly developing infrastructure and distribution system and immediate solutions providers are able to get you started.
Jeff Crissey is editor of CCJ, a Randall-Reilly publication.
Natural Gas by the Numbers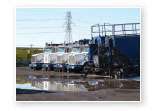 2,543 trillion cubic feet of technically recoverable natural gas in the United States.
No. 17 U.S. ranking for worldwide use of natural gas vehicles (120,000 out of 14.8 million).
$1.50 gallon-equivalent savings of LNG vs. diesel.

70 billion cubic feet of natural gas produced per day in North America.

624 miles Range of a Westport HD engine using two 120-gallon LNG tanks at 100 psi compared to an equivalent diesel truck at 6 mpg.