By Equipment World Staff
Built in America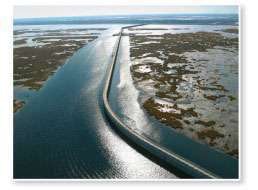 Louisiana storm surge barrier takes top global honors
The Lake Borgne Surge Barrier, a two-mile-long, 26-foot-tall concrete and steel bulkwark against hurricanes and floodwaters, has been named the world's most outstanding engineering achievement for 2012.
Built in response to the devastation caused by Hurricane Katrina, the $1.1 billion barrier's primary designer was a joint venture between Ben C. Gerwick, Inc., and INCA (now Tetra Tech INCA). It moves New
Orleans' first line of defense against catastrophic storms more than 12 miles out from downtown, and is considered a model for floodgate and floodwall design worldwide.
The competition is sponsored by the American Council of Engineering Companies and recognized 147 engineering achievements throughout the world.
Vermeer rock drill honored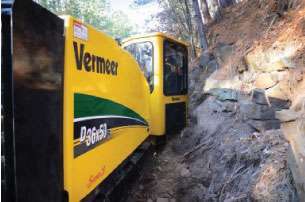 A system that uses rapidly rotating magnets of alternating polarity within the carriage assembly, generating a high frequency percussive action to fracture and bore through though formations, gained the notice of North American Trenchless Technology judges. Vermeer's D36x50R Series II Navigator HDD, equipped with the MAGnum rock drilling system, won the organization's Joseph L. Abbott Jr. Innovative Product Award. The hammer technology was developed in collaboration with FlexiDRILL, a New Zealand-based engineering company. The MAGnum system can be disengaged by the flip of a switch, allowing the unit to convert into a traditional drill.
Venchurs launches fleet demo program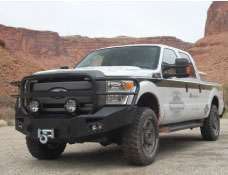 Venchurs Vehicle Systems has launched a new nationwide demo fleet program in which work truck fleet managers test CNG and Bi-Fuel pickups before they decide to buy. Fleet managers who are interested in adding CNG Ford F-250s or F-350s to their workforce have the opportunity to apply for Venchurs' short term loaner program. The Bi-Fuel system allows a 650-mile total fuel range with little reduction in power or towing capacity.
Construction Coalition for a Drug- and Alcohol-Free Workplace formed
Five of the nation's largest construction trade associations have teamed up to form the Construction Coalition for a Drug- and Alcohol-Free Workplace (CCDAFW). The coalition's
mission is to create a drug- and alcohol-free construction industry by providing companies and organizations with the resources necessary to implement drug- and alcohol-free policies into their business practices.
CCDAFW on May 9 launched a nationwide effort urging construction-related firms and organizations to sign an online pledge signifying they will create and maintain a workplace free from substance abuse. In addition to listing current pledge signatories, the CCDAFW website, http://www.drugfreeconstruction.org, includes educational materials and state-by-state policies for substance abuse testing.
The CCDAFW is made up of Associated Builders and Contractors (ABC), The Associated General Contractors of America (AGC), Construction Industry Round Table (CIRT), Construction Users' Roundtable (CURT) and Women Construction Owners & Executives (WCOE).
The launch of the CCDAFW website and online pledge coincides with North American Occupational Safety and Health Week, May 6-12.
There's an app for that!
Here's a roundup of some of the latest construction apps for iPhone, iPad, Android and Blackberry devices.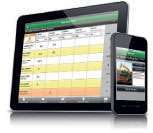 Navman Wireless has released an expanded mobile app for its OnlineAVL2 fleet tracking system that enables managers, dispatchers and executives monitor and manage fleet activities from iPhones or iPads. The free companion application provides real-time fleet operation information and is available for download from the iTunes store.
Freightliner Trucks has launched an app for iPhone and Android users that offers a suite of functional tools. Designed to commemorate the company's 70th anniversary, the app includes a dealer locator based on current location, and event listing that includes trade shows and special events and product information including models, base specs and an image gallery. The app can be downloaded in the iTunes and Android app stores.
OSHA has launched the Heat Safety Tool, a mobile app that calculates the heat index for a jobsite and displays a risk level for workers. A click-through will take you to protective measures for heat-related illnesses. The app is available for iPhone and Android devices, and is also available in Spanish.
HCSS has a new suite of mobile apps that seamlessly integrate with more than 40 accounting systems, and can be used in conjunction with HCSS' HeavyJob Field Management software. Useful for comparing actual job costs against budget on a daily basis, recording daily diary entries and transmitting photos, the apps are available for iPhone, iPad and Android users.
AEMP names technicians of the year
At the organization's annual meeting in March, the Association of Equipment Management Professionals presented the 2012 Technician of the Year award to Master Sergeant Jeremy Parks Sr., EMS, of the U.S. Air Forces, Europe, as the public sector winner; and Thomas Swisshelm, Kokosing Construction, private sector winner.
Parks manages the 8,000-vehicle U.S. Air Force ground transportation fleet in Europe, as well as managing, equipping and training 1,000 military and host nation technicians throughout Europe. Swisshelm, an asphalt equipment master technician manages Kokosing's field mechanics throughout the Ohio region, and is known for his passion for innovation.
The award, sponsored by the AEMP Foundation and John Deere, acknowledges professionals who exhibit technical skills and innovative troubleshooting and diagnostic capabilities, as well as making significant contributions to the profession.
BRIEFS
New Holland Construction is marking the 40th year of manufacturing skid steers. The

company introduced its L35 in 1972, the industry's first vertical lift skid steer equipped with the company's patented Super Boom lift linkage. New Holland has produced more than 200,000 skid steers to date.
Ritchie Bros Auctioneers has bought AssetNation, a privately-held company headquartered in Houston, Texas; with offices in Pittsburgh, Pennsylvania; Mexico City, Mexico and London, United Kingdom. The buy is anticipated to result in will result in several as-yet-unannounced initiatives, the first of which may be announced in July.
Ritchie executives said the company estimates 50 percent of the total global used equipment market in all industries is conducted directly between the seller and buyer. AssetNation, which gives Ritchie a way to make direct buys, is expected to give Ritchie customers more control over the price of the equipment they purchase.
Ritchie plans to continue its unreserved auctions as well.
Trimble has bought Google's SketchUp 3D modeling tool, which it says will enhance its office-to-field platform. SketchUp's platform lets user express their design concepts and has an extensive third-party developer community providing industry-specific solutions. Trimble says it will further develop SketchUp's 3D Warehouse, an online repository for almost two million users to find, share and collaborate on 3D models.
JOIN THE DISCUSSION
Equipment World's LinkedIn page lists job postings and allows users to connect and interact through discussions and polls. Here's a recent discussion, edited for style and brevity:
Q Michel R. (Paris, France)
"Hello, I am wondering about quick couplers for excavators. Who could tell me about this equipment? Are they useful? How do you make your choice? Do you have an opinion on manufacturers?"
A David F. (Dallas, Texas)
"Yes they are very useful and save valuable time on production. There are several different dependable manufacturers. The main criteria that I look for is the initial cost, availability of parts, and which ones are prone to cracking. We are in pipeline work so we use these on all of our loaders and excavators to switch between tools for each piece of equipment."
A Joel T. (Kansas City, Missouri)
"Great for multipurpose machines and they are as useful as the attention you give them. Like any tool, [if you] abuse them – e.g. allow them to get full of dirt garbage and other debris – you will not like them. We just had replace some on a machine recently, because they had not been maintained correctly. They do not work well if you allow them to get rusted up of fill with debris. Given a choice I would always get a machine with them."
Weigh in…Take our poll! Visit EquipmentWorld.com and scroll down the left side of the homepage.
Results from our last poll:
What were your equipment purchase plans for 2012? (148 respondents)
Purchase new and used — 16%
Purchase new — 16%
Purchase used at auction — 18%
Purchase used from dealer — 23%
No plant to purchase — 27%
OUR CURRENT POLL — HOW DO YOU RECRUIT TECHNICIANS?