CONEXPO-CON/AGG
What it means to you and the future of the industry
Staff Reports
With a backdrop of 20-percent construction unemployment and two years of abysmal machine sales, the tri-annual heavy equipment trade show CONEXPO-CON/AGG opened on March 22nd, in Las Vegas – ground zero in the housing bust and a town still reeling from the recession.
People were worried.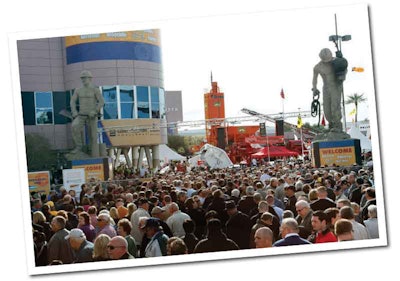 But the construction industry rolled the dice and when the halls opened up a flood of attendees came pouring through – nearly 120,000 of them, to the relief of equipment manufacturers and show organizers. Crowded aisles and quality attendees had everybody breathing a sigh of relief.
Our editors covered more than 150 events in five days. Compared to the 2008 show, we didn't find a blockbuster D7E or high-speed dozer. But this was to be expected. In the grip of a long recession, there's not much money for R&D. If there was a single big change, it was that all the major manufacturers were showing their Tier 4 Interim engines, although Cummins jumped the line with a preview of their Tier 4 Final technology.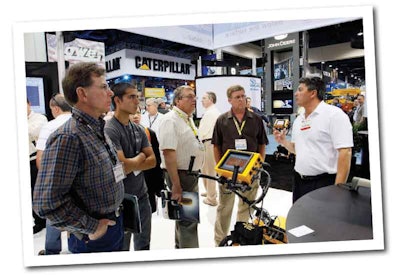 There were some flashes of innovation. We were intrigued by JCB's tracked backhoe concept. Takeuchi surprised us with a small, all-electric excavator. Vermeer's Microtrencher may very well revolutionize the installation of last-mile fiber optic cable. Cat rolled out its highly anticipated vocational truck. And Deere pulled the wraps off its biggest wheel loader yet, a hybrid electric unit that won't be available until 2013.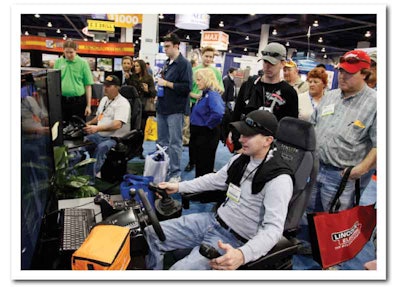 On the following pages, you can read about these and other products introduced at the show. Aside from the product introductions, what struck us about the show was how the Chinese equipment industry continues to grow in size and stature. LiuGong announced the acquisition of Polish manufacturer HSW Dressta, which the company says will within five years put them among the ranks of the top 10 construction equipment players worldwide. Sany built a huge pavilion outside the convention center, and, as journalists, we couldn't help but notice the substantially increased numbers of Chinese reporters.
It's clear the Chinese have targeted North America. What remains to be seen is if they know how tough it is to break into this market. They seem to have learned the old football adage: "Go big or go home." Three years from now, at CONEXPO-CON/AGG 2014, we'll have a better idea of how big their game is, but judging from what we saw in Vegas, we can safely predict that they're not going home anytime soon.
–Tom Jackson
Show intros
For a list of products that made their trade show debut at CONEXPO-CON/AGG, go to www.equipmentworld/digital. There you'll see machines slated to be in production within the next 12 months in the following categories: skid steers, backhoes, wheel loaders, compact wheel loaders, compact excavators, excavators, dozers, graders and self-propelled rollers.
By the Numbers
Attendees: Nearly 120,000 registered
Media representatives: 700
International registrations: 24 percent of the total, representing more than 150 countries
Exhibitors: 2,400 taking more than 2.34 million net square feet of exhibit space *Source: AEM
Soon On a Road Near You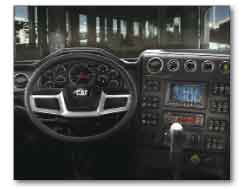 Yes, Cat did exit the truck engine business in 2008. But now they're back – this time as a truck manufacturer, intent on the severe-service segment they know well: Cat says its dealers already touch 70 percent of this market's unit volume.
And so the CT660 was one of the true buzzes of the show, with Cat claiming the truck is no "one trick pony," and will evolve into a full line of vocational models. Developed in a partnership with Navistar, the truck currently features the CT11 and CT 13 engines, and a CT 15 is coming in 2012.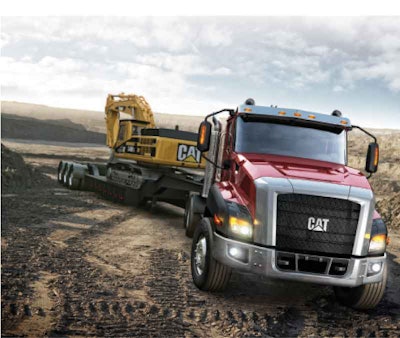 Cat took cues from its wheel loaders and B Series artics when designing the set-back axle model, slated for a July production start. Built at Navistar's Garland, Texas, plant, the truck has a significantly different cab from its "parent donor," says Gary Blood, on-highway product manager. Noting that drivers usually shift by ear instead of looking at controls, Cat combined the speedometer/tachometer in one gauge that can be easily read through the steering wheel. The secondary instrument gauge has large rocker switches.
Cat's Product Link telematics will be standard, coming with a complimentary three-year subscription. "This is just the first stage of these telematics," Blood says. "When this truck is working with a paver, for instance, we envision the two units talking to each other."
Cat makes no secret of its claimed unfair advantage in this new business segment: its dealer network. Supported exclusively by Cat dealers, the CT660 "isn't just something we're starting, but an extension of where we've been," says George Taylor, director, vocational truck group. "We have more than 1.6 million engines in highway trucks today, so we know this stuff." Cat dealers have 400 service locations with 2,300 service bays, 100 chassis dynamometers, more than 2,500 technicians and 7,000 service trucks. Also part of the strategy: using Cat Rental to get the trucks in customer's hands.
Next up: the C15 engine option, slated for next year. "You'll see some Cat DNA in the C15 engine," promises Blood. Also coming is the CT680, a set-forward axle model available in the first quarter of 2013. "We expect to be one of the leaders in this segment within five years," adds Taylor.
–Marcia Gruver Doyle
CT660 quick look
Chassis: Set-back axle; 116-inch or 122-inch bumper-to-back-of-cab lengths
Engine: CT 11, CT13 and CT 15 (available 2012), ranging from 330 to 550 horsepower, with peak torque ratings from 1,450 to 1,850 pound feet.
Transmission options: Cat CX31 automatic, 6 forward/1 reverse; Eaton manual and UltraShift Plus, plus others.
Axle options: Include Meritor, Dana and Fabco 6×4, 8×6, 6×6 and 4×4
Hood: The five-piece hood has a three-piece grill surround that unscrews with 10 screws, creating an easy replacement solution for damage-prone jobsites.
SOUND BITE
"In a typical auction, more than 50 percent of the value of the auction has been bid. We know which items we already have bids on and which items are on a watch list. It's not the auction of old. We don't just wait for people to show up."
– Greg Owens, president and CEO, IronPlanet
Case goes big into compaction
Case is no longer just compact on compaction.
The company's first large double-drum vibratory compactors, the new DV207, DV210 and DV213 models have drum widths of 57, 66 and 83 inches respectively, moving the Case DV family beyond the utility class and into production asphalt paving applications. The company's previous top double-drum model, the DV204 topped out with a drum width of 51.2 inches.
Standard on the new dual-amplitude DV Series double-drum vibratory compactors, the dual drum drive system has independent pumps for each drum that, says Case, eliminate slippage on the compacted surface. With hydrostatic drive as standard, the independent drum vibration control combines with two operating frequencies for the best possible compaction productivity, the company says.
With machine weights ranging from 16,226 to 28,726 pounds, Case's three new large DV Series double-drum compactors have rear-mounted power trains. This design lowers noise, vibration and heat for "superior comfort for long workdays," says Woody Ferrell, Case global product marketing manager, who pointed out the visibility to either side of the machine provided by the 180-degree rotating operator's station. Dual, multi-function, directional controls on both sides of the swivel seat allow for machine operation from the left or right position. The Case vibratory system automatically starts when the drive lever is moved from neutral; it automatically stops when the lever is returned to neutral.
In addition to the large double-drum vibratory compactors, Case also introduced its first pneumatic tire compactor at the show. With a compaction width of 78 inches, the 99-horsepower PT240 operates fully ballasted at 52,910 pounds. The ability to adjust operating weight enables the operator to apply this compactor's four-plus-four overlapping tire configuration to varying soil and asphalt conditions. Floating and oscillating front axles are designed for compacting uneven surfaces. A three-speed powershift drive provides a maximum speed of 12 miles per hour and, says Case, the machine has enough power to operate on grades up to 25 degrees.
–Mike Anderson
Quick Specs
DV207
Operating Weight — 16,226 pounds
Drum Width — 57 inches
Power Rating — 80 horsepower
DV210
Operating Weight — 22,928 pounds
Drum Width — 67 inches
Power Rating — 99 horsepower
DV213
Operating Weight — 28,726 pounds
Drum Width — 83 inches
Power Rating — 130 horsepower
SOUND BITE
"The fact that we're investing $100 million in our Shippensburg [Pennsylvania] facility proves that North America is a priority market for us."
– Olof Persson, then president and CEO, Volvo Construction Equipment, now president and CEO of AB Volvo.
Vermeer invents a better way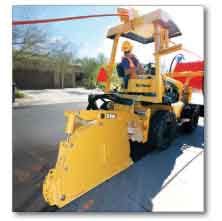 In many upscale neighborhoods, last-mile fiber optic cable is going underground faster than you can say mini-mansion. And rather than plow up streets, yards and driveways, Vermeer came up with a completely new machine that gets the job done fast and eliminates nearly all the mess.
The Vermeer Microtrencher cuts a narrow vertical trench in the joint between the curb and the asphalt. A large saw-blade type wheel studded with carbide or hardened steel teeth does the cutting, making a trench that's just 3/4- to 2 1/4-inch wide and 12 to 16 inches deep. A spring-loaded arm at the back of the tractor keeps the wheel aligned in the cut and flush to the curb/pavement joint. Once the trench is opened up, the fiber and conduit are installed and a special grout is injected into the trench. A seal coat of asphalt on top the grout brings the trench back flush with the surface of the pavement.
The microtrenching process uses supplementary equipment in a train configuration. These additional machines include a water truck in front of the Microtrencher to provide cutting fluid to the wheel and a vacuum truck at the rear to clean up spoils, making microtrenching a one pass system.
–Tom Jackson
Single paving unit delivers two courses at once
The term Compactasphalt may elicit visions of a smaller, even utility paving operation. In the international vocabulary of Dynapac, though, the registered technology will result in a large, single paving unit the likes of which North America has yet to see.
Established in Europe, the Compactasphalt technology that applies the binder and wearing courses at once in a single operation will be demonstrated this summer at a North American roadbuilding jobsite. With Compactasphalt, a Dynapac CM2500 module is added to a highway-class DF145C paver so that two material hoppers and two screeds are used simultaneously. The second screed lays the wearing course – hot on hot – directly behind the highly-compacted binder course laid by the first screed. The initial compaction is then carried out by a roller with a low linear load.
Once assembled, the modular system has a funnel-shaped front hopper with a capacity of 31 metric tons. The upper hopper, holding the wearing course material, has a 17-metric-ton capacity. To carry the CM2500 module, the paver is built "Compactasphalt-Ready" with various modifications, including reinforced tracks, repositioned heating and generator controls, a removable operator console and a lowered display for leveling height. Actual conversion of this paver to a full-fledged Compactasphalt unit takes about four hours.
Use of Dynapac's Compactasphalt technology in Germany has shown a reduction in project time of up to 50 percent and a prolonged durability of the wearing course by up to 25 years, the company says. This reduces the need for milling and repaving during a road's lifecycle, resulting in savings in both agency funds and exhaust emissions.
In comparison to conventional paving methods, the wearing course has been reduced by half to a depth of about three-quarters of an inch, providing savings on the most expensive materials, claims Dynapac. Also, spray-on bitumen emulsions are no longer needed, and a thicker binder layer holds the heat longer for greater machine utilization in cooler weather.
For increased equipment utilization, the same paver can be used without the module in conventional road paving applications, and several pavers can share use of the same module. During conventional paving, gas-heated screeds may pave up to 44 feet wide; with Compactasphalt, the maximum working width is 25 feet. A patented "excenter" adjustment lever is designed to enable the screed to be set quickly to the top, binder or base course.
For applications where a binder course is not required, such as a bridge deck, the Compactasphalt unit's front screed can be raised and deactivated.
–Mike Anderson
Quick Specs: Compactasphalt Modular Paver
Paver power rating — 231 horsepower
Module power rating — 158 horsepower
Binder hopper capacity — 31 metric tons
Finish hopper capacity — 17 metric tons
Maximum pavement width — 25 feet
Paving capacity — 160 metric tons per hour
SOUND BITE
"We have every intent of growing our share of market in North America. We can't fund the type of growth we're talking about globally unless we generate the returns in North America."
– Mike Mack, president, John Deere Construction & Forestry
Komatsu fields second hybrid excavator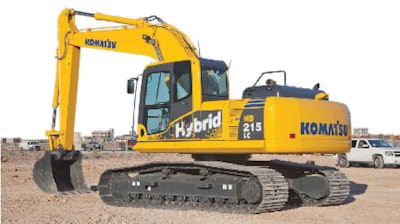 Now there are two. Just in time for rising fuel prices, Komatsu unveiled its second diesel-electric hybrid excavator, the HB215LC-1, building on the engineering success of its first hybrid model, the PC200-LC-8. The first was only test-marketed in the United States with 10 machines, but sold widely in Japan and China. The HB215LC-8 will be mass-marketed in the states.
Both excavators use an electric swing motor that is powered by a generator and ultra-capacitor mated to a 141-horsepower diesel engine. The generator and ultra-capacitor capture energy for the swing motor that would otherwise be lost in the braking action of the swing braking. The stored energy is then discharged to turn the superstructure, eliminating the need for a hydraulic swing motor. The HB215LC-1 can cut fuel use up to 25 percent. It weighs 47,530 pounds and has a bucket capacity of 1.57 yards.
–Tom Jackson
SOUND BITE
"Distribution has always been our No.1 issue in North America. We now have 85 dealers with 250 branches, and none of them sell competing products."
– John Patterson, chairman and CEO, JCB
Cummins shows Tier 4 Final solutions early
While most engine manufacturers were touting their Tier 4 Interim solutions at CONEXPO-CON/AGG, Cummins showed the company's technology strategy for Tier 4 Final on its QSL9 and QSX15 engines.
The QSL9 will combine a Cummins Compact Catalyst with SCR to meet Tier 4 Final's stringent emissions levels. Cummins calls the CCC a "fit and forget" component, meaning it will last the life of the engine and not need periodic ash cleanout maintenance that is now required on diesel particulate filters. It's also smaller than a DPF, which helps with installation. The CCC-SCR design will eventually be applied to all the company engines in in the 3.3- to 9-liter range. With the exception of the SCR system, the Tier 4 Final version of the QSL9 uses most of the same elements as the Tier 4 Interim version, including variable geometry turbocharger and high-pressure fuel injection.
Facing more stringent soot reduction requirements, the 15-liter QSX15 will use a diesel particulate filter (the company's term is a Cummins Particulate Filter) with an SCR system – a design it will share with the QSX11.9. Power ratings get a boost on the bigger engine (up to 675 horsepower) and power density rises to 45 horsepower per liter on the QSX15 and 44 horsepower per liter on the QSX11.9.
Both engine categories gained about 5-percent fuel efficiency moving from Tier 3 to Tier 4 Interim and the company claims additional fuel gains of 3 to 4 percent when the Tier 4 Final versions hit the streets in 2014.
–Tom Jackson
All-Deere 460E
"Customers who now have 40-ton artics can use the Deere 460E to get one more full excavator bucket into the truck," says Mark Oliver, ADT product marketing for John Deere Construction & Forestry. The 46-ton unit is now Deere's top artic size and the first artic from the company that is completely Deere designed, incorporating a 13.5-liter John Deere engine, John Deere wet-clutch axles and ZF drive line. (The company's artics prior to this point have had a Bell Equipment heritage, an alliance that continues with the company's 25- and 35-ton artics.) An on-board scale lets operators know when the truck is loaded to capacity, and the JDLink telematics systems keeps tracks of loads, allowing users to monitor the amount of material used each day.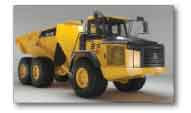 Traction controls have been automated, taking the guesswork out of when to use diff locks, allowing newer operators to get up to speed more quickly. In difficult ground conditions, the system will automatically control the axle differential locks as well as the inter-axle differential lock. The 46-ton is the first of Deere's E Series, and along with 35-ton and 40-ton units, will debut next year.
And for 2013 …
Although it won't see production until 2013, Deere promises its 944 wheel loader will offer a different take on a hybrid electric drivetrain … and up to 25 percent fuel economy. "This will be an efficient system, at times capturing energy that is usually wasted," says John Chesterman, product marketing manager for John Deere 4WD loaders. The loader incorporates four modular, independent wheel drives with electronic traction control. "Instead of winding up the drive line like a big rubber band, we can control how quickly the wheels move individually," says Chesterman.
The model is now out in an unspecified number of field units, and Deere is expecting significant advances in battery technology before the model hits the dirt. The 9-yard loader will be Deere's largest wheel loader offering.
–Marcia Gruver Doyle
SOUND BITE
"The good side of the recession is we have a large opportunity to approach this business differently and take a hard look at what inventory levels we really need."
– Jim McCullough, president and CEO, CNH Construction
Faster, cheaper, easier
Technology providers are producing ways to make machine control technologies even more commonplace. Cat Grade Control, for example, is now more cost effective, says John Thomas, marketing supervisor for Caterpillar's Connected Worksite Solutions, and can be used for rough grading on a D8T or D9T dozer. The motor grader and excavator versions now use the machine's existing cab display, which cuts an estimated $5,000 off the price. Leica Geosystems says its SP Technology now supports dozer control with total stations, providing an alternative when GPS is not usable. The inertial navigation system sensor on the dozer blade "allows you to grade about three time faster than with the previous machine control on applications such as spreading base material," says Nick Guadagnoli, product marketing manager, Leica Geosystems Machine Control Division. Topcon Positioning Systems has expanded its 3D-MC2 system to motor graders, says Tony Vanneman, construction products marketing manager. "We've had this system for dozers since 2008, and we've taken the same sensor and applied it to motor graders, allowing a grader to operate at higher speeds and tighter tolerances," he says. Trimble's 2D excavator system, the GCSFlex grade control system for excavators, gives you everything you need to do precision excavation in a kit no bigger than a suitcase. Installation can be done by the contractor in a couple of hours with no welding or drilling. The system can also be easily transferred to other machines or rental machines. Sensors on the boom feed position and angle information to a display screen you mount in the cab. Once you're set up with your installation, you can bench your bucket once and then begin to dig guided by displays on the screen to accuracies of under 1 inch. This eliminates having a man in the trench checking measurements or rework due to over or under-excavating to the target.
–Marcia Gruver Doyle and Tom Jackson
Terex rolls out largest reclaimer
Boasting 30 percent or more horsepower than the next competitor, the Terex RS950B reclaimer/stabilizer is capable of cutting deep asphalt at unparalleled speeds, says Terex Roadbuilding.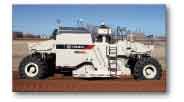 Why a 950-horsepower machine? "It's strictly for production," explains Terex. The four-wheel-drive, four-wheel-steer unit can, with its choice of high- and low-range working speeds, operate at up to 210 feet per minute, the company says. During a heavy reclamation application that required 6 to 8 inches of asphalt to be cut, Terex says the RS950B produced at twice the rate of the 600-horsepower RS600 size model, the previous largest in the Terex reclaimer/stabilizer family.
Powered by a Cat C27 diesel engine, the RS950B offers a choice of four cutter speeds – 102, 131, 163 and 200 rpm – and bi-directional cutting thanks to the housing's front and rear doors. Compared to hydrostatic systems, Terex says its V-belt power-band cutter drive provides up to 25-percent more efficient operation.
The RS950B's standard 8-foot-wide cutter has 218 tungsten carbide teeth capable of cutting 16 inches deep. Available rotors allow for the option of a 10-foot-wide cutter, or a 58-inch-diameter mandrel for 20-inch-deep cuts. The center-mount cutter design distributes the machine weight over the housing, thus maximizing machine production, says Terex Roadbuilding.
During machine operation, a new trouble-shooting panel allows operators a quick glance at critical system pressures, including the charge pressure for the closed-loop hydraulic system. Readings from factory-installed gauges provide readings for the upper and lower cooling fans, propel system, case pressure, auxiliary system and optional additive system. Factory installation, says Terex, eliminates typical aftermarket system installation concerns, such as connecting to the wrong port or obtaining the correct fitting to connect to the system.
Available as an option on the RS950B, a 20-cfm air compressor powered by its own 10-horsepower diesel engine allows service personnel to quickly change cutter teeth without the need to run the main machine engine.
–Mike Anderson
SOUND BITE
"The telematics coin has two sides. The manufacturing side loves the technology, but customers resist it. There are segments where telematics are appropriate and I want to be pragmatic in our approach."
– Ron DeFeo, chairman and chief executive officer, Terex
Ideas that intrigue us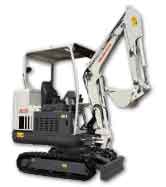 JCB's tracked compact backhoe
Part tracked skid steer, part backhoe, the JCB
ICX T tracked backhoe was still in the concept stage at the show, but the company promises production later this year. The model is an upgrade of JCB's smallest backhoe, and offers several options, including 4-inch longer loader arms, an extending dipper option that takes the machine's maximum dig depth to 10 feet, and 33-gallons-per-minute high-flow auxiliary hydraulics.
Takeuchi unveils first electric excavator
The first fully electric-powered excavator, the TB117e "will break new ground in sustainable and environmental technology in the construction equipment industry," says Takeuchi. Zero exhaust emissions and reduced vibration and sound levels suit the new machine for demolition, foundation and clean-up jobs in hospitals, schools and other sensitive, highly-congested areas, the company says.
The TB117e has a lithium-ion battery that, when fully charged, can power up to six hours of uninterrupted performance. Takeuchi says performance is on par with the company's current TB016, with bucket breakout force of 4,079 pounds, arm crowd force of 1,704 pounds and a top travel speed of 2.9 mph. A digital display lets the operator know how much battery power is left.
Equipped with an onboard charger, the machine can be recharged and ready for work in six to 12 hours, depending on the quality of power source. The onboard plug-in also allows for the continuous charging during operation if the machine has access to a power source.
The company says the machine offers up to an 80 percent reduction in running and service costs. One contractor told us "this is promising, especially for indoor work and remodeling." The prototype machine does not have an established production date.
– Mike Anderson and Marcia Gruver Doyle
Loads in two passes
Volvo Construction Equipment's L250G is a 9-yard loader purpose-designed to fill a tri-axle truck in two passes. "Several manufacturers make loaders that require two-and-a-half passes for the same task," says Doug Phillips, Volvo product competence manager. "What many customers have done through the years is to fill the rear tires with fluid and get a custom bucket to create a two-pass loader. We wanted to offer a machine that could do it straight out of the box." The result, says Phillips, is a machine that increases daily productivity by 30 percent.
The 13-liter V-ACT Volvo diesel engine has cooled exhaust gas recirculation and a particulate filter with active regeneration. The model features Volvo's Optishift system – consisting of a new torque converter with lock up and free wheel stator combined with the company's reverse-by-braking system – which the company says reduces fuel consumption by up to 15 percent.
The Z-bar loader linkage allows for high breakout force for digging in hard materials. Noting that aggregate managers are now using these machines as additional face work units, Volvo also offers a 7.2-cubic-yard spade nose bucket option.
–Marcia Gruver Doyle
SOUND BITE
"What people don't realize is that we have to meet all the same North American requirements [as other manufacturers], and that our components mirror those found in most products on this show floor."
– Curt Unger, president, LiuGong North America
LiuGong buys Dressta
Chinese heavy equipment manufacturer LiuGong announced that it would be acquiring the Polish manufacturer HSW Construction Equipment Division and its distribution subsidiary Dressta.
The company says the move will give it a full line of dozers to sell from 74 to 515 horsepower, making it one of seven manufacturers worldwide with a complete earthmoving product line. HSW has 17 manufacturing plants worldwide, including one in India.
The deal was characterized by LiuGong vice chairman and president Zeng Guang'an as a way to propel the company into the ranks of the top 10 equipment manufacturers in the world within five years. (It says it is currently the 15th largest.) The deal will give LiuGong control of all of HSW's patents, technology, manufacturing facilities and distribution, and is expected to be finalized late this month or early June. HSW has 35 dealers in North America. EW
– Tom Jackson
SOUND BITE
"We can't get long into a conversation with our customers when the question comes up, 'what are you doing to help us be more sustainable?' There's a definite customer draw. Sustainability and technology are the two biggest differences between this year's show and the one three years ago."
– Doug Oberhelman, president and CEO, Caterpillar
More to Come
One issue just doesn't give this show justice. Look for information on the following in future issues …
• Cat, Perkins and John Deere Power Systems discuss their Tier 4 Interim engine solutions.
• IMT introduces a host of new designs for service trucks.
• New Donaldson filtration products.
• Navman Wireless integrates on-and-off road telematics.