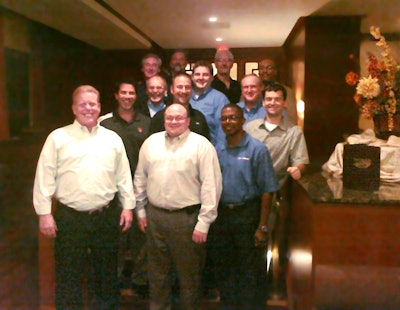 Key leaders in the work truck industry and Auto Crane dealer network came to Ramsey Industries corporate headquarters in Tulsa, Oklahoma, to meet with the Auto Crane team.
Auto Crane works with their dealer channel and business partners to identify specific areas that the company should focus on. The meetings also included a tour of the newly renovated Auto Crane office and manufacturing plant, plus meetings with key customer service personnel and engineering staff.
Participating in the meeting from the Auto Crane Dealer Group were Rob Leasure, Ace Truck Equipment; James Brown, Cannon Engineering; Mark Denny, Carco Industries; Jason Ritchey, Curry Industries; Rob Green, Dealers Truck Equipment; Jim Weir, J & J Bodies; and Greg Stowers, Lee Transport Equipment.
The continuous improvement process will continue as the group plans to meet again at the NTEA Trade Show in Indianapolis in March of 2011.
Auto Crane, Ramsey Winch and Eskridge are wholly owned subsidiaries of Ramsey Industries.