Compact trencher maintenance
Simple steps to improve performance from your attachment
Maintenance matters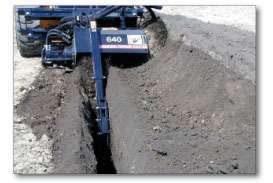 Skid steer trenching attachments are one of the tools that are commonly thrown into the "I'll get to that later" pile because they have few moving components. But, a lack of regular maintenance and inspection will result in a significant lack of performance.
"On average, it takes less than 30 minutes to learn all the proper maintenance and upkeep of a skid steer trenching attachment," says Dave Aldrich, dealer development and service manager for Bradco Attachments. Improper maintenance can cause excessive wear on ground contact parts, overheating of the machine and costly bearing and headshaft damage to the trencher attachment that can be easily avoided."
Check the basics
Before your trencher touches the dirt, match the tooth type and pattern with your soil type. Talk with your dealer or manufacturer representative about the soil type you will be digging into. Then, choose the proper teeth for your application:
• Cup – The most common teeth chosen for skid steer trencher attachments. Ideal for good digging applications like black dirt, loam, moist clay, sand and sandy clay.
• Shark – Ideal for rocky, abrasive or compact conditions like caliche.
• Frost – Ideal for the most extreme trenching applications like coral, frozen ground and fracturable rock.
One of the most commonly overlooked maintenance requirements is the appropriate adjustment of the digging chain tension. If the tension is too loose or too tight, it will cause excessive wear on the sprockets, idler bearings and chain. For many skid steer trenching attachments, there is a full adjustment on the boom so you can set the proper tension. When tensioned, put the trencher attachment in the horizontal position and check the sag of the chain. The typical maximum sag is about 1 1?2 inches.
Your daily inspection checklist
Unlike a dedicated trenching machine, a skid steer trenching attachment has few moving parts. It is hydraulically driven, so there are no pivot points, belts, pulleys or clutches. There are fewer bearings and pins, but the trencher must still be inspected each day before use.
1. Eye test: Walk around your machine and look for noticeable loose bolts, cap screws, fittings and bearings and confirm all safety shields are in place.
2. Hoses: Inspect all hydraulic hoses to make sure they haven't been damaged or pinched by the skid steer frame. Since skid steer trenching attachments often dig at 60- to 90-degree angles, hose pinching is possible. Pinching may cause hose rupture, collapse or restriction, often resulting in leakage and/or overheating of the hydraulic system.
3. Chain tension: Check the sag distance while in the horizontal position.
4. Leakage: Examine the idler wheel and headshaft area for excessive grease leakage to diagnose damaged seals.
5. Greasing: The headshaft should be greased after every 8 hours of use with high-quality SAE multi-purpose grease. Note: Some models have a sealed headshaft and don't require greasing.
6. Teeth: Inspect the digging chain to make sure all teeth are in place, in good condition and the hardware around it is secure and tight on each link.
Routine maintenance
In addition to daily inspection, a few routine checks are necessary to ensure peak trencher performance. The amount of hours put on your machine will define the required time frame of these checks. To be safe, perform the following a minimum of every three to six months:
• Cleanliness: To avoid overlooking worn or damaged components, clean the trencher with a power washer to eliminate all dirt, oil and grease. Keep all safety decals clean and legible.
• Boom wear: Examine the under side and top part of the trencher boom. Replace the wear strips if you see grooves cut into the boom caused by the side plates of the chain.
• Digging chain wear: The tighter the chain tension, the more wear you will see on the rollers that are in contact with the drive sprockets. Replace the digging chain if there is a scooped or beveled groove in the center of the roller wear strips.
• Digging sprocket system: When replacing the digging chain, or after every couple hundred hours of use, be sure to replace the drive sprocket as well even if it's not completely worn. A new digging chain will wear quicker if paired with a worn drive sprocket.
Carrier concerns
The trencher's performance is directly related to the power available from the skid steer's auxiliary hydraulic system. A trencher attachment is demanding on the skid steer's hydraulic system, so routine skid steer maintenance is crucial. For example, regularly check the hydraulic oil levels and replace when dirty or low with the manufacturer recommended oil.
Storage solutions
When the trenching season is over, or preparing for long-term storage, take a few maintenance precautions to ensure your skid steer trenching attachment runs perfectly next time. Here are some common tips when storing for more than 60 days:
• Clean it again: A lot of soils are corrosive if they build up and sit on your attachment for a long period of time. Plus, soils can freeze in the chain assembly if left in cold weather.
• Protect the chain: Clean the digging chain and its rollers and spray a light oil or seal protectant on them to eliminate rusting. Do another walk around eye test and replace any broken components before storing. It is often difficult to remember these small fixes the next time you use it.
Safety is just as important as maintenance. Before performing any maintenance on the skid steer trenching attachment, lower the trenching boom and shut off the engine. Then, make sure all operating and residual pressures are relieved from the hydraulic lines. EW
Source: Doug Amerman is the director of marketing and business development for Paladin Construction Group, which includes Bradco Attachments, based in Dexter, Michigan.
Planer has increased power, down force
Compatible with all current high-flow Bobcat loaders, Bobcat's planer attachments offer increased torque and horsepower for improved performance compared with previous models. The cutting drums on Bobcat planers can be unlocked to allow oscillation up to 15 degrees in either direction. The planers also have increased down force to help keep the drum in the cut during operation.
Visit EquipmentWorld.com/info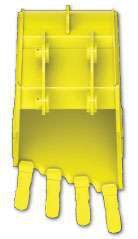 Bucket uses staggered teeth to dig
Leading Edge Attachments' stag bucket uses staggered tooth technology, allowing the excavator to dig coral, caliche and compacted or stratified materials with higher concentrated breakout force. The bucket also helps make flat trench bottoms more efficiently. It is available for excavators above 22,000 pounds.
Visit EquipmentWorld.com/info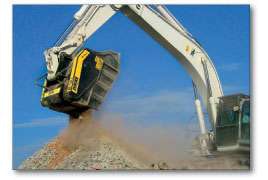 Bucket crushes, collects jobsite materials
Use the MB crusher bucket for jobs such as demolition work, treatment of material from excavation work, road work, mines and rock breaking. The bucket crushes any type of material directly on the site, except iron, and enables the collection of the product. MB offers four models of crusher buckets.
Visit EquipmentWorld.com/info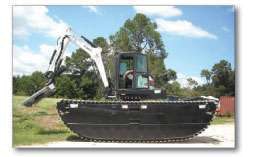 Float right through next job
Don't let water get in the way of the next job. Wetland Equipment's pontoon attachment for the Bobcat E50 has a reserve buoyancy factor of 20 percent, which allows the machine 360-degrees of digging while floating. Wetland's equipment is 100 percent amphibious.
Visit EquipmentWorld.com/info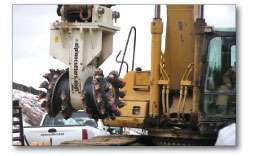 Grinder is quieter with less vibration
Efficient for applications such as rock excavation, trenching and pipeline construction, quarrying and roadwork, Alpine's hydraulic rock/concrete grinders are available in eight sizes for mounting on 2- to 100-plus-metric-ton excavators. The grinders have precise cutting, low operating noise and low vibrations.
Visit EquipmentWorld.com/info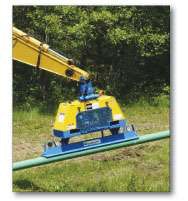 MC3 lifts, moves heavy materials
With a 6,600-pound lifting capacity, the Vacuworx MC3 lifts and moves steel plate, concrete slab, landscape rock, steel and poly pipe and other materials. It is a fully self-contained lifter designed with the underground utility contractor in mind. The lifter attaches to normal size host machines, as well as compact excavators and skid steer loaders.
Visit EquipmentWorld.com/info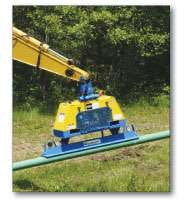 Sink bucket's teeth into abrasive materials
Built for ultimate durability on the jobsite, the CP heavy- and severe-duty buckets by Paladin Construction Group dig and move the most abrasive materials with mini-excavators and excavators up to 200,000 pounds. The bucket teeth and a T-1 cutting edge with triple pass welding sit at a downward angle to aggressively dig into material, providing faster scooping and less stress on the machine.
Visit EquipmentWorld.com/info
Breaker gives power without shock
Reduce shock and vibration with Okada America's hydraulic breakers for backhoes. These units deliver power at speeds up to 1,250 blows per minute, without needing nitrogen assisted accumulator. The two-plate bracket enclosure offers excellent protection, while allowing for heat dissipation. Each breaker is equipped with a custom-fit upper adapter for a direct pin or quick coupler application.
Visit EquipmentWorld.com/info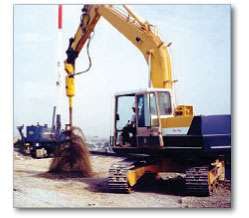 DiggerDrive helps with anchor setting
Anchor setting is made easy with the Eskridge DiggerDrive. The attachment works efficiently, whether mounted to a skid steer, compact excavator, digger derrick or hydraulic excavator. The Eskridge auger drive, digger and anchor setting drives offer torque capacities from 1,500 to 115,000 foot-pounds.
Visit EquipmentWorld.com/info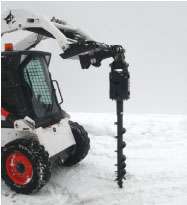 Revolution drive works with prime mowers
Use Pengo's Revolution series drives with carriers such as compact skid steers, compact digger derricks, compact excavators, skid-steer loaders, digger derricks, backhoes and excavators. The sizes range from the MS-100 to the RV-200. The drives offer two-piece bail housing for more efficient customization, a cross-over pressure relief system to protect the drive and larger gearboxes.
Visit EquipmentWorld.com/info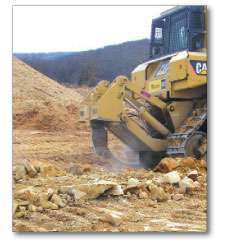 Vail gets heavy with shank ripper
Targeted at the 160- to 200-horsepower class of tractors, Vail Products' super heavy-duty single shank ripper has the heaviest toolbar of its class, according to the company, a thicker pin and shank and the weight of a multi-shank ripper in a single shank ripper design.
Visit EquipmentWorld.com/info
Keep jobsite safe with back-up locking system
Provide added safety on the jobsite with Norco's wedgelock quick coupler's back-up locking system, the I-Lock. The I-Lock engages the front attachment pin without requiring a machine operator to activate the main locking mechanism. The wedgelock couplers are available for excavators from 5,000 pounds to 200,000 pounds.
Visit EquipmentWorld.com/info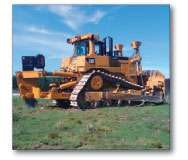 Chisel through rocks with vibratory ripper
Designed to cut through compacted soil, shale, limestone and coal, the Bron 4000 vibratory ripper is a direct pin-on attachment with mounts for most dozers up to 200,000 pounds. The vertical mounted shaker creates a hammer chisel with the single blade, allowing operators to cut in compact conditions.
Visit EquipmentWorld.com/info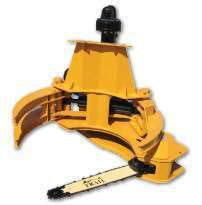 Clean up timber without pain
Put the chain saws down and work from the comfort of the carrier. The Ryan's Equipment DS-24 attachment for excavators cleans up fallen timber. The DS-24 will cut 24-inch timber with one cut and 34-inch timber with multiple cuts. The arm design allows operators to handle standing or fallen timber.
Visit EquipmentWorld.com/info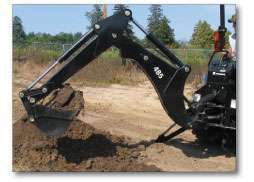 Turn skid steer, tractor into versatile digging machine
Increase your use of skid-steer loaders and tractors with the Bradco 485 backhoe by Paladin Construction Group. At 665 pounds without a bucket, its compact size allows operators to move the unit around the jobsite and provides a maximum digging depth of 8 feet, 5 inches. The full 180-degree dual-cylinder swing rotation provides equal power in both directions.
Visit EquipmentWorld.com/info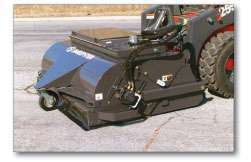 Vacuum system sweeps away dust
The Sweepster VS by Paladin Construction Group uses a vacuum dust abatement system that reduces visible dust while sweeping. The high-volume fan pulls air from the sweeping chamber, filtering dust as small as 10 micron with a PTFE impregnated washable filter. A 26-inch diameter quick-change brush maximizes sweeping effectiveness.
Visit EquipmentWorld.com/info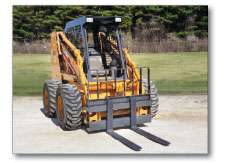 Pallet forks fit skid steers, compact track loaders
For use in a variety of construction, agriculture, landscaping and utility applications, Case Construction Equipment's pallet forks are designed for its skid steers and compact track loaders. The pallet fork assemblies are available with either 42- or 48-inch tines. Case offers the tine sizes in either heavy duty, rated to 5,500 pounds, or standard, rated to 4,000 pounds.
Visit EquipmentWorld.com/info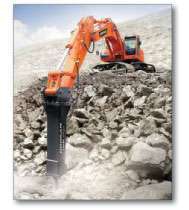 Demolish, break up rock
The Doosan DXB170H hydraulic breaker features nitrogen gas-assisted operation for efficiency in demanding demolition and rock-breaking applications. The 3,572-pound breaker delivers up to 600 blows per minute and is designed for use with excavators in the 18 to 28 metric ton weight range.
Visit EquipmentWorld.com/info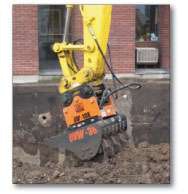 Wheels cut down on equipment vibration
Take some of the stress off of the equipment in variable soil types with MBW's vibratory wheels. The wheels combine vibration at 3,000 vibrations per minute with up to 33,000 pounds of down pressure. Vibratory wheels are available in 24- and 36-inch working widths and mount to excavators up to 60,000 pounds.
Visit EquipmentWorld.com/info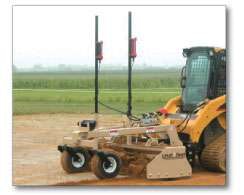 Laser grading box increases accuracy
Use lasers, machine control technology and a digital proportional valve to increase grade accuracy with ATI's Level Best laser grading box. Constructed of a 3/8-inch and 1/4-inch steel plate and heavy-wall steel tubing, the Level Best grading system is built to take daily abuse on a jobsite.
Visit EquipmentWorld.com/info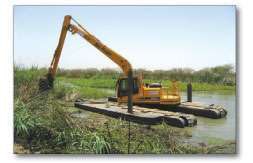 Floating excavator works on soft ground
Removing vegetations, cleaning industrial ponds and other projects related to water ways have been problems for years. The Remu floating excavator can be safely operated in marshlands, shallow water areas and other soft grounds. It also can be equipped with additional pontoons and anchoring legs and operated in open water down to 29 1/2 feet.
Visit EquipmentWorld.com/info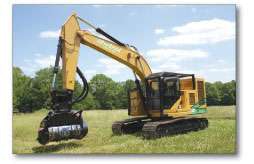 Grinder cuts big, small materials
Cut large trees or small brush with the ProGrind system grinder. The system uses a Cat C-13 engine rated at 440 horsepower. The operator can change the position of the cutter head while the machine is in operation. Progrind also offers a rotator that can be attached to the cutter head.
Visit EquipmentWorld.com/info
Trimming saw made for compact transport
Weighing in at 10,946 pounds, the Loftness Kwik Trim compact trimming saw has a 53-foot reach with a 24-inch diameter carbide blade on a non-conductive fiberglass boom. The saw is JRBpowered by a 35-horsepower Yanmar diesel engine. The boom can be repositioned for a compact transport configuration using an electric winch.
Visit EquipmentWorld.com/info
Put pipes in their place with JRB pipe forks
Replace buckets to safely transport large loads of pipe, lumber and other long construction-related materials with JRB's double top clamp pipe forks by Paladin Construction Group. The double-hinge top clamp unfolds to hold more material, creating larger payloads and more stability. The pipe forks are built to work on 120- to 300-horsepower wheel loaders.
Visit EquipmentWorld.com/info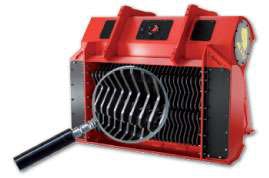 Start job with power, torque
Ensure a powerful start-up and rotation with the Allu D-Series screener crusher's high torque transmission. The D-Series' upper and lower counter blades provide a homogenous end product. There are no nuts and bolts in the material flow. The series has a high production, even with wet materials. The D-Series can be easily controlled by tilting the bucket.
Visit EquipmentWorld.com/info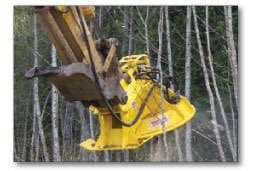 Mulching disc uses bolt-type teeth
Produce finer mulch with ProMac's Super Mulching Disc BT. Adaptable to all previous rotary models of its brushcutters, the BT features more teeth than the standard disc. The disc uses bolt-type teeth and is operator friendly.
Visit EquipmentWorld.com/info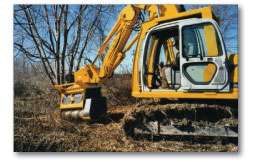 Brush shredder offers direct power
Shred materials with Sneller Machine's high horsepower, self-powered brush and tree removal attachment for excavators. A Cummins 275-horsepower engine mounted in the shredder offers direct power to the cutting head. The attachment also has carbide teeth without bolts that are easy to change.
Visit EquipmentWorld.com/info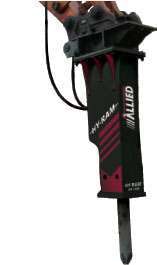 Hy-Ram breaks up hard materials
Demolish concrete structures, trench rock, building foundations, pavement and bridge decks with Allied Construction Products' Hy-Ram HR series. The Hy-Ram features an oil and gas operation that increases efficiency, a longer piston stroke for higher impact power and an auto-stop system to prevent "blank firing."
Visit EquipmentWorld.com/info