Grinders, chippers and shredders
By Lauren Heartsill
POWERFUL PROCESSOR
The Diamond Z DZH4000tkt grinder, DZ's smallest horizontal model, can process up to 95 tons, or 620 yards, of pallets and construction waste per hour.
• Uses either a Tier 2 Caterpillar 765-horsepower or Tier 3 Caterpillar
700-horsepower engine
• Can be transported on a low-bed trailer
• Fuel tank holds up to 360 gallons.
Visit EquipmentWorld.com/info
Here are some questions to ask to narrow your brush chipper search:
What size chipper do I need?
For tree trimming, use a small brush chipper. If you are performing land-clearing work involving tree takedowns, you will generally use a larger chipper. Choose a chipper that can handle at least 80 to 90 percent of the tree and brush you need to chip.
Where do I put the leftovers?
You can partner with a company that needs wood chips, sell the debris to a mulch business or recycle the chips as mulch, compost or an alternative source of energy. You also can check with your local waste authorities because many cover composting in their services.
Which cutting mechanism should I use?
Drum chippers are designed to cover wide feed openings and large material. They are easier on expensive cutter bearings and typically perform better when chipping materials with string fronds, like palm trees, according to Vermeer. Disc chippers can handle materials of all sizes and are more operator-friendly, although they weigh more than the drum chippers.
– Source: Vermeer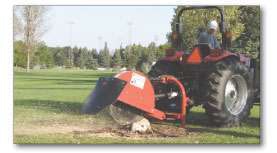 CLEAN-SHAVEN
The Shaver StumpBusters SC-25 and SC-50 feature a heavy-duty rubber shield to protect the operator and deflect debris onto a clean mulch pile.
• Two hydraulic cylinders raise, lower and move the cutting wheel from side to side
• Grinds stumps down to 10 to 12 inches below the ground surface
• Features single direction cutting for long bearing and gear box life.
Visit EquipmentWorld.com/info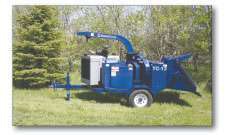 CHIP CONTROLLER
The DuraTech TC-12 can chip limbs and logs up to 12 inches in diameter, discharging debris through its 360-degree rotating chute.
• Uses a spring-loaded feed wheel with adjustable down pressure
• Manual chip deflector gives operator control of discharged material
• Safety features include E-stop switches, a breakaway brake switch and hopper safety light bars.
Visit EquipmentWorld.com/info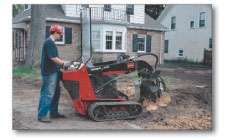 COMPACT GRINDER
The Toro stump grinder's compact design allows users to maneuver in confined areas.
• Attaches to any Dingo compact utility loader
• Offers a 36-inch cutting height and 16.5-inch cutting depth
• Grinder's 17-inch cutter wheel has 12 teeth, with a tooth tip speed of 148 feet per second.
Visit EquipmentWorld.com/info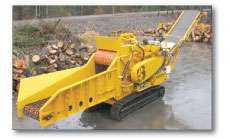 CHANGE JOBS
The road legal Continental Biomass Industries Magnum Force Series 5400 uses its 765-horsepower engine to grind trees to mulch.
• Five interchangeable, field-swappable rotors allow operators to handle different jobs
• Hog box provides full access to daily maintenance
• Grinds contaminated construction and demolition debris and railroad ties with the tie plates attached.
Visit EquipmentWorld.com/info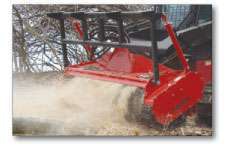 LIGHT CUTTER
The Fecon BH200 Bull Hog is the first Bull Hog to incorporate the HDT Step Rotor system, which has two cutting diameters and a staggered tool pattern for efficient cutting.
• Newly designed body is lighter
• Step Rotor can be equipped with four tool options
• Features larger rotor diameter and bearings than previous model.
Visit EquipmentWorld.com/info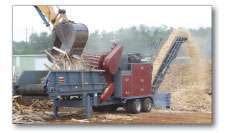 DYNAMIC PROCESSOR
Norco's first grinder, the Dynamic 5240 horizontal model, uses a 52-inch-wide hammermill to process materials such as biomass, slab wood, tree debris and wood scrap.
• Converts from swing to fix hammers in about 45 minutes
• Produces up to 200 cubic yards an hour from infeed materials of up to 18-inch diameter
• Infeed hopper's loading capacity is 54 inches by 16 feet.
Visit EquipmentWorld.com/info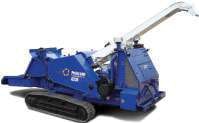 SLICE AND DICE
The Peterson 4310 drum chipper uses babbit-type knife systems to change chip length, ranging from 0.5 inch to 1 inch.
• Has a 36-inch diameter by 40-inch wide drum
• Control panel features an LCD display that shows the engine and system parameters
• Chips brush, small feed stock and logs up to 26 inches in diameter.
Visit EquipmentWorld.com/info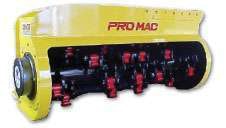 HIGHWAY CUTTER
Pro Mac Manufacturing's horizontal shaft cutters discharge material under the front of the cutter head, making them safe for highway maintenance.
• Comes in three sizes: 34, 48 and 60 inches
• Main arbor shaft is mounted in the frame with two self-aligning spherical roller bearings
• Frame is a torsional member to resist movement and mechanical problems.
Visit EquipmentWorld.com/info
MINI MOUNTER
FAE's PML/EX grinding and shredding attachments mount onto
6.5-to-8-metric-ton excavators.
• Available in three cutting widths: 39, 49 and 59 inches
• Shreds up to 3-inch-diameter material
• Has a flow of 16 to 17 gpm.
Visit EquipmentWorld.com/info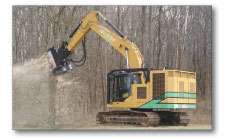 CONTROLLED OPERATION
The ProGrind grinder is an efficient machine for sewer, water and right-of-way contractors.
• Offers a rotator that attaches to the cutter head
• Operator can change the cutter head's position while the machine is in operation
• Uses a 440-horsepower Cat C-13 engine.
Visit EquipmentWorld.com/info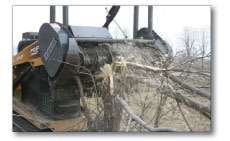 FORWARD ROTATION
Loftness Attachments' KwikAx mulching head rotates down in front, using a forward rotation.
• Backdrags to reprocess the material on the ground
• Available in 53-, 63-, 73- and 83-inch cutting widths
• Has a lower power requirement than previous model.
Visit EquipmentWorld.com/info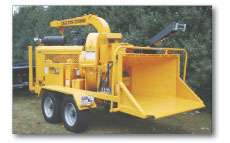 ADJUSTABLE FLOW
JP Carlton's wood chippers fit a variety of applications, like landscape, tree maintenance and land clearing.
• Uses a hydraulic system with a single integrated manifold
• Adjust chip flow positioning with the hand crank swivel discharge
• Features a form-welded frame and dual lift cylinders.
Visit EquipmentWorld.com/info
CUTTING CONTROL
Jarraff Industries' four-wheel-drive Geo-Boy is the largest brush cutter tractor in its class with 200-horsepower and 250-horsepower engine options.
• Shreds and clears materials such as dense brush, undergrowth and whole trees
• Cab controls are within operator's reach
• Undercarriage allows for efficient control and movement, as well as a low ground-pressure rating.
Visit EquipmentWorld.com/info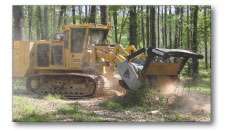 TRIPLE THREAT
Tigercat developed three mulcher carriers for jobs such as vegetation management, exploration projects and land clearing.
• Range from 300 to 500 horsepower
• Convert to a feller buncher
• Counter-rate function allows carriers to pivot about its center axis.
Visit EquipmentWorld.com/info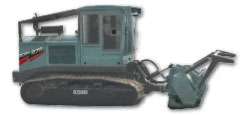 COMPACT POWER
The Bron 275 mulcher is powered by a Cat C7 engine, producing 275 horsepower for grinding trees and undergrowth.
• Has a max forward and reverse speed of 3.6 mph
• Mulcher is compact and fully hydrostatic
• Has a 3.5-psi ground pressure rating.
Visit EquipmentWorld.com/info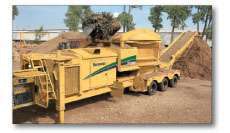 DOUBLE OPTIONS
The TG7000 grinder from Vermeer has two Cat 3412 engine options, including 860 horsepower and 1,000 horsepower.
• Features a self-tensioning, maintenance-free drive chain
• Has an inside tub diameter of 10 feet, a depth of 56 inches and an
11-foot-4-inch loading head
• Uses reversible hammers and cutter blocks.
Visit EquipmentWorld.com/info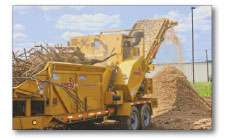 HORIZONTAL HORSEPOWER
Rayco's RH1754-240 horizontal grinder processes materials such as wood chips, lumber scraps, pallets and logging slash.
• Uses a 240-horsepower Cummins 6.7-liter diesel engine
• Has variable speed control on both infeed and discharge conveyors
• A magnetic head pulley separates nails and light metals.
Visit EquipmentWorld.com/info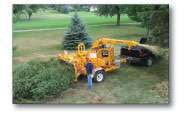 PRODUCTIVE EQUIPMENT
Bandit Industries' productivity package comes standard on all new whole tree chippers and horizontal grinders.
• Online display shows equipment condition and alarm history
• Alert notifications send out automated e-mail announcements for alarms and fault codes
• GPS mapping feature tracks machine and provides maps.
Visit EquipmentWorld.com/info