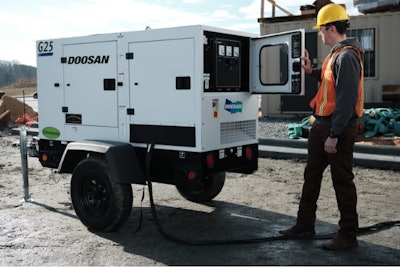 Doosan Portable Power
Doosan Bobcat is ditching the Doosan moniker for its parent company's lineup of portable power, industrial vehicle and industrial air products. The rebranded products – which will make their first public appearance at ConExpo-Con/Agg 2023 – will now don the Bobcat trade dress in North America and select markets worldwide.
Doosan Portable Power (DPP) air compressors, mobile generators and light towers; Doosan Industrial Air (DIA) rotary air compressors; and Doosan Industrial Vehicle (DIV) handling equipment, including forklifts, will undergo design and aesthetic changes in alignment with current Bobcat branding.
The three Doosan lines remained with Doosan Group after Doosan spun off its construction division Doosan Infracore in August 2021. Doosan Infracore was purchased by Hyundai Heavy Industries and has now been rebranded as Develon, whose new brand name will also debut at ConExpo. Doosan acquired Bobcat from Ingersoll Rand in 2008.
"Bobcat is an iconic brand that changed the world with the invention of the compact equipment industry, and we are excited to unleash the brand in bold, new ways," said Scott Park, Doosan Bobcat CEO and vice chairman. "Doosan Portable Power, Doosan Industrial Air and Doosan Industrial Vehicle have long legacies of developing high-quality products. Bringing these strong Doosan brands into the Bobcat portfolio allows us to further expand these business lines, while also growing our overall Doosan Bobcat business and providing even more solutions to help our customers accomplish more."
With the changes, Bobcat aims to strengthen overall brand equity, market recognition and consumer recall of all product offerings. The transition will create a cohesive customer experience and grow the organization's footprint, thus making the brand accessible to more customers and in more places, the company says.
During the past five years, Bobcat expanded its offerings with new technologies and expanded product lines, such as grounds maintenance equipment, which includes compact tractors, small articulated loaders and zero-turn mowers.
"The Bobcat brand empowers ambitious and passionate groundbreakers to accomplish more. Across the globe, big challenges get smaller because of our equipment; from breaking down walls to building up communities, we're proud to provide people what they need to be successful in their endeavors," said Laura Ness Owens, Doosan Bobcat vice president of global brand and North American marketing. "By expanding the Bobcat brand to the portable power, industrial air and industrial vehicle industries, Bobcat can help even more customers, in more ways than ever."
Bobcat-branded material handling equipment, industrial air compressors and portable power products are expected to be available for customer purchase through Doosan Bobcat's global dealer network at a later date. Bobcat and these rebranded product lines will remain part of the broader Doosan Group portfolio.
The name change comes after the recent news that Doosan Infracore would rebrand as Develon. Hyundai purchased Doosan Infracore in August 2022 after Doosan Heavy Industries & Construction ran into financial trouble and decided to sell its construction equipment segment to pay off debt. The acquisition included the Doosan orange construction line and the Doosan Engine group, but not Doosan Portable Power or Bobcat. Develon and Hyundai Construction Equipment operate separately as subsidiaries under the newly created Hyundai Genuine.