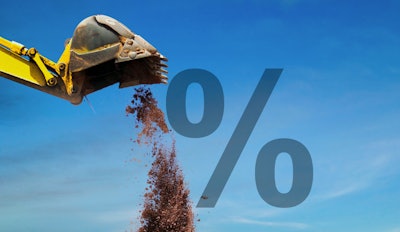 Can OEM dealers and other sellers of heavy equipment increase their sales by being more proactive about their available financing and leasing options? In my long experience in the equipment financing industry, the answer is a resounding "yes".
Whether it's a single OEM heavy equipment dealer who offers a financing program through the OEM, or a dealer/retailer who sells multiple lines and/or used equipment and has several financing options available, all can raise sales by simply making financing more visible to buyers.
Reactive vs. Proactive
Over the years, I've worked with hundreds of heavy equipment dealers and retailers, and when it comes to offering payment options, they fall into two categories: Reactive and Proactive.
The dealers and retailers who are reactive about offering financing generally rely on the financing program itself to do the advertising. Sure, they will outwardly offer a financing option when the OEM/financing partner decides to have a special and sends literature or banners,. Otherwise, they are content to have a financing brochure on the table and let customers ask about monthly payments. On their websites, these dealers may mention financing somewhere, but it's usually limited to "ask us about it".
Mind you, there is nothing wrong with this way. In fact, this hands-off approach is how a good number of dealers and retailers use financing. A prospect comes in, looks at machinery, and the salesperson sells the machinery itself. Financing might be brought up if the salesperson asks "how are you going to pay for this?," but otherwise, they are comfortable letting the prospect ask about it and/or supply their own bank financing.
Then there are the more proactive dealers and retailers. They (correctly) surmise that almost all new and used heavy equipment sales are financed in some form anyway and make it a part of their sales process.
Whether they exclusively use the OEM financing program or have several different credit options, their websites will have their financing option(s) listed prominently. They might have a downloadable or interactive credit application online, or depending on their finance partner's capabilities, even offer instant payment quotes on a "financing" page. In their showrooms, some will have an "as low as xyz a month" sign on every piece of equipment. And perhaps even the same on the website.
Many proactive dealers will have their salespeople mention financing every time. Some have reached out to the OEM's program or their third-party finance partner and worked out a typical payment their salespeople can quote every day ("if you qualify, you can get this for XYZ a month – would you like me to check for you?")
These dealers have taken a page from automobile dealerships and simply assume every customer is not only going to finance the purchase, but they are going to make the monthly payment a key part of the sales process. This is not a bad assumption in 2021, as nearly every company in existence is looking to preserve capital.
Nobody Pays Cash Anymore
A 2016 Equipment Leasing and Finance Association study stated that 78% of equipment purchasing firms use some form of equipment financing or leasing. This shouldn't be surprising to anyone.
Anecdotally, I'd put the number much higher, especially in 2021 as we emerge from a business-altering pandemic. In short, lessons learned, combined with an increasingly headline-driven economy that can turn on a dime (or a sneeze), have caused companies to look hard at their cash flow. Unless they cannot get financed at all, the thought is it's better to use someone else's money for capital expenditures and keep their own in the bank.
This does bring up the question of why some dealers and retailers are not more proactive about offering payment options. The largest rebuttal I get is being proactive about payments seems "pushy". But as I've mentioned, financing is almost certainly happening anyway on these purchases – it just happens away from the dealer's desk, or (much worse) with another dealer.
Personally, I say it's convenience, not pushiness. In my experiences in working with vendor partners over the past 30+ years, the more proactive they are about payment options, the more they sell – it's as simple as that. It makes it easier to buy, and let's face it, "$XYZ a month" always looks better than the full retail price.
Five Tips to be More Proactive
Let's wrap this up with five tips that can help heavy equipment dealers and retailers be more proactive about financing. Whether you work with an OEM program or a third party (or both), doing one or more of these should help increase sales on both new and used heavy equipment.
1) Make Sure Your Financing Option is Clearly Stated on Your Website
Have a link in the main navigation, and a "financing" page. Even if that page only mentions that you have an OEM program available, the more prominent it is, the better.
2) "As Low As…"
Ask your OEM or financing partner about offering an "as low as $xyz a month" right on individual models. It's a great sales tool.
3) Hard Copy Collateral is Helpful
If you print your own brochures or similar, mentioning financing options there will not hurt you. And make sure anyone coming into your showroom knows financing is available.
4) Have Your Salespeople Quote a Payment Every Time
Your salespeople would probably love quoting a payment to every prospect. If at all possible, encourage them to do so. Give them the tools to mention monthly payments, and even "assuming good credit" ballpark amounts.
5) Look Into Advanced Strategies
Your OEM and/or financing partner may have "no payments until next year" or "skip your first payment" capabilities. These can be attractive to buyers.
Years of our own internal data tells us having a financing option is a proven winner, but to get the most out of it, it needs to be done proactively – the more ways a heavy equipment dealer or retailer can put monthly payments in front of buyers, the more they will sell.
Chris Fletcher is the vice president of National Accounts at Crest Capital which offers small and mid-sized companies financing for new and used equipment, vehicles and software, as well as offering equipment sellers a simple and risk-free financing program.