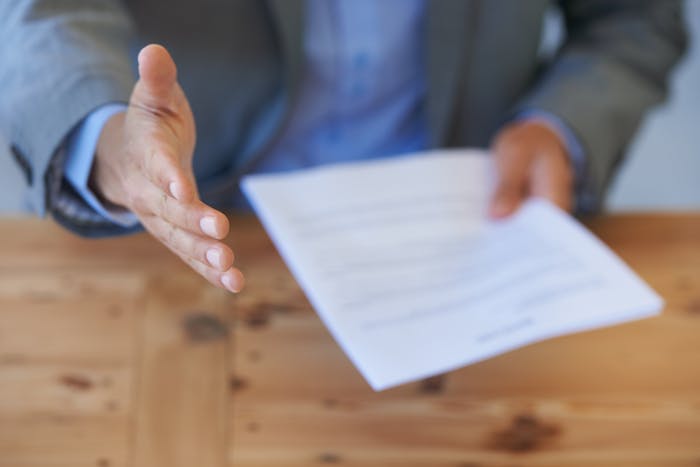 Getty Images
Most manufacturers treat dealers well, and most dealers reciprocate, each recognizing the other's importance to their overall business efforts.
But markets, like relationships, tend to change over time, and what looks like a great deal today may not be as appealing tomorrow. Look at all of your options and be prepared to negotiate these agreements carefully.
In my last article, I covered a number of statutory issues in state equipment dealer laws that come into play when negotiating a dealership agreement. This month I'll drill down into some critical operational issues. Such items can have a major impact over time on the health of the manufactuer-dealer relationship.
Coverage
First you need to know whether your state has enacted a dealership statute; most have, but the types of equipment covered can vary substantially from state to state.
You'll then need to determine whether the statute covers your types of equipment. If not, you may have to rely solely on your dealership agreement, a franchise statute (if applicable) and/or equity concepts for your rights and remedies.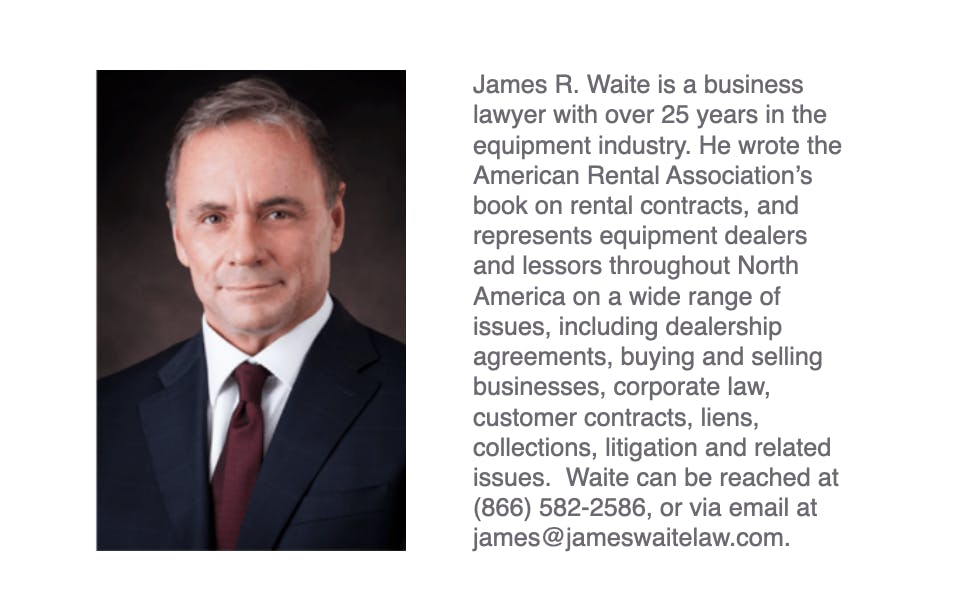 Start with locating your state's "fair dealer" or "equipment dealership" (or similarly titled) statute and review the definitions section for the type of equipment carried. (And also be aware that some states – including Kansas, Alabama and Georgia -- have more than one).
These definitions can range from "agricultural equipment" to "industrial equipment" to "heavy equipment" and they may not be clearly identified. This sometimes makes it necessary to look to other unrelated areas of the state's law and/or prior judicial interpretations in order to get a sense for whether statutory protections might extend to a dealership arrangement in your state.
The definitions are important; if you can access legal protections that cannot be overridden or circumvented by a dealer/OEM agreement, you risk might be reduced.
But there several related questions to consider: If a state dealer statute does apply, can it be waived, overridden or circumvented? If so, how might a manufacturer accomplish that? Does it provide you with enough types and levels of protection?
Even in states where dealership laws apply, they often address only some of the relevant issues. They can also offer insufficient protection and/or can be circumvented through captive or cross-defaulted financing relationships with OEMs (more on that later).
So it's imperative to carefully negotiate and review these agreements. Closely examine the following:
Waiver of statutory coverage
Don't assume that the coverage in a state law can be waived by inclusion of an express waiver in your dealership agreement. Although a number of state statutes (including California, Colorado and Florida) restrict or invalidate such waivers, many states do not.
The dealership agreement also may call for an application of the laws of the state where the manufacturer is located, rather than the dealer. Even if your state restricts these waivers, the laws of your OEM's state may permit them. This may mean that your dealership has little or no statutory protection – not a great place to be if you decide to sell or seek enforcement of a repurchase obligation.
Some other things to consider:
Modifications: Dealership agreements often include a unilateral right for the manufacturer to modify the agreement upon written notice to the dealer. Some state dealership statutes (North Carolina, Ohio, Oregon and Tennessee) prohibit unilateral modifications that "change the competitive circumstances" of the relationship.
Even in states that restrict such modifications do you really want to litigate what constitutes a "change of competitive circumstances?"
These modifications could involve an OEM changing an exclusive territory, extending warranty requirements or increasing requirements for staffing, advertising and/or equipment purchase. Make sure your attorney reviews all agreements to pinpoint these areas of concern.
Transferability: Most dealership agreements include a restriction on transferability that reads something like this: "Neither the Dealer nor any of its owners shall sell, transfer, assign or otherwise convey substantially all of the assets and/or voting control of the Dealer without first obtaining the written consent of the Manufacturer, which consent may be granted, conditioned or withheld in the sole and absolute discretion of the Manufacturer."
Many state dealer statutes limit a manufacturer's right to restrict such transfers and/or require that "such consent shall not be unreasonably withheld." Still, you'll need to determine up front if you have any protections under applicable dealership laws, whether those those protections are waivable, and that the dealership agreement includes the right, even if limited, to transfer your operation either in a planned sucession or a sale.
Note: Manufacturers can often be persuaded to allow for intra-family transfers and/or limited rights to transfer to third parties who demonstrate industry knowledge and experience, creditworthiness and financial capacity.
Notices of default and cure periods: Depending on the terms of the contract, defaults can come in many forms.
Though payment defaults are virtually always identified, other types of defaults, such as failure to meet and/or maintain financial ratios, staffing levels, sales quotas, advertising standards, facilities requirements, geographical sales limits, etc., can motivate a manufacturer to attempt to terminate and/or modify a dealership arrangement.
In some cases, a dealer may not even realize it has failed to satisfy one of these non-monetary requirements. In others, neither party may bother to pursue the issue – at least not until management changes, sales drop or some other motivating factor manifests itself, such as a new or larger prospective dealer in the same area.
These non-monetary default cans come as a big surprise to a dealer, unless the dealer has a right to "notice and opportunity to cure" before being declared in default. Sample language for this in a contract would look like this: "In the event of any alleged non-monetary breach by Dealer, the Manufacturer shall deliver to Dealer written notice of the nature of the alleged breach and the cure reasonably required therefor ("Notice of Breach"), in which event, the Dealer shall have not less than 90 days from and after its receipt of such Notice of Breach in which to cure the same to the reasonable satisfaction of the Manufacturer before being deemed in default."
Again, although some state dealership statutes include similar notice-and-opportunity-to-cure requirements, many do not, meaning that a dealer could find itself the subject of a business-destroying surprise termination, unless the necessary provision is included in the dealership agreement.
Termination (whether good cause is required): It might seem natural to assume that only a dealer's "material" breach should be sufficient to warrant termination of a dealership agreement by a manufacturer.
This mistake has left many dealers without recourse when they were terminated by an OEM for what the dealer assumed were minor infractions. Unless the applicable dealer statute and/or dealership agreement requires good cause for the termination, the dealer could be terminated for something as seemingly benign as failing to timely deliver a financial statement, upgrade an advertisement or hire an additional salesperson.
Though the majority of state dealer statutes require good cause for termination, many of them do not. There is also no universally accepted definition of "good cause" for these purposes.
Most states include a specific list of examples, including bankruptcy, insolvency, material misrepresentations, legal violations and material breaches of dealership agreements. Others (such as California) simply require a "failure by a dealer to comply with the requirements imposed on the dealer by the dealer contract."
Even in states where the dealership law appears to override many conflicting provisions of dealership agreements, the importance of a properly reviewed and negotiated dealership agreement cannot be overstated.
Repurchase obligations: When a dealership agreement is validly terminated, the obligation, if any, of the manufacturer to repurchase the dealer's unsold inventory is usually paramount.
Such obligations vary dramatically from agreement to agreement and from state to state. Many dealership agreements offered by manufacturers or distributors either ignore such requirements or include language to the effect that: "The Manufacturer has no obligation to repurchase any equipment, parts, materials, supplies or other items from the dealer."
Most state dealer statutes, however, impose repurchase obligations on manufacturers in varying degrees and invalidate contrary contract provisions. Some appear to do so but then don't fully support such obligations and leave the dealer in the position of being stuck with equipment and/or parts it can't sell or require the manufacturer to repurchase or support.
Since there's the danger that an unfavorable statute or judicial precedent might be applied, make certain the dealership agreement includes the right of the dealer to require the manufacturer to repurchase unsold equipment and parts upon termination.
Drilling down
Now let's turn to some of the more important functional/operational issues driving all of this.
Carefully consider and negotiate these issues and try to factor them into your dealership agreement:
Purchase Requirements: Identify the minimum number of machines, and levels of parts, supplies, consumables and other items the dealer will be required to purchase and when.
Stock Levels: Determine the minimum levels of stocks of parts and supplies that will be required and how/when they will be supplied.
Availability: Identify a selection and sufficient quantities of desirable equipment and required parts, supplies and consumables to be made available by the manufacturer.
Changes to Equipment Designs and/or Specifications: Negotiate for a right to return and exchange obsolete machines for new designs/specifications. At a minimum, require reasonable levels of parts and consumables support for the lives of all machines (including those discontinued or rendered obsolete by design or specification changes), and if possible, make certain those requirements don't expire or terminate when the dealership agreement expires or terminates (taking into consideration that the dealer may have customers who need long-term support).
Timing: Require reasonable timing for deliveries of equipment, spare parts, supplies, consumables, etc., since equipment downtime tends to severely impact future sales. These details, for example, could include such phrasing as "no more than X days/weeks from date of order."
Prices: Specify pricing for each of the above, and determine whether, when and how much those prices might be adjusted during the term (knowing that manufacturers often start with a blanket right to adjust prices as they see fit). Require reasonableness and where possible, include most-favored-nations status (a requirement that the prices you pay must be no higher than the lowest prices paid by any other dealer in the manufacturer's network), caps on price increases and extended advance notice for any such increases.
Rebates and Discounts: Will the dealer be entitled to any rebates, concessions, subsidies and/or discounts? If so, identify levels and preconditions, and if any of them are material to the dealer's ability to perform profitably, identify them as "a material portion of the consideration flowing to Dealer."
Payment Terms: Identify sale and payment terms for items to be purchased from the manufacturer, and require written approval of both parties for changes (or as a fallback if the manufacturer insists on flexibility to change payment terms the ability to terminate and require repurchase and/or most-favored-nations status).
Warranty Support and Reimbursement: Identify the levels of warranty service, if any, the dealer will be required to provide and customers will be entitled to receive, and whether that service requirement will extend to equipment sold by the manufacturer and/or other dealers within the dealer's territory. If so, the dealer will also need to know how and when the dealer will be compensated (Note: Remember that reimbursement rates that look good today might not look so good in a few years, particularly if the dealership agreement doesn't include adjustment mechanisms for the cost of parts and labor, or at least inflation generally.)
Facilities Requirements: Identify types of facilities (offices, showrooms, storage, cleaning, repair and maintenance facilities, warehouses, yard, etc.), sizes (square footage / acreage), specialized equipment (lifts, hoists, diagnostic equipment, etc.), finishes (interior and exterior, including signage and security) of, and how many facilities the dealer will be authorized or required to operate, and where.
Financing (of Dealer Purchases): Determine whether any special and/or floorplan financing might be available from the manufacturer or any third-party lenders who might maintain special relationships with the manufacturer.
Be particularly careful with respect to financing agreements that include "cross-defaults" with dealership agreements. Even if your state maintains a favorable dealership law, you might find yourself being foreclosed on by a lender who has the right to declare a default and seize your equipment because you refused to acquiesce to what you perceive to be an unreasonable (and perhaps otherwise legally unenforceable) demand of a manufacturer.
Financing (of Customer Purchases): Identify whether any special (conventional and/or lease) financing might be available through the manufacturer for customers and the associated requirements.
Rentals: Determine whether, and to what extent, the manufacturer and/or lender intends to restrict rentals of equipment purchased and how such restrictions might impact any proposed rentals or leases of your equipment.
Other Requirements: If other operational requirements will be shouldered by the dealer (e.g., records retention, insurance, financials, signs, promotional materials, advertising, marketing, staffing, etc.), make certain these are spelled out and that the dealer has the right to prior notice and opportunity to cure if the manufacturer intends to declare a default if the dealer overlooks any of them.
Exclusive Territory(ies): Look at whether you will be granted the right by the manufacturer to sell the manufacturer's products (or certain lines) exclusively within a defined territory, and without competition from the manufacturer and/or other dealers.
Also look at whether the manufacturer and/or any other dealers will be entitled to sell to national accounts or to other customers within your territory and whether you will receive a commission on such sales. Also look at the commission rate, how these sales will be reported and what happens if the seller fails to report or pay.
Transferability: Transferability can be critical to maintaining the value of your business as well as for purposes of estate, succession and retirement planning. For sales of the dealer's business or transfers upon death of the owners, negotiate for automatic approval of at least family members and other proposed transferees who can demonstrate industry knowledge and experience, creditworthiness and financial strength. At a minimum, require that the manufacturer's approval not be unreasonably withheld.
Other Elements of Value: In most cases, the dealer is going to agree to pay specified prices for products purchased from the manufacturer, perhaps based on different levels and/or volumes of purchases. Other items, such as facilities improvements, advertising, signage, diagnostic equipment and/or other items might be wholly or partially funded (or reimbursed) by the manufacturer.
The dealership agreement may include a provision requiring the dealer to purchase supporting and/or peripheral products only from the manufacturer and not from other dealers or third parties. These items can include machinery, attachments, parts, supplies, specialized tools, diagnostic equipment, software, computer hardware, advertising materials, consumables, etc.
In exchange, negotiate for a most-favored-nations status with respect to pricing and terms; and the right to obtain, use and sell non-OEM products when OEM products are unavailable. This can be particularly important for agreements with overseas manufacturers as well as others who require long lead-times.
Expiration and Termination: How and when does the dealership agreement expire and/or terminate? What reasons can lead to this? (Examples: upon default, for good cause or at either party's discretion.) Will it the agreement renew automatically, or does it expire on some predetermined date? If the latter, it may be advisable to negotiate an automatic renewal or at least a renewal option; provided the dealer is not then in breach.
Also detail what happens upon termination – for example, what are the repurchase and/or post-termination provisioning/supply obligations for equipment, parts, supplies, consumables, software updates, etc.? Include at least a requirement for the manufacturer to repurchase unsold and new equipment (often defined as under 50 hours and undamaged), undamaged parts that are still in the original packaging, specialized tools and computer hardware and advertising/display items and other peripherals, other than what you elect to keep.
Remember that under applicable state laws there may not be a statutory repurchase obligation for your specific types of equipment.
Simply signing the first agreement offered to you can have disastrous consequences. Fortunately, most manufacturers will attempt to accommodate a certain number of modifications to their dealership agreements, provided such changes are reasonable and designed to advance the relationship.
For most dealers, getting this right before the relationship begins is critical, as few have the time, available cash or desire to spend years litigating over a poorly negotiated or written dealership agreement.