Able Equipment Rental has named industry veteran Robert Veshosky as vice president of sales.
Veshosky joins Able with more than 25 years of management experience in the construction equipment industry, including senior management positions at the three largest rental companies. Most recently he was a regional vice president for Herc Rentals.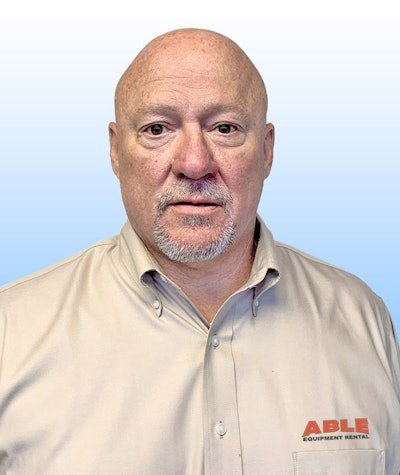 His career experience includes general rental, aerial and material handling, pump and power and climate remediation. Veshosky has worked in several market segments including construction, industrial, oil and gas, renewable energy, marine, entertainment and government.
"Bob brings to Able Equipment a diversified industry background where he managed various sales functions, at companies both large and small," says Chris Pera, Able's chief operating officer. "His emphasis on developing and coaching key talent together with a strong focus on team building will bolster Able's revenue and profitability as our company continues to expand."
Founded in 1996, Able Equipment Rental is a privately owned construction equipment sales and rental firm with six locations serving the New York, New Jersey, Connecticut, Pennsylvania, Delaware and Maryland markets.  It offers Kubota products along with aerial lifts, material handling products, compressors and generators, heating, traffic-control products, and specialty equipment such as mini-cranes, rotating telehandlers and under-bridge access platforms.