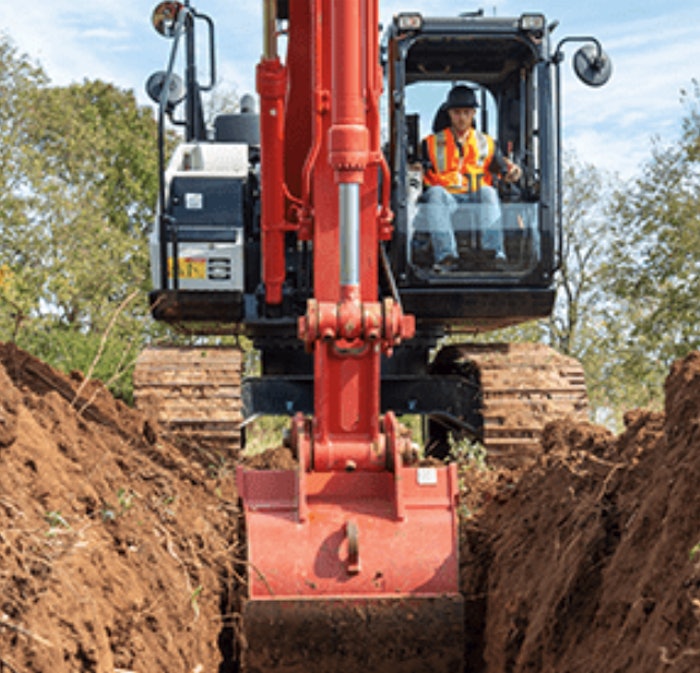 New Tobroco-Giant G3500 Loader: Telescoping Boom, Bigger Loads, More Versatility
Tobroco-Giant offers three different boom options with its latest compact articulating wheel loader, the Giant G3500.
The standard G3500 comes with a Z-bar boom. The G3500's X-Tra model offers higher lift capacity and increased visibility. The G3500 can also be configured with a telescoping boom for extended reach and lift.
To read more, click here.
---
Deere Debuts 3D-Ready 210L Tractor Loaders and an Improved Box Blade
The John Deere 210L and 210L EP tractor loaders are now available with both a grade control-ready option and a grade indicate option—both of which are installed at the factory.
Combined with an updated box blade, the systems give the machines productivity increases in jobs such as site prep, road building and landscaping jobs, Deere says.
To read more, click here.
---
Video: Ford's New Ranger Tremor: A Mini Raptor?
For those that want to rock crawl and hit the off-road trails in a smaller pickup, Ford has unveiled the Ranger Tremor. We've got all the details on this new 4×4 equipment package in the video below.
---
Report: Hyundai Heavy Leading Bidder for Control of Doosan Infracore
Hyundai Heavy Industries Holdings is the leading contender among several preliminary bidders for a majority stake in Doosan Infracore, according to a report by Korean Investors and other media outlets.
Reports of Doosan Group's exploration of a sale of a 36% stake in its Infracore subsidiary—comprised of both Doosan's own machines and those of the Bobcat brand which it acquired in 2007—began to surface in June of this year.
To read more, click here.
---
Video: Kubota Expert Breaks Down SCL1000 Mini Skid Steer | The Dirt #14
The SCL1000 is Kubota's highly anticipated entry to the mini skid steer market. In this episode of The Dirt we talk to Kubota's construction equipment product expert Tim Boulds about why Kubota is entering this market and how they developed a unique mini skid steer that will offer class-leading capability from the get-go.
To read and see more about the SCL1000, click here.
---