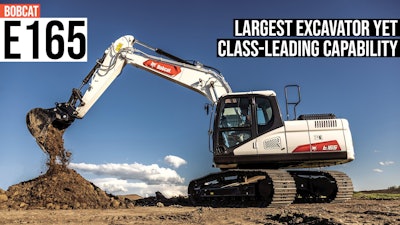 Updated Vacuworx RC Series vacuum lifts provide real-time diagnostics
Vacuworx has updated its RC Series Vacuum Lifting Systems to improve safety, reduce downtime and provide real-time diagnostics, the company says.
The lifts in the series can handle materials ranging from 22,000 to 55,000 pounds and are most often used for large energy and infrastructure projects.
To read more, click here.
---
BOMAG intros BW 120 SLC-5 combi drum-tire roller for all-round use
BOMAG calls its new BW 120 SLC-5 combination drum and smooth-tire compactor "a perfect all-around small roller."
The compactor, unveiled at ConExpo 2020, is geared for such uses as new development construction, road repair, driveways and road construction finishing.
To read more, click here.
---
New BOMAG CR 820 pavers offer sliding seats, consoles
BOMAG overhauled the operator platform on its new tracked CR 820 T paver.
It features the company's Sideview in which both seat and console can swivel out together at four different angles to view the paver side and screed end gates. Through the platform grate, operators can see the screed's spreading augers.
To read more, click here.
---
LeeBoy's new 8530, 8616D pavers come standard with heavy screed for compaction
LeeBoy has equipped its new tracked asphalt pavers, the 8530 and 8616D, with the 4,150-pound Legend HD Pro Screed for greater compaction and strength for large jobs.
The new pavers are designed for parking lots, driveways, municipal work, subdivisions, and state and county roads. They feature a wide, slow conveyor that moves material from the truck to the screed without segregation, the company says. The screed also has automatic temperature control.
To read more, click here.
---
Video: Bobcat's New 17-ton E165 is its Largest Excavator
Bobcat has introduced its largest excavator yet, the E165. With a few class-leading performance specs to its credit, this new machine continues a confident expansion of the Bobcat excavator lineup into the mid-size excavator market.
We've got all the details in the video below.
---