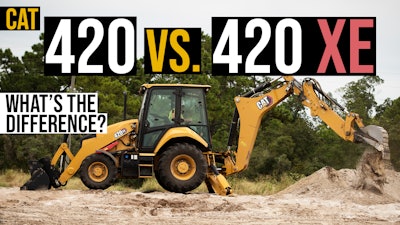 New Loftness Battle Ax mulcher designed specifically for ASV loaders
Loftness has introduced a new Battle Ax mulching head attachment specifically designed for ASV compact track loaders.
The ASV-focused S-Series Battle Ax, available through ASV dealers, produces a finer mulch with fewer passes due to Loftness' shear bars and two-stage cutting chamber. It is geared to such tasks as land clearing, right-of-way maintenance and forestry mulching. ASV says contractors can use it to fell large trees, shave off materials and perform forward and reverse mulching.
To read more, click here.
---
Volvo gives new P5110B, P5170B pavers fuel-efficient engines
Volvo Construction Equipment designed its new P5110B tracked and P5170B wheeled pavers for heavy commercial and light highway work.
The 20-ton pavers are powered by Volvo's D6 173-horsepower Tier 4 Final engine, which is also used in the manufacturer's L60H to L90H wheel loaders. Volvo says it designed the engine for fuel efficiency, with the tracked model able to achieve an average of 3.7 gallons per hour and the wheeled paver getting 3.3 gallons per hour. The engine is also designed to reduce vibrations and produce a low noise level of 79 decibels.
To read more, click here.
---
John Deere intros skid steer trencher attachment
John Deere's new TC36 and TC48 attachments can turn skid steers and compact track loaders into trenchers.
The attachments are designed for light-duty construction and agricultural applications. Deere says it offers a variety of configurations to match most soil conditions or trench requirements.
To read more, click here.
---
XCMG deploys new autonomous rollers to build China highway
Chinese equipment manufacturer XCMG says it has successfully tested its new autonomous asphalt compactor during construction of a new highway in China.
The technology for the autonomous machine was developed in a partnership of XCMG, Sichuan Railway Investment Group and Tsinghua University.
XCMG says its new autonomous road roller succeeded in tests at the end of May while working to build the Panzhihua-Dali Highway, also known as the Panda Expressway, between the cities of Panzhihua and Dali. Xinhua also reports that the project involves unmanned pavers.
To read more, click here.
---
Video: Cat Intros 420, 420 XE Backhoes: What's the Difference Between These New Machines?
The 420 is Caterpillar's flagship backhoe, it's the most popular due to the versatility of thes size and how well balanced it is. And because of that it's really the machine that Cat bases the rest of its lineup upon. And an all-new model just hit the market. But along with this updated 420, Cat has introduced a new premium version of this machine that is all about adding just a bit more in a few key areas.
The new Cat 420 and 420 XE are the anchors of Cat's new lineup of backhoes so let's discuss what's new with these two backhoe models but also discuss what sets the 420 XE apart. We've got the full breakdown on all the updates and improvements to these new machines and the differences between them in the video below.