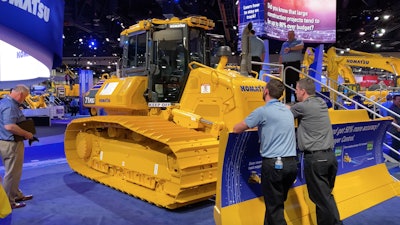 Takeuchi's TB220e electric excavator will come with fast-charge pack
Takeuchi made a splash at ConExpo 2017 with its e240 electric excavator, then one of the few electric machines seen by show attendees.
The company brought back an electric excavator to the 2020 show, but this time with a different concept. This year's show machine, the 4,277-pound TB220e, is completely designed and built by Takeuchi, while the 2017 machine was more of a retrofit, with the electric components installed by vendor Green Machine after the diesel engine was pulled.
To read more, click here.
---
VIDEO: Add a Bulk Master Top to your belly dump trailer for 15-second quick lime unloading
If you have a belly dump trailer but struggle with coverings when hauling quick lime and moisture-sensitive materials, the Bulk Master Top was designed for folks like you…by a guy like you. Check out the video here or click the read more link below.
To read more, click here.
---
Thunder Creek Equipment expands size, versatility, options on new multi-tank equipment fluid handling trailers, truck bodies (VIDEO)
Thunder Creek Equipment, which makes bulk diesel and diesel exhaust fluid handling and storage equipment, revealed two new fluid trailers and a new truck body at ConExpo 2020. The new units are designed to handle not just DEF but oil, fuel and other fluids.
You can check out all the details on the new MTO, SLT and MTU models and hear from Thunder Creek's Luke Van Wyk in this video. If you prefer to read, scroll down for a link to the rest of the story.
To read more, click here.
---
Hitachi ZW 370-6 wheel loader offers 360-degree visibility, ConSite inspection reports
Developed for high-volume production operations and quarries, the 389-horsepower Hitachi ZW370-6 offers 360-degree visibility, ride control and 48,780 pounds of breakout force.
"The first thing you see in the cab is that the front window goes all the way down both sides," says Nathan Little, North American product specialist, Hitachi Construction Machinery Loaders America, speaking to Equipment World at ConExpo 2020. "You can see any obstructions that are in the wheel path." Additional visibility is gained on the left side of the seat, where the door panel has a bottom window, and on the right of the seat, where Hitachi has put a door instead of a window.
To read more, click here.
---
Komatsu unveils D71PXi-24 dozer with new Intelligent Machine Control 2.0 tech (VIDEO)
Komatsu's main stage at ConExpo 2020 played host to an all-new dozer and a significant update to its Intelligent Machine Control (iMC) platform.
The new D71PXi-24 on display at the show is a new mid-size dozer model and the first new Komatsu machine that will offer the second generation of the iMC platform.
Get all the details on the D71i and iMC 2.0 in this video. Or if you prefer text, click the read more link below.
To read more, click here.
---