Compact excavators led all types of financed new equipment in year-over-year 3Q growth, growing 14 percent, according to UCC-1 data from EDA.
Other equipment types showing 3Q growth over 2018 were new compact utility loaders (up 7 percent); compact track loaders or CTLs (up 4 percent); excavators (up 4 percent); and backhoes (up 2 percent).
On the downside, three machine types showed double-digit decreases during the quarter: dozers (down 16 percent from last year), and skid steers and wheel loaders, each down 12 percent.
CTLs reign
Buyers financed 7,984 new CTLs in the quarter and nationally, more than 2,000 CTLs were sold than compact excavators, the next highest type of machine financed.
However, compact excavators rose to the top in both the Northeast and West regions, and by significant numbers. In the West Region, 1,169 compact excavators were financed in the quarter, compared to 787 CTLs. And 928 compact excavators were financed in the Northeast Region during the quarter, compared to 820 CTLs. (For a breakdown of which states are included in each region, go to the Methodology section below.)
CTLs represented the majority of the top models financed (in number of units) during the quarter: eight out of 10 of the top sellers were CTLs.
Since compact machines dominate the charts in terms of number of units financed, we also took individual looks at three types of full-size machines: excavators, wheel loaders and dozers (including LGP models). The top models for the quarter in terms of number of units financed are shown in the chart below.

Brand ups and downs
Only three brands saw gains in the number of units financed in the 3Q 2019 compared to the same period last year, the most significant being Kubota, which saw a 20 percent increase. Other gains were more modest: Deere, 7 percent; Ditch Witch, 5 percent; and Cat, 1 percent.
New Holland saw the largest drop in number of units financed for the quarter, posting a 23 percent decrease from 2018 to 2019. Volvo (down 12 percent) and Komatsu (down 11 percent) also had double-digit decreases.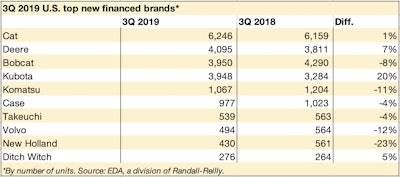 Methodology
EDA is a division of Randall-Reilly, parent company of Equipment World, which tracks UCC-1 filings, used by lenders when a machine is financed.
Depending on the type of machine, financed machines can represent 40 to 75 percent of the total number of machines of that type sold in the United States. Not included in these numbers are machines bought by cash or letter of credit.
EDA reports are continually updated, and these numbers, while representing the majority of the 3Q 2019 results, may have changed slightly since this data was pulled in early December.
For purposes of this report, we follow the U.S. Census Bureau's divisions as follows:
Northeast: Connecticut, Massachusetts, Maine, New Hampshire, New Jersey, New York, Pennsylvania, Rhode Island and Vermont
East and South Central: Alabama, Arkansas, Kentucky, Louisiana, Mississippi, Oklahoma, Tennessee, Texas
Midwest: Iowa, Illinois, Indiana, Kansas, Michigan, Minnesota, Missouri, North Dakota, Nebraska, Ohio, South Dakota, Wisconsin
South Atlantic: Delaware, Florida, Georgia, Maryland, North Carolina, South Carolina, Virginia, West Virginia and District of Columbia.
West: Alaska, Arizona, California, Colorado, Hawaii, Idaho, Montana, New Mexico, Nevada, Oregon, Utah, Washington and Wyoming