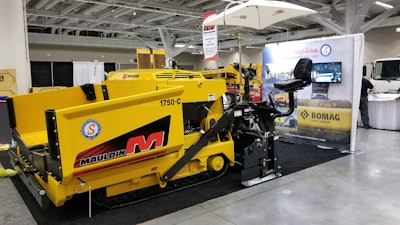 Southeastern Equipment now offers Mauldin Paving Products at their Fort Wayne, Indianapolis and Evansville locations in Indiana.
The branches now carry Mauldin's six-model paver line, including the 1750-C model that features "best-in-class head-of-material control, the heaviest screed weight in its class and the Mauldin exclusive 4-auger material feed system, says the company.
New personnel
Southeastern Equipment also announced that Brian Burket has been named as the new regional sales manager for the company's Michigan branches in Novi and Holt. He will oversee the branches' parts and service departments. Burket brings 30 years of experience in the construction industry sales to the position, including stints with the Haulotte Group and the former Hertz Equipment Rental, now HercRentals. He is a certified boom, scissor and forklift operator.
Southeastern also announced that Marty Clements, former operations manager, is the new branch manager for Southeastern's Burlington, Kentucky location. His responsibilities will include overseeing the branch's sale, service and parts teams and directing customer service.
"We have a great team and we are ready to make waves in Kentucky," Clements says. With 24 years of experience in the construction equipment industry, Clements previously worked for Hertz Equipment Rental and Genie.
The company has also named Clint Appleman as the new branch manager for its Heath, Ohio location. Appleman was previously a Road Building Division product support sales representative for Southwestern. He began his career with the firm in 1996 as a parts associate.
Southeastern Equipment, headquartered in Cambridge, Ohio, has 18 locations throughout Ohio, Michigan, Kentucky and Indiana.