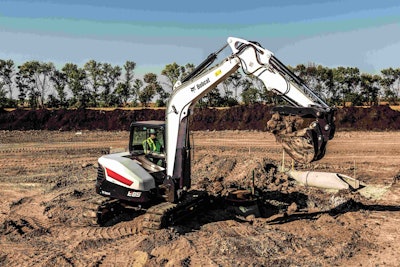 Bobcat continues its roll of authorizing new dealers, with Winterville, North Carolina, becoming its latest expansion area.
Bobcat of Winterville is now an authorized dealer for new and used sales of Bobcat equipment, as well as service, rental and parts, for areas in and around eastern North Carolina.
This marks the 12th Bobcat dealership network expansion this year. The expansion has included new authorized dealerships in Luverne, Minnesota; Helena, Montana; Mount Airy, North Carolina; Paris, Texas; Woodstock, Virginia; Frederick, Maryland; York and Adams County, Pennsylvania; Watertown, South Dakota; and Emmetsburg and New Hampton, Iowa.
The new N.C. dealership, at 4673 Winterville Parkway, is owned by White's Herring Tractor & Truck Company, which formed in 1922 and owns two other Bobcat dealer locations in eastern North Carolina: Bobcat of New Bern and Bobcat of Wilson. The company has been a Bobcat dealer for 40 years.
The new dealership will focus on construction, agriculture and landscaping industries.