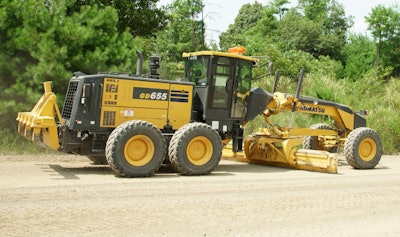 John Deere intros new construction equipment simulators
John Deere has introduced a new line of operator training simulators that can be outfitted as several types of equipment.
The new simulators combine interchangeable joysticks and foot pedals with realistic 3D software. The software creates "highly-detailed" environments that lead operators through advanced operator duties and multiple jobsite tasks.
To read more, click here.
---
Volvo intros EC750E HR excavator with 118-foot reach for tall demolition jobs (VIDEO)
Volvo Construction Equipment's new EC750E HR is designed for heavy-duty demolition, with a pin height of 118 feet.
The new excavator is based on the EC750E but as a high-reach version—hence the "HR" in its name—for demolishing tall buildings and other applications where high reach is needed. It is the company's largest high-reach excavator model in North America.
Volvo also designed the machine for versatility with extensions and different boom settings, so it can be used for standard digging operations when the additional reach is not needed. It has a max digging depth of 32.8 feet.
To read more, click here.
---
PHOTOS: This vintage 1968 Deere JD544 wheel loader is still one clean machine
This year, John Deere is celebrating its 50th year of wheel loader production. To commemorate the anniversary, Deere has been showing off a beautifully restored 1968 JD544, which you can see in the gallery of photos below, taken earlier this year at the World of Concrete show.
Powered by a 6-cylinder, 303-cubic-inch engine delivering 94 net horsepower at 2,500 rpm, this JD544 combined articulated steering, power shift, all power controls, bucket control from a single lever and a torque converter to provide jobsites of the late 1960s with a lot of capability.
To read more, click here.
---
Cat intros 777G off-highway truck with redesigned cab, new engine
Caterpillar has launched the latest version of its 777, an off-highway truck the company says now has more visibility, improved operator comfort and better fuel efficiency.
Powered by a Cat C32 ACERT Tier 4 Final engine delivering 1,025 gross horsepower, the new 777G also features a 7-percent increase in torque and a higher top speed of 41.7 miles per hour.
To read more, click here.
---
Komatsu intros GD655-7 motor grader with improved cab, controls
Komatsu has introduced a new motor grader with improvements that are centered around improving operator comfort.
The new cab of this machine is "hexangular," Komatsu says, with a rear side pillar layout and blade linkage positioning that together provide an "unobstructed view of the moldboard and front tires."
The cab also features a smaller, "right-sized" steering wheel that provides a bit more visibility and room in the cab.
To read more, click here.