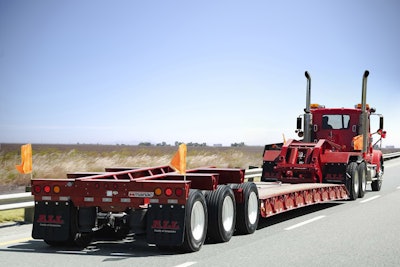 ALL Crane has announced the acquisition of more than 200 new trucks and trailers the company says will further enhance its "door-to-door" crane service.
The company says the units will be arriving at its three dozen branches throughout the U.S. and Canada over the course of 2019.
"This package demonstrates our continued commitment to investing in whatever it takes to get equipment to customers, wherever and whenever they need it," said Jimmy Hill, senior logistics manager. "We are able to easily move cranes across the country or across town to keep customers' projects on schedule."
The order includes the following:
12 Nelson RGN (removable gooseneck) trailers
160 Manac drop deck trailers: 100 are 48-foot spread axle units, which can accommodate 20,000 pounds per axle anywhere in the United States. The remainder consists of 50 tandem axles, 4 quad axles, and 6 aluminum flatbeds. 150 are galvanized.
ALL Crane says its specialized transport divisions have ICC authority in the 48 contiguous U.S. states and throughout Canada. "As a founding member of SC&RA, the Specialized Carriers & Rigging Association, ALL has the capability, equipment, knowledge, and expertise to move equipment safely, efficiently, and on time," the company says.