The American Rental Association (ARA) has released a new industry-wide strategic plan that will drive program initiatives over the next three years.
This is the first revision to ARA's strategic plan in more than a decade, and it's aimed at advancing the equipment and event rental industry.
"As the industry continues to grow and change, so do the needs of the members we serve," says CEO Tony Conant of ARA. After nearly two years of research and compiling data, the five key areas where the association can make a significant impact have been identified for inclusion in the strategic plan."
The ARA board of directors recently met for a two-day session led by a professional facilitator to discuss common issues within the industry and discover common themes in which action plans could be developed around.
The result, the organization says in a press release, is a simple, straightforward plan that communicates with clarity the purpose, focus areas and values that will drive ARA into the future:
Education: Position ARA as the primary source for education and training in the equipment and event rental industry.
Industry workforce: Raise awareness of careers in rental and ensure a qualified and sustainable workforce for rental business owners.
Technology: Encourage rental business owners to effectively use technology to increase operational performance.
Market intelligence: Provide industry metrics, forecasting resources and market intelligence tools for the industry.
Consumer awareness: Promote the value proposition of equipment and event rental so that consumers think of rental first.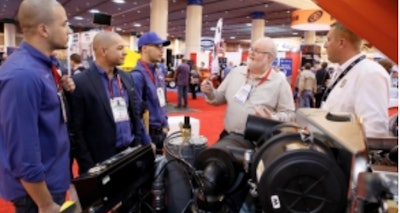 "ARA's volunteer leadership changes each year and without a multi-year strategy, the direction of the association and its priorities could change frequently, says ARA President Kevin Hoffman.
"This consistent plan allows staff to advance the priorities set by the membership through board representation. I'm extremely pleased with the outcome and to have worked with bright and talented individuals to establish a plan that will carry the association forward."
Conant says that operationally, the association is doing very well.
"The ARA Show continues to be a success, membership is growing, and our publications division leads the market," says Conant. "However, these are five major focus areas in which the association can make a significant impact toward the long-term success of the equipment and event rental industry."
ARA, based in Moline, Ill., is an international trade association for owners of equipment and event rental businesses and the manufacturers and suppliers of construction, industrial, general tool and party/event rental equipment.
ARA represents more than 10,500 rental businesses and more than 1,000 manufacturers and suppliers in every U.S. state, every Canadian province and more than 30 countries worldwide. Founded in 1955, ARA is the source for information, advocacy, education, networking and marketplace opportunities for the equipment and event rental industry throughout the world.