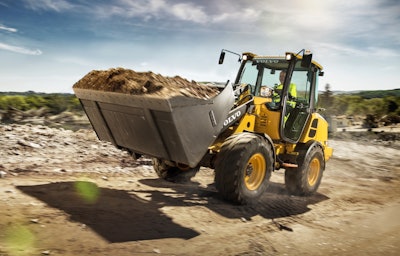 As demand continues to grow for used construction machinery, Volvo Construction Equipment has introduced a certified used program.
Similar to certified programs for used automobiles, Volvo CE conducts a thorough inspection, testing and refurbishment of Volvo used equipment. The company uses Volvo parts and components, and the program provides a 24-hour parts guarantee for Class 1 parts in 49 U.S. states. (The guarantee is extended to 48 hours for Hawaii and for Canada.)
The certified machines also come with a one-year subscription to Volvo's ActiveCare Direct telematics service, and they qualify for Volvo's lifetime frame warranty, the company says.
To further boost the new program, Volvo is offering zero percent financing for 12 months on select equipment.
"As customers look to lower their total cost of ownership, the demand for pre-owned equipment has grown greatly in recent years, and the new Volvo Certified Used program allows contractors to purchase a machine knowing that it has been thoroughly inspected to ensure it is capable of performing on the most demanding jobsites," says Tara Stryker, director of remarketing at Volvo Construction Equipment. "The used equipment available to customers covers the breadth of our product lines, from excavators to wheel loaders to paving equipment to attachments and more."
Volvo is partnering with its dealers to establish Volvo Certified Used centers in North America. Volvo certified technicians at dealerships will perform the equipment reconditioning, the company says.
Along with Volvo Certified Used equipment, the centers will offer Volvo Certified Engine Ready machines. "Volvo Certified Engine Ready includes machines destined for work in less regulated markets outside of the United States and Europe," the company says. "Equipment will be inspected and certified through approved Volvo dealers in an export market where engine de-tiering can be done."
Las Vegas equipment dealer Arnold Machinery Company is the first Volvo dealer to join the program.
"With our Volvo certified technicians, we will scrutinize each machine and ensure it fits the strict certification requirements for the program," says Logan Ormond, used equipment manager at Arnold. "We see this is as one of the fastest-growing segments of the construction equipment market, and we want to lead the charge in helping to provide the highest machine lifecycles available."
Volvo sees the program as a way to grow the machines' residual values and another way to build long-term relationships with customers, as well as provide an alternative to equipment auctions.
"We want to provide the construction industry's highest lifecycle values," says Stephen Roy, president of Volvo CE Americas. "Our new Volvo Certified Used program will extend this value proposition into the second life of machines, when they enter the used market, enabling us to leverage our OEM and dealer network expertise to raise machine values and offer an alternative to the auction market."
To find Volvo Used Equipment, go to volvousedce.com.