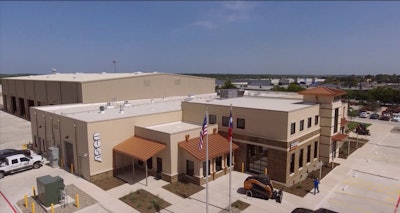 Case Construction Equipment dealer ASCO Equipment Company has opened up what is now its largest location to serve the growing San Antonio and central Texas markets.
Located on 62 acres at 1920 SE Loop 410 in San Antonio, the new location will serve as ASCO's flagship store, offering equipment sales, parts, service and training support inside a 42,600-square-foot facility.
The company held the location's grand opening on Sept. 20. ASCO ownership and Case global and NAFTA region leadership attended the event along with ASCO team members, customers, suppliers and local officials.
ASCO sells Case's full line of equipment. At the new location, 15,000 square feet will be dedicated to sales and rental, supported by 5,600 square feet of warehouse space and a 25,000-sq.-ft. shop with 14 super bays. More than 60 employees will staff the location.
"We had several goals to accomplish with the construction of our new San Antonio location," said ASCO CEO Brax Wright, in a statement. "We wanted our customers to recognize our commitment to their business and the construction machinery market in Central Texas. Second, our new facility will increase our ability to provide the superior level of customer service in sales, rental, parts and service both we and our customers desire."
"Consistently one of our strongest partners, we appreciate ASCO's ongoing investment in the region, which demonstrates their deep commitment to serving customers after the sale. And that's our top priority," said Michel Marchand, Case Construction Equipment vice president for North America.