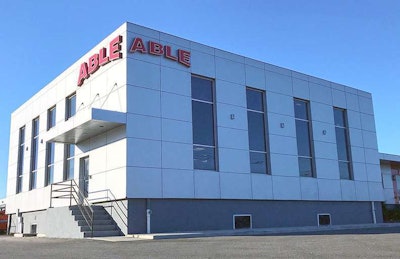 Able Equipment Rental of New York has bought the aerial equipment assets and service operations of Mobile Lifts, Inc. of Norristown, Pennsylvania, and will run the branch as its fifth location in the northeast, the company says.
Able will retain most of the current staff of Mobile Lifts, a press release says. Able supplies construction equipment rentals, sales, service and parts.
"We're extremely excited to welcome Mobile Lifts to the ABLE family," says CEO Steven Laganas. "Their 40-plus year history, along with a very loyal customer base, was certainly one of the factors that helped us in our decision-making. I look forward to partnering with Mobile Lifts' knowledgeable and talented team."
Situated on two acres in Montgomery County at 2 Liberty Avenue in Norristown, Pennsylvania, Able's newest branch is 45 minutes outside of Philadelphia and easily accessible by several major roads and highways.
The facility is ideal to service the King of Prussia area and well situated to deliver equipment throughout the region, the company says.
"Strategically, it will allow us to continue to serve as a reliable provider of aerial equipment for Mobile Lifts' current commercial and industrial clients," says Chris Pera, ABLE's chief operating officer. "Additionally, we'll be able to offer a wide range of machines for rent and for sale to fulfill their specific construction equipment requirements."
Rentals from Able's growing fleet can be from a day to a week to long-term, and there's equipment financing plans for new and used equipment.
Privately-owned, Able has corporate headquarters in Deer Park, Long Island, NY. Other locations are in Edison and Pennsauken, NJ, and Honey Brook, PA.
In addition to rentals, sales, service and parts, Able provides equipment for critical infrastructure maintenance and support, contingency planning, and disaster recovery. It's fleet of service vehicles provide emergency service and repairs to customer-owned fleets.
For more information on ABLE Equipment Rental, go to ableequipment.com or send an email to info@ableequipment.com.