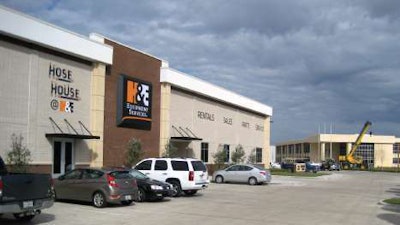 H&E Equipment Services's new branch in Aledo, Texas, is the company's 16th branch location in Texas and the 89th nationwide.
For customers in the western Dallas-Fort Worth area, the branch at 104 BPR Lane, Aledo will provide full-service coverage in the new 23,840-square-foot facility.
The 3.5-acre property has a fully-fenced yard, offices, parts warehouse and a repair shop with eight bays. Repaired are a broad variety of general industrial and construction equipment. The branch opening comes as H&E reports hefty revenue gains.
"With strong economic growth in the DFW Metroplex, adding a second location in the Fort Worth market will help us better serve our customers and ongoing projects in the area, such as the Walsh Ranch development, the new Dickies Arena, and Tarleton State University project" explains Abe Farrington, regional vice president.
"The Aledo location will position us to offer full-service rental needs quickly and efficiently with the same high-quality equipment our customers expect for many years to come."
In addition to equipment rentals, the facility provides new and used equipment sales, in-shop and mobile service, a comprehensive parts inventory, training, and other value-added services.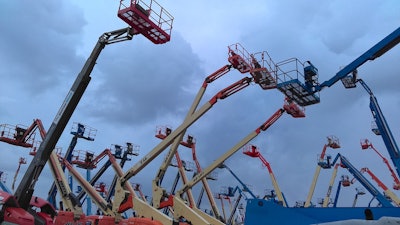 The branch specializes in aerial lifts, telescopic forklifts, earthmoving, and general construction equipment from the following manufacturers: Atlas Copco, Bomag, Club Car, Gehl, Generac, Genie, Hamm, JCB, JLG, John Deere, Laymor, MEC, Miller, Multiquip, Okada, Polaris, Skyjack, Skytrak, Takeuchi, Unicarriers, Yanmar and others.
Established in 1961, H&E says it's grown to become one of the largest equipment distributors and rental companies in the United States and the tenth biggest worldwide.
Among H&E's other recent expansions and updates was the grand opening of a Salt Lake City branch, which was relocated to newly-constructed facilities at 5052 West 2400 South, Salt Lake City. That new operation includes two state-of-the-art buildings, built to meet the most stringent energy efficiency standards, the company says.
For more information about H&E Equipment Services, click here.