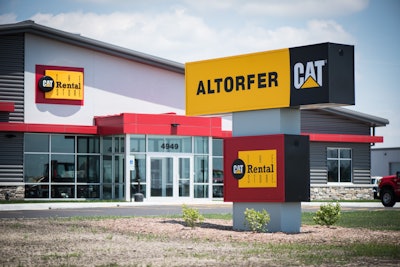 Altorfer Holdings has acquired Patten Industries, the Caterpillar dealer in northern Illinois and northwest Indiana.
The acquisition expands the Caterpillar service territory managed by the Altorfer family, a Cat dealer now operating and managing in eastern Iowa, northeast Missouri and central Illinois.
"I am excited and humbled by the opportunity to welcome the dedicated employees of Patten Industries into the Altorfer family, says Altorfer Holdings president Derek Altorfer. "Together we will build upon the traditions of both companies in addition to providing a level of customer service unmatched by anyone else."
The companies bring a combined 147 years of experience serving Caterpillar customers.
"We look forward to serving customers in northern Illinois and northwest Indiana and pledge to bring ownership and operational efficiencies to help enhance their success" says Bruce Altorfer, chairman of Altorfer.
Headquartered in Cedar Rapids, Iowa,  Altorfer has served the construction, agriculture, landscaping and trades, manufacturing, material handling, rental, mining, governmental, trucking and power generation industries.
Altorfer Machinery Company was founded on February 4th, 1957 by the late Edward J. Altorfer. He had previously worked in the family washing machine business, called Altorfer Brothers Company, in East Peoria, Illinois.
Edward Altorfer's good friend, Buck Swords, owned Peoria Tractor and Equipment Company – the Caterpillar dealer in Peoria –  and introduced him to Cat. In the beginning, Altorfer Machinery Company had stores in Cedar Rapids and Davenport, Iowa and Hannibal, Missouri and employed about 100 people.
For more information, call 319-365-0551 ext. 2238 or visit altorfer.com, or facebook.com/AltorferInc.