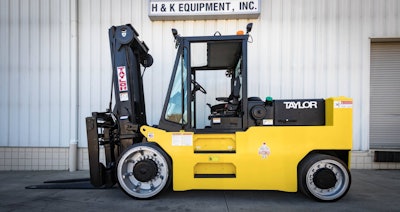 H&K Equipment has expanded its territory to become the largest distributor of Taylor Machine Works forklifts in the Mid-Atlantic region.
H&K now provides sales, service and support for Taylor products in western Pennsylvania, eastern Ohio, the Northern Panhandle of West Virginia, and Garrett and Allegany counties in Maryland. Its affiliate Taylor Northeast already covered eastern Pennsylvania, Maryland, New York, New Jersey, Delaware and parts of Virginia.
H&K Equipment's territory now crosses eight states and covers over 100,000 square miles.
"With our affiliate Taylor Northeast, we have facilities in Pittsburgh, throughout the eastern half of Pennsylvania, down into Baltimore, and up into Syracuse, New York," says H&K President George Koch. "That gives us the ability to bring a range of expanded rental and service options to these customers. All of our fleet and service capabilities were developed with that goal in mind."
The new H&K territory also includes locations once represented in the Pittsburgh metro area by Burns Industrial Equipment, which switched from offering Taylor products this year.
H&K Equipment's headquarters is 15 miles from downtown Pittsburgh and at the center of its new territory, the company says.
H&K was founded in 1983 and has more than 300 employees. It consists of six affiliate companies that operate from 11 locations in Pennsylvania, Maryland and New York. In addition to high-capacity lift trucks, H&K companies also provide or manufacture small-capacity forklifts, railcar movers, personnel carriers, overhead cranes, industrial electromagnets, warehouse and racking solutions, and industrial cleaning equipment.
H&K Equipment says it is an authority in large, difficult-to-source material handling equipment.
"We have a reputation for being the big truck guys," Koch said. "These are some of the biggest trucks out there."
Taylor Machine Works is a privately held U.S. company that specializes in manufacturing high-capacity lift trucks, some of which handle loads in excess of 100,000 pounds. The company's product line includes traditional forklifts, as well as rough terrain forklifts, container handlers and reach stackers. They are designed for work at ports, lumber yards and industrial sites.