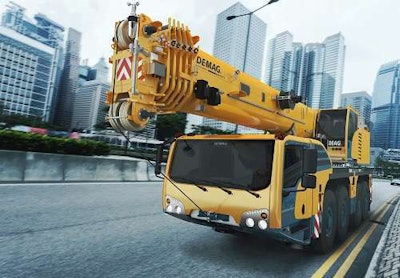 Southeastern U.S. and Caribbean Island Terex Cranes distributor, Renegar-Driggers, says it will soon add six new Damag All Terrain Cranes to its inventory, including one AC 100-4L unit, two AC 160-5 models and three AC 220-5 units.
The recent order will help Renegar-Driggers Machinery continue to support its customers and their heavy workload, the company says.
Demag says the cranes are equipped with the industry's latest technology, including a single-engine concept that reduces operational and maintenance costs.
It does this by using an intelligent motor management system to deliver the precise amount of power needed on the road and for lifting applications, Terex says.
These units are also equipped with the Demag IC-1 Plus control system, which delivers the crane's maximum allowable lifting capacity based on the slewing angle for every crane configuration, the company says.
Included in Renegar-Driggers Machinery's order is the 4-axle, 120-US ton (100-tonne) capacity class, Demag AC 100-4L all terrain crane, a pair of 5-axle, 180-US ton (160-tonne) capacity class, Demag AC 160-5 all terrain cranes, and the three 5-axle, 245-US ton (220-tonne) capacity class, Demag AC 220-5 all terrain cranes.
Renegar-Driggers Machinery is scheduled to take delivery of the cranes over the next several months.