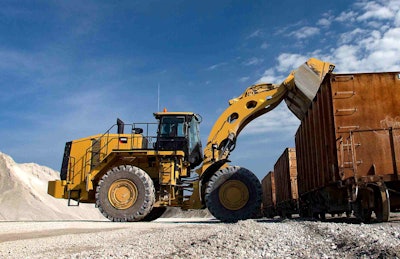 Minnich Manufacturing honors top dealers of 2017
Minnich Manufacturing, a leading manufacturer of concrete dowel pin drills, concrete vibrators and vibrator monitoring systems, has announced its top dealers of 2017 according to sales performance. The announcement were made in conjunction with Minnich celebrating its 50th anniversary in 2018, The company is based in Mansfield, Ohio.
To read more, click here.
---
Equipment makers launch ad with workers telling Trump to 'just say no' to tariffs (VIDEO)
The Association of Equipment Manufacturers (AEM) released a new ad on Monday that urges President Donald Trump to not follow through with his plan to impose tariffs on steel and aluminum imports.
The video includes equipment manufacturing workers voicing how the move will hurt manufacturing jobs and the industry, making it harder to for U.S. companies to compete with foreign equipment makers. The employees, shown in their plants, speak directly to the president in the ad, urging him to "just say no" to steel tariffs.
"It's not too late for President Trump to reverse course on steel tariffs," says AEM President Dennis Slater. "That is why our board decided to make a substantial investment in launching this campaign to urge the president to steer away from tariffs that will ultimately hurt equipment manufacturers and cost American jobs."
The spot will run on "Fox & Friends," "Hannity" and "Morning Joe" as well as on digital platforms, AEM says.
To read more, click here.
---
CNH Industrial CEO Richard Tobin to step down
Richard Tobin is stepping down as CEO and as a director of CNH Industrial to pursue another executive opportunity.
Tobin's departure will be effective April 27, 2018, following announcement of the company's financial results for the fiscal quarter ending March 31, 2018, CNH says.
Derek Neilson will serve as interim CEO for the company, which manufactures the Case and New Holland brands of construction and agricultural equipment. He has nearly two decades of experience with CNH Industrial and most recently served as chief operating officer for Europe, Middle East and Africa, as well as president of the company's Commercial Vehicles Products Segment. From 2012 to 2015 he served as the group's chief manufacturing officer.
To read more, click here.
---
AEM elects Fowler, Johnson and Rich as directors
The Association of Equipment Manufacturers (AEM) has elected three to leadership roles on the AG and CE Sector boards. Rusty Fowler, president and CEO of Krone NA, takes a seat on the AEM AG Sector Board. Rick Johnson, CEO of Charles Machine Works, and Bryan Rich, chairman and CEO of SmartEquip, were elected to the CE Board.
Officers and directors provide strategic direction and guidance on behalf of all member companies for association action in areas including public policy, market data and exhibitions, as well as technical, safety and regulatory issues, education and training.
To read more, click here.
---
Latest round of Cat layoffs could cut upwards of 900 jobs
A new report from Reuters expanding upon news last month out of Waco, Texas, says that Caterpillar's coming job cuts could impact nearly 900 workers.
At the end of February, the Waco Tribune-Herald reported receiving confirmation from Cat that the heavy equipment manufacturer would be closing its Waco Work Tools plant. The plant manufactures excavator buckets, couplers and hammers and employs 200 people. Cat plans to move those operations to a facility in Wamego, Kansas, the paper reported. A separate distribution facility in Waco will not be affected by the closing of the Work Tools Plant.
However, according to the new Reutuers report, Waco isn't the only city cat has plans to cut jobs in. Cat also plans to close a demonstration facility in Panama, while its Progress Rail group is considering closing an engine manufacturing plant in LeGrange, Illinois. Reuters reports that the engine manufacturing operations would be moved to Winston-Salem, North Carolina, and outside suppliers.
The planned and possible cuts are the latest of several closings and consolidations the company has performed since announcing a cost reduction plan nearly three years ago. The plan is designed to save the company $1.5 billion annually through the end of this year. So far the company has either closed or consolidated about 30 facilities worldwide.
To read more, click here.