With the blockbuster Ritchie Bros. Orlando auction now in the rearview mirror, Rouse Services outlined several "notable takeaways" from the sale in the cover letter to its February Equipment Report:
On average, the total Ritchie sale across all types of equipment was 5 percent above the Rouse Forced Liquidation Value (FLV) benchmark as of Jan. 31, 2018.
For general construction equipment – including aerial lifts, telehandlers, compact and mid-size earthmoving equipment, and support equipment – sales on average were 4.5 percent above the same Rouse FLV benchmark.
In the heavy earthmoving equipment category – including excavators, dozers, wheel loaders and articulated trucks– sales on average were 1.4 percent above the benchmark.
Other equipment, including forklift trucks and transport trucks, were 10.1 percent above the benchmark. (Note: February auction results had not yet been factored into Rouse's index values as of the February report date.)
The 2018 Ritchie Bros. sale also surpassed the aggregate of what used to be separate IronPlanet and Cat Auction Services sales (now part of Ritchie) that took place in each February in the Orlando area, according to Raffi Aharonian, managing director of Rouse Services' appraisals division. "This, combined with the broad pricing stability, speaks to the appetite of the marketplace to consume that level of used equipment," he says.
In addition, the impact of President Trump's tariffs on steel imports on used equipment prices will be worth watching, Aharonian says. "Increased costs on new equipment should (all other things remaining equal) have an inflationary impact on used equipment prices," although he cautions that Rouse Services takes the position of reporting results, rather than forecasting them.
Rouse tracks used equipment values using two primary methods: collecting prices reported publicly by auction companies, and compiling proprietary used equipment transaction prices reported by its established network of clients – this network includes national, regional and independent rental operations and OEM dealers. Aharonian estimates that 70 percent of the RER Top 100 firms are in this reporting network. In reporting these numbers, Rouse uses the terms Forced Liquidation Value (FLV) for auction prices, and Fair Market Value (FMV) for retail prices.
Cranes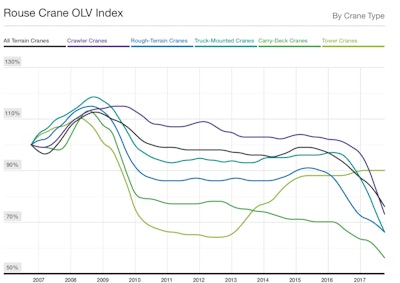 In its January Equipment Report, Rouse also reported on used crane equipment sales, which it does on a quarterly basis.
Since the crane market had a large size exposure to energy end markets, cranes have come to the market in greater numbers in the past 12 months, "and when they do, we've seen materially reduced pricing for them," Aharonion says. Depending on the crane category, these orderly liquidation value dips have ranged between 10 and 20 percent from 2016 peaks. "Asking prices for some of these cranes have been shaved off by 15 to 20 percent," he says.
Used crane prices, however, have seen some stabilization in recently, with prices broadly remaining steady instead of declining.
Redesigned report
Rouse Services debuted a redesigned report in January. "This is for anyone who owns or rents construction equipment," Aharonian says. "Our intent is to give readers a good sense of how equipment values are trending in the market. We track an estimated $8 billion to $10 billion of used equipment sales annually to examine trends that are valuable key stakeholders – namely equipment owners and their lending institutions."
The report examines the current used equipment market environment, dividing its reporting in three general segments: general construction, heavy construction and other equipment. In addition, it goes into the values of the machine types that make up these segments.
General construction equipment includes:
Aerial lifts
Telehandlers
Light and medium earthmoving (including compact equipment)
Support equipment (including gen sets, light towers, etc.)
Heavy construction equipment includes:
Excavators, 75,000 to 99,999-pounds
Dozers, 180-359 horsepower
Wheel loaders, 190-309 horsepower
Articulated trucks
Motor graders (not broken out in the Equipment Report)
In addition to the above, the Rouse report includes coverage of Other Equipment, which adds two equipment subsets: forklift trucks and truck tractors. And every quarter, the report includes a crane market summary which tracks the orderly liquidation value of six crane types: all-terrain, crawler, rough-terrain, truck-mounted, carry-deck and tower cranes.