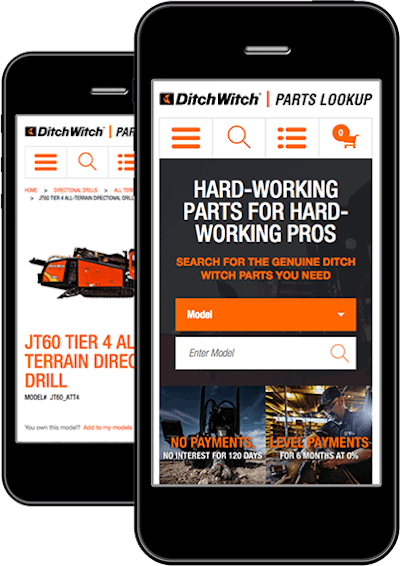 Ditch Witch has made it easier for its customers to find parts.
The company has released an advanced version of its Ditch Witch Parts Lookup to help customers increase efficiency and reduce downtime by not only finding the service parts they need along with detailed information, but also giving them a direct communication line to dealerships to obtain the part.
"The new Parts Lookup automatically connects customers to their preferred dealer to easily communicate service parts requests," said Shan Kirtley, Ditch Witch vice president of sales. "This simplifies the request process and can help customers get immediate access to service parts information anytime, anywhere and get back up and running faster."
Parts can be searched by serial number, part name, equipment model or keywords, the company says. The site also provides graphical views of each equipment model's parts. Ditch Witch says the site is compatible with all web browsers and mobile devices.
Customers can access the tool through their MyDitchWitch user account or go to DitchWitchParts.com.