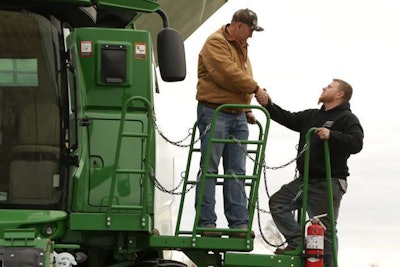 Dealers will be a critical link for a new industry commitment to provide comprehensive service information tools to farmers for tractors and combines for models manufactured in 2021 and beyond.
There's a new dealer website, R2Rsolutions.org, to help you learn more about this initiative.
The Association of Equipment Manufacturers (AEM) has joined the Equipment Dealers Association (EDA) in announcing the joint effort.
"Manufacturers and dealers invest considerable resources in making sure their customers have what they need to be successful," says EDA President Kim Rominger.
"This commitment by our industry is a market solution to a market need. Dealers and manufacturers will ensure that end users have the tools they need to perform maintenance and basic repairs on their equipment and to allow them to quickly identify more serious issues which require the assistance of a dealer.
To that end, EDA and AEM's Ag Sector Board is debuting a Statement of Principles that affirms the industry's unified commitment to providing the tools farmers and ranchers need to minimize downtime and maximize productivity of farm equipment.
This Statement of Principles makes so-called "Right to Repair" legislation sought by special interest groups unnecessary, the organizations say.
Manufacturers will make available, through authorized dealers, the diagnostic and repair information beginning with tractors and combines put into service on or after Jan. 1, 2021:
manuals (operator, parts, service)
product guides
product service demonstrations, training, seminars, or clinics
fleet management information
on-board diagnostics using a diagnostics port or wireless interface
electronic field diagnostic service tools and training on how to use them
other publications with information on service, parts, operation and safety
AEM and EDA are also launching the new website – R2Rsolutions.org – to provide additional resources to learn about the commitment. Featured is a short video that explains in more detail the "Statement of Principles."
These tools will also be used to communicate industry priorities to state lawmakers in the coming months, the organizations say.
"Equipment manufacturers are proud to act decisively to provide our customers with commonsense solutions they have asked for to easily make simple repairs to their tractors or combines, or assess when to involve a dealer," says AEM President Dennis Slater.
"This strikes the right balance in the way 'Right to Repair' legislation would not."
Manufacturers and dealers have opposed right-to-repair proposals in various state legislatures because of concerns that the broad terms of those proposals would risk machinery's compliance with safety and environmental regulations, and in that way, undercut the investments that manufacturers make in developing onboard software.
AEM and EDA say they will continue to oppose overly-broad legislation that would grant access to source code on board farm equipment.
"Simply put," says Rominger, "our industry commitment is to ensure that folks have the 'right to repair' while continuing to work against attempts to improperly modify equipment so as to compromise safety and emissions features."
Many manufacturers are already making service information available to customers, or will do so soon.
Consumers and independent repair shops have said they've found it hard to get tools needed to repair high-tech tractors and other heavy machinery, in part because of copyrighted software.
Farmers had banded in support of the so-called Right to Repair legislation, and now, the dealer and manufacturer organizations say they are moving to respond to those concerns.
The new Statement of Principles is intended to go above and beyond to provide a baseline industry commitment of service information for the customers, the groups say.