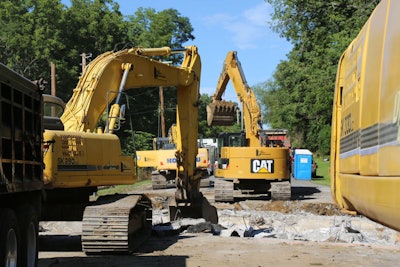 The Top Bid division of Equipment World's parent company Randall-Reilly has released a very cool new app for your iOS and Android devices that places decades of construction equipment data at your fingertips.
The new Serial Number Guide Mobile App allows users to access construction equipment serial number data from any location, even offline. Top Bid's Serial Number Handbook and Serial Number Online products have long been regarded as the most complete serial number data available in the industry, and the new app will make the same data available in the field.
With the app you'll be able to quickly validate the year of manufacture for a specific machine to ensure a reliable value. The idea is to help you avoid paying too much for used construction equipment or not asking enough when selling your current equipment. An error of just one model year (2005 vs. 2006, for example) can change the price by thousands of dollars.
The Serial Number Guide is the leading source for year-of-manufacture data on all major and hard-to-find construction equipment. This means you get over 50 years of serial number information from more than 585 manufacturers representing over 100 equipment types in construction, forestry, paving, material handling and aggregate industries.
The Serial Number Guide Mobile App requires a paid subscription. You can download the app by clicking the below links for either Android or iOS.


To activate the app, please call 1-800-633-5953, email anorris@randallreilly.com or visit Top Bid's web store, here.