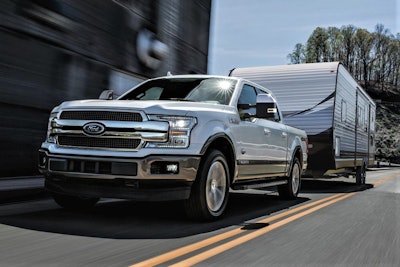 Ammann launches new 17-model paver lineup
Global supplier Ammann Group is launching a new, technologically advanced line of premium asphalt pavers, the company says.
The new machines excel in applications ranging from narrow paths to city streets to wide lifts for roadways and airports, the company says in a press release.
To read more, click here.
---
Sweeping changes overtake heavy-duty truck market
Emissions, technology and metallurgy have changed nearly every aspect of trucks used in the construction market.
Amid such wide-ranging changes, buyers need to become educated about the new features so when spec'ing trucks they take full advantage of the value those features can reap.
To read more, click here.
---
Is the service truck of the future a van?
There's a certain swagger mechanics get when riding around in a massive, Class 7 service truck complete with welder, compressor and crane. But is that image and the truck that goes with it a dinosaur?
Not entirely. Big service trucks still have their place, but increasingly vans—as in Mercedes Sprinters, Ford Transits and Ram Promasters—are going to play an important role as service vehicles for heavy equipment fleets.
To read more, click here.
---
Ford unveils 3L Power Stroke diesel, giving 2018 F-150 segment-best towing, torque, fuel economy
Ford's Vice President of Global Powertrain Engineering Dave Filipe – calling the 3-liter Power Stroke "[the] V6 engine that dreams are made of" – says the sixth engine option for the flagship F-Series pickup features 250 horsepower and 440 lb.-ft. of torque, with an EPA-estimated 30 mpg highway rating.
Filipe notes that peak torque comes at just 1,750 rpm with torque delivery continuing throughout the rpm range – ideal for towing or hauling heavy loads over long distances.
"The more you tow and the longer you haul, the more you'll appreciate its class-leading towing and payload capacity and how efficient it is at the pump," he says.
To read more, click here.
---
John Deere's new Roll-Out buckets deliver more dump reach
John Deere has introduced three new roll-out buckets to its Worksite Pro attachment lineup, designed for use on skid steers, compact track loaders and compact wheel loaders.
The buckets (model numbers RB72, RB84 and RB96) provide an additional 34 inches of dump reach when fully extended by using the machine's auxiliary hydraulics to roll out and dump material, Deere says.
And rather than require the machine hinge pin to raised higher than the hopper for dumping, these buckets pivot near their cutting edge for the additional height.
The buckets boast 114 degrees of roll-out and are available in widths of 72 inches, 84 inches and 96 inches.
To read more, click here.