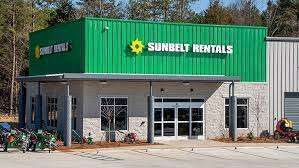 Fueled in large part by hurricane recoveries, Sunbelt Rental's total revenue grew by 17 percent to $2.08 billion – including an 18-percent rise in rental-only revenue, in the first half of its fiscal year ending October 31.
That's according to UK-based parent company Ashstead Group, which reported both second quarter and first half results on December 12.
In London, Ashstead's chief executive, Geoff Drabble, says a strong second quarter showed good underlying performance, "supplemented by clean-up efforts following hurricanes Harvey, Irma and Maria."
The company says Sunbelt Rentals' revenue growth in the United States continues to benefit from both cyclical and structural trends.
"Sunbelt US's revenue growth demonstrates the successful execution of our long-term structural growth strategy," says Drabble, referring in part to 32 new stores opened in the first half.
"We continue to capitalize on the opportunity presented by our markets through a combination of organic growth, same-store growth and greenfields, and bolt-ons as we expand our geographic footprint and our specialty businesses," he says.
"As we continue with our plan for 2021, we have made good progress on new stores with 32 added in the U.S. in the first half, around half of which were specialty locations," Drabble says.
Surging rental-only revenue
"Rental-only revenue growth was 18 percent in generally strong end markets. This growth was driven by increased fleet on rent, partially offset by yield. During the second quarter, Sunbelt US was actively involved in the clean-up efforts following hurricanes Harvey, Irma and Maria."
The company estimates that the hurricanes resulted in incremental rental revenue of $40 to $45 million.
"Following the significant initial restoration and remediation work, we expect a much lower impact throughout the second half," Drabble says.
Average first half physical utilization was 74 percent, up slightly from 73 percent in 2016.
Strong sales figures
Sunbelt US's total revenue for the first half, including new and used equipment, merchandise and consumable sales, climbed 17 percent to $2.08 billion. That's compared $1.79 billion for the same period a year ago.
"We continue to focus on operational efficiency and improving margins. In Sunbelt US, 54 percent of revenue growth dropped through to EBITDA. The strength of our mature stores' incremental margin is reflected in the fact that this was achieved despite the drag effect of yield, greenfield openings and acquisitions," Drabble says.
This strong drop-through drove an improved EBITDA margin of 52 percent (2016: 51 percent) and contributed to a 19-percent increase in operating profit to $703 million (2016: $592 million, according to Drabble.
First half trading results showed EBITA at $1.07 billion compared to $912.4 million a year earlier, for Sunbelt US, the Ashstead Group reports.
Ashstead says it anticipates that activity levels will normalize during the second half, post hurricane clean-up, and that the company expects full-year results to be ahead of prior expectations.
2Q capital expenditures in a strong market
In a strong U.S. rental market, Ashstead says, $573 million of rental equipment capital expenditure was spent on growth while, with a lower replacement need, only $127 million was invested in replacement of existing fleet.
(The growth proportion is estimated on the basis of the assumption that replacement capital expenditure in any period is equal to the original cost of equipment sold, the company says.)
Sunbelt Canada business doubles
The acquisition of CRS in August 2017 more than doubled the size of the Sunbelt Canada business in the first half of the Ashstead calendar year.
Revenue reached $73.1 million in the first half, up from $27.7 million in the first half of 2016.
EBITA was $29.7 million compared to $11.4 million in the same period for 2016.