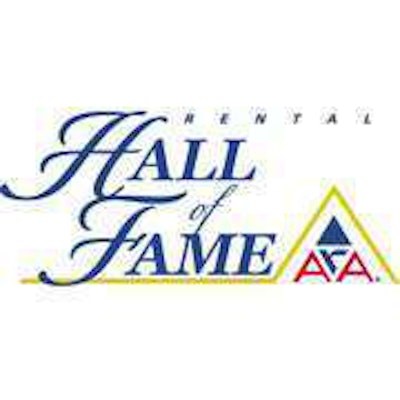 Two long-time equipment rental industry leaders ­– Carl Newman and the late Melvin Williams – will soon be inducted into the Rental Hall of Fame for major contributions to their field.
The American Rental Association (ARA) created the Rental Hall of Fame in 2000 to foster an appreciation of the historical development of the rental industry and the leaders who helped the industry grow and expand. Newman and Williams will be inducted on February 19 during the association's annual show in New Orleans.
The American Rental Association has provided this information:
Carl Newman
Newman's impact on ARA and the industry has reached throughout the nation and as far away as Australia.
Active in his business and ARA of Tennessee events, he consistently looks for ways to help his fellow rental owners and operators, improve his own business and give back to the equipment rental industry.
Newman joined the American Rental Association in 1989 as owner of A&A Rentals and Sales in Sevierville, a picturesque community in the shadow of the Smoky Mountains in eastern Tennessee.
Five years later, he began a 17-year run of leadership on the state and national levels that would include meeting with President George W. Bush to discuss the global growth of the equipment rental industry.
Newman joined the ARA of Tennessee board of directors as vice president in 1994 and became president a year later. This led to serving as ARA Region Three director from 2001 through 2004.
Mr. Newman goes to Washington
In 2002, Newman attended ARA's National Legislative Caucus in Washington, D.C., and became one of four delegates attending a briefing on small business issues held by Bush at the White House. Advocating for the industry, Newman told Bush of ARA concerns that affect members.
In 2006, he was elected ARA president. That came on the heels of serving on many ARA committees, interest groups and task forces.
His leadership ultimately led to the establishment of the ARA of California and the regeneration of Region Nine.
Forging ties in the land down under
As the ARA board chair in 2007, Newman's influence in Australia on behalf of the association resulted in the creation of the ARA Foundation's International Rental Business Leadership Program.
He had met with Andy Kennard, owner of Kennard's Hire based in Sydney, to discuss their rental-related experiences and the professional friendships they've formed throughout the world. Kennard's Hire later pledged $10,000 to start the International Rental Business Leadership Program, which was formally launched in 2008.
"Newman's realization that good leadership is important for the association was understood when he was part of the group that helped formulate ARA's strategic plan," the ARA says in a release.
"He strived to make sure the plan was relevant, fully deployable and flexible so it could be adapted as times change."
Melvin Williams
Melvin "Mel" Williams, founder of Rent-A-Tool in Revere, Mass., was a pioneer in the equipment rental industry. He went on to advocate and advise others in his industry for decades, and he left a lasting mark.
"Even after his death in 1999, Williams's impact on the equipment rental industry carries on and is still visible today," the ARA says.
He was known as an innovator when it came to his rental inventory and processes. His creation of quality control, inventory management and yard management solutions brought improvements still seen throughout the industry.
He got his start just after coming home from World War II. A young Williams opened Rent-A-Tool in 1954. That was two years before the founding of the American Rental Association.
While it took time for word of ARA to spread from the Midwest, Williams was instrumental in bringing together equipment rental businesses on the East Coast, his peers say.
Leading the way for ARA
With other rental businessmen in the Boston area, he created an association, the Northeast Rental Equipment Association, which eventually became the American Rental Association of Massachusetts.
Rent-A-Tool became an ARA member in 1963. Williams soon became a well-respected authority on the equipment rental industry, his peers say.
"He was an ambassador for non-members to join and become involved with ARA. He also was looked upon for assistance from other members who joined him at state and region meetings," an ARA press release says.
Industry authority, ambassador, trade show mainstay
The development and enhancement of portable diesel generators led to Williams' claim to fame in the industry. He became well-known for his marketing of these generators during the Northeast Niagara Falls blackout in 1965. He also shipped generators all over the U.S. during severe blackouts, floods and hurricanes.
Williams also filled another niche important to contractors. He was known to have no fear in expanding his rental inventory on hard-to-find items.
A mainstay of the Rental Show, Williams attended for 35 consecutive years, where he became an East Coast authority for the industry. At the show, manufacturers would often wait to get William's opinion on new styles or designs of generators before marketing them.
He was an expert on sound attenuation, series paralleling, expanding fuel consumption and other applications. He also was well-known as an innovator of flood light towers, generator load banks, and large-capacity air compressors and water pumps, the rental organization says.
"Williams was instrumental in forming relationships with heavy equipment manufacturers so they would take the rental industry seriously," the release says.
"He wanted the industry to be credible – even before he knew about ARA."