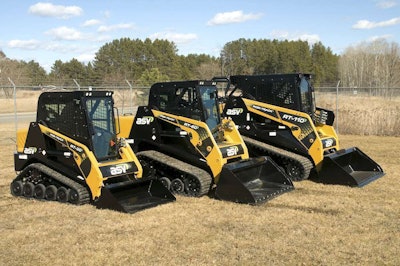 ASV Holdings, Inc., manufacturer of all-purpose and all-season compact track loaders and skid steers, has added National First Equipment, LLC of Berea, Ohio, to its dealer network.
National First Equipment rents, sells and services a variety of used compact construction equipment, including mini excavators, wheel loaders, dozers, backhoes and ASV's full line of skid-steer loaders.
National offers ASV's Posi-Track compact track loaders, featuring best-in-class rated operating capacity, cooling systems and hydraulic efficiency.
They range from the RT-30, the industry's smallest sit-on compact track loader, to the new VT-70, ASV's first mid-frame, vertical lift model, and all the way up to the RT-120 forestry unit.
"We've always been focused on providing high-quality equipment and after-sales support to landscapers, do-it-yourselfers and small contractors," says Larry Mahnen, National First Equipment general manager. "The ASV equipment was a natural fit. The line allows us to expand into offering new equipment while staying true to our focus on serving our customers' compact equipment needs."
This continues the expansion of ASV's distribution network and continued development of ASV as an independent company. In the third quarter of 2017 alone, ASV had added 21 locations.
For the third quarter of 2017, ASV Holdings posted a walloping 88.7 percent increase in new machine sales through its growing distribution network.
In addition to serving the greater Cleveland area, National also sells its equipment throughout the U.S. and internationally via its website, nat1eq.com/.