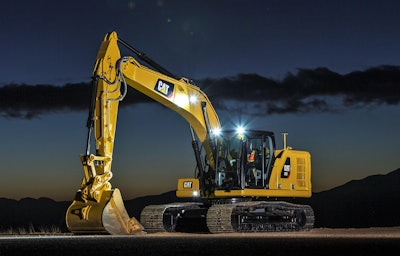 Cat unveils 3 20-ton Next Gen excavators: 'Platform for the future' boasts new hydraulic tech, remote start from phone app
How cool is this: An excavator that you can start with an app on your smart phone.
That's just a tiny fraction of the digital razzle-dazzle Cat showed us last week in the most significant change to its excavator program in 25 years.
The changes will eventually roll into almost all Cat excavators, but the company chose to start this Next Generation program with its 20-ton excavator class, specifically the new models designated the 320GC, 320 and 323.
To read more, click here.
---
Chevy unveils Colorado ZR2 AEV, a Duramax-powered rock crawler
Chevy has taken lessons learned from overland expeditions and off-road racing and applied them to the Colorado ZR2 AEV Concept.
The truck illustrates Chevy's commitment to the Colorado as a major platform for the automotive brand moving forward and how in the last several years it has embraced testing and introducing new concepts to its customers, particularly at the annual SEMA show.
To read more, click here.
---
Smaller is Better: T4F engines under 75 hp don't sacrifice torque, require less maintenance
With the emergence of the Tier 4 Final era, most of the big changes in diesel engines have been on those above 75 horsepower. They required new emissions reduction systems using selective catalytic reduction (SCR) and diesel exhaust fluid (DEF).
But in most cases, engines below 75 horsepower hit their air quality targets by upgrades from mechanical to common rail fuel injection and electronic control. This technology has been featured in larger engines for more than a decade. It's proven, well-known and not nearly as expensive or as complex as SCR and DEF systems.
To read more, click here.
---
How Cat's 988K XE electric drive loader achieves up to 49% efficiency gains
The first reason is that the torque convertor has been taken out. The second is that it runs with less rpm – from 1860 high idle on the 988K down to 1600 revolutions per minute on the 988K XE, says Todd Tuntland, a Cat product application specialist.
"Essentially, we took out the torque convertor and the transmission and replaced it with a generator, invertor and motor," Tuntland says of changes with the electric drive system.
To read more, click here.
---
PHOTOS: The best Chevy and GMC trucks of SEMA 2017
Because Chevy treats the annual SEMA show like a testing ground for concepts, there's always a lot of cool stuff to see when it comes to GM pickups at the show. But there's plenty of great truck builds outside of the official OEM fare so we've rounded up all the great GM builds we saw at the show in one handy gallery.
To see the gallery, click here.