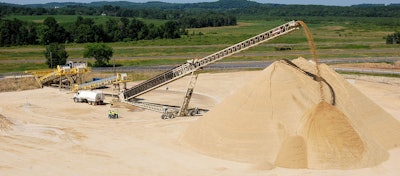 General Equipment & Supplies, a Midwestern distributor of aggregate and construction equipment, has become an exclusive dealer for Superior Industries in Iowa and Nebraska.
Superior has maintained a longtime partnership with General Equipment for selling and servicing its conveying equipment throughout the Upper Midwest. The expanded partnership means the distributor will also exclusively represent Superior's crushing, vibratory and washing equipment in the two states.

General Equipment will sell and service Superior's jaws, cones and VSI crushers, horizontal and inclined screens, washing screws and dewatering screens.
Superior engineers and manufactures bulk-material handling equipment, including the TeleStacker Conveyor and Razor Tail Truck Unloader. Its customers include the construction aggregates and mining industries. Headquartered in Minnesota, it also has plants in Arizona, Georgia, Michigan, Nebraska, and in Alberta and New Brunswick, Canada.
General Equipment sells, rents, services and fabricates heavy equipment for the construction, mining, oil exploration and municipal industries and has seven locations in North Dakota, South Dakota and Minnesota.