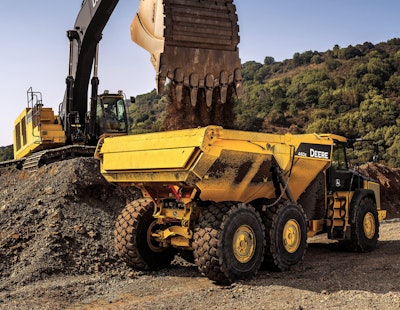 Deere & Company net income for the third quarter of fiscal 2017 increased 31.3 percent, compared to the same period last year, to reach $641.8 million, while construction and forestry division sales increased 29 percent.
Total worldwide net sales and revenues increased 16 percent to $7.8 billion for the quarter compared to Q3 2016, with net sales of the equipment operations reaching $6.8 billion, an increase of 16.6 percent.
"John Deere reported another quarter of strong performance as the company continued to benefit from improving market conditions throughout the world," says Chairman and CEO Samuel R. Allen. "We are seeing higher overall demand for our products with farm machinery sales in South America experiencing strong gains and construction equipment sales rising sharply. Deere's performance also is being assisted by an advanced product portfolio and the continuing impact of a flexible cost structure and lean asset base."
Operating profit for equipment operations rose $170 million compared to Q3 2016, an increase of 27.2 percent.
"The improvement for the quarter was primarily driven by higher shipment volumes and price realization, partially offset by increased production costs, higher selling, administrative and general expenses and warranty costs," the company reports
Net income for equipment operations was $506 million for Q3, an increase of 43.3 percent over the $353 million reported for the same period in 2016.
Operating profit for construction and forestry reached $110 million for the quarter, compared to $54 million for Q3 in 2016. "Results for the quarter were helped by increased shipment volumes, partially offset by higher selling, administrative and general expenses, higher sales-incentive expenses and increased production costs," the company reports.
Outlook
Deere expects equipment sales to increase 10 percent for fiscal 2017 and be up about 24 percent in the fourth quarter, both respective to the same periods last year. The company forecasts worldwide sales of construction and forestry equipment to increase 15 percent for 2017.
"Deere's ability to deliver consistently strong financial results is proof of our success building a more durable business model," Allen says. "We are continuing to find ways to make our operations more efficient and profitable while providing even more value to our global customers. As a result, we're confident Deere is well-positioned to continue its strong performance and to fully capitalize on the world's increasing need for advanced machinery and services in the future."