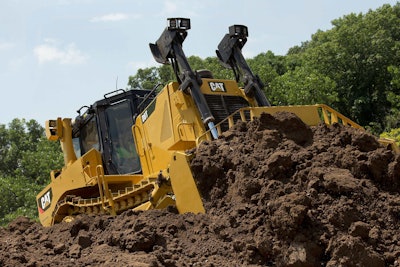 Second quarter revenue for the largest Caterpillar distributor Finning International jumped 21 percent to $1.58 billion, compared to the same period last year, driven by a 46-percent increase in new equipment sales on a consolidated basis.
The company also cites product support revenue growth of 13 percent, indicating all operations reported higher parts demand.
"Our second quarter results demonstrate strong operating leverage as we continue to benefit from operating performance improvements and a reduced cost base," says President and CEO Scott Thomson. "Strengthening demand for equipment and product support in all our regions had a positive impact on our results, and we now expect our annual revenues to increase modestly over 5% compared to 2016."
The immediate impact of Komatsu's acquisition of Wisconsin-based surface and underground mining equipment manufacturer Joy Global has been overwhelmingly positive as the Japanese equipment manufacturer has seen big sales and profit gains in the first quarter of the current fiscal year.
According to the company's FY 2018 Q1 earnings report, sales are up 44.2 percent to 561.2 billion Japanese Yen ($5.1 billion). Komatsu attributed the sharp increase to the Joy acquisition along with increased construction equipment demand from "China, Indonesia and many other countries."
In the Americas, Komatsu reports increased demand for equipment, especially from the energy sector.
Because the Joy purchase expanded sales in many areas of the world, Komatsu also saw profits double, increasing 133 percent to 36.4 billion Yen ($333 million).
Takeuchi-US has added Carson City, Nevada-based Courson Equipment to its dealer network, adding to its coverage in northern Nevada.
The dealership, established in 1996, will carry Takeuchi's full lineup including excavators, skid steers, track loaders and wheel loaders.
"Courson Equipment has a great customer base throughout the nine counties in northern Nevada it serves," says Kim Robinson, Takeuchi-US director of sales. "They have been around awhile and have a very knowledgeable and hard-working staff. We are looking forward to our partnership with them."
The American Rental Association (ARA) says in its latest quarterly update on its five-year forecast that equipment rental revenue in 2017 will reach $49.3 billion, a slight decrease from the $49.4 billion the association estimated in its last report.
While this new forecast is a bit lower, it still represents a 4.3-percent increase over 2016. The estimates cover construction/industrial, general tool/light construction and party/special event.
ARA did boost its growth rates, however, for later years, estimating 5 percent growth in 2018 and 5.8 percent growth in 2019. For 2020 the association dropped its growth forecast a bit to 4.4 percent, and 3.9 percent in 2021. The combined final rental revenue for 2021 remains the same as previously estimate at $59.4 billion.
College students are showing more interest in the construction trades, with a 26.4 percent increase in enrollment, according to a recent report from the National Student Clearinghouse Research Center, a nonprofit organization that collects and distributes education data.
Construction trades include many subjects, such as carpentry and management, and many four-year schools offer a bachelor's degree in the latter.
"They're not learning how to drive a nail or twist wires or dig a hole," says Michael Holland, president of the American Council for Construction Education, according to a report by U.S. News. "They're learning how to manage that process from a business perspective."