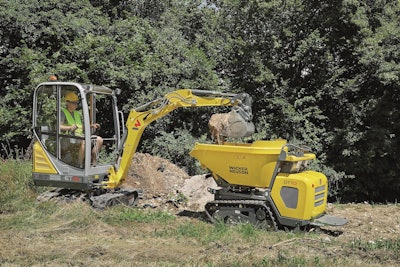 Wacker Neuson reports second quarter 2017 revenue of 452.2 million euros ($501.5 million), an increase of 11 percent compared to the same period last year.
Profit for the quarter reached 29.8 million euros ($35.15 million), growth of 31 percent compared to second quarter 2016. Earnings before interest and tax increased 41 percent to 36.7 million euro.
North and South America played a part in the growth, even though Europe accounts for 73 percent of the company's revenue.
"We reported a 32-percent rise in revenue in North and South America for the second quarter and an increase of 23 percent for the first six months of the year," says Wacker Neuson SE CEO Cem Peksaglam. "We are particularly pleased to see strong growth in compact equipment, especially with our skid steer loaders, wheel loaders and telescopic handlers. We have also made further progress on expanding our dealer network."
He also says the company's light equipment business is strengthening, citing worksite technology, generators and light towers performing well in North America. "We are also seeing strong results from compaction technology, in particular with products connected to our alliance with Hamm AG," Peksaglam adds.
The Asia-Pacific region saw a 65-percent increase in revenue for the second quarter this year, with Australia and New Zealand recorded double-digit revenue growth for the first for the first half of 2017. However, the company reports skewed baseline comparisons for China as a result of a "one-off effect" in Q1 2016 in which Chinese dealers were stocking up on compact equipment.
2017 outlook
For the second half of the year, the company expect positive growth, with initial signs of a "health order situation and positive mood across all key markets," according to Peksaglam.
"In Europe, we expect the construction industry to continue on its positive growth path and demand in the agricultural sector to rise. In Americas, we expect the strong performance of the first six months to continue, fueled in particular by business with compact equipment," he adds.
Wacker Neuson raised the 2017 revenue forecast range to 1.45 billion to 1.50 billion euro ($1.71 billion to $1.77 billion), indicating a 7 to 10 percent growth rate. The company also says its strategic alliance between John Deere, and group member Kramer, which was announced in July, "puts the company on course to further expand its compact agricultural equipment footprint in Europe."