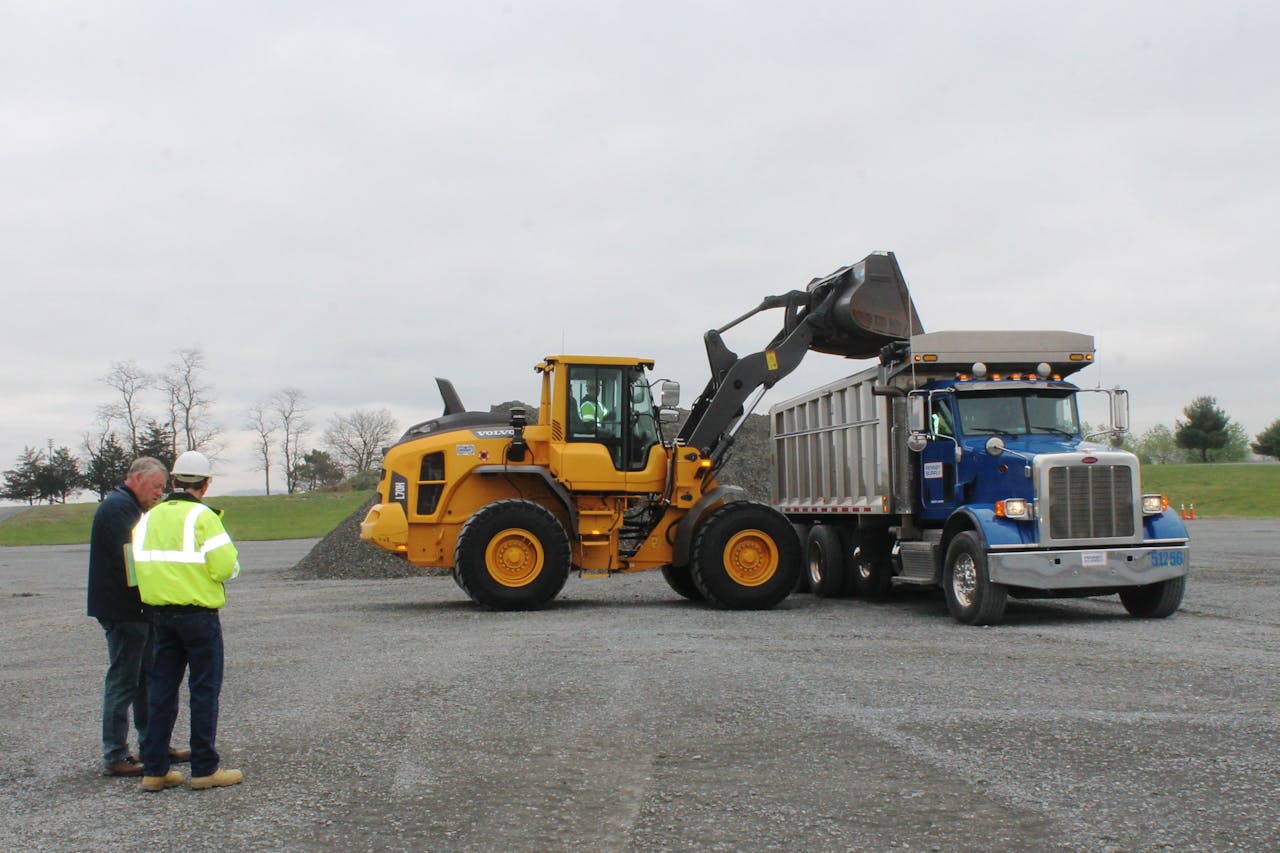 Volvo Construction Equipment, along with its dealer Highway Equipment & Supply and customer Allan Myers, recently participated in the SkillsUSA Pennsylvania State Heavy Equipment Competition.
The event aims to encourage youth to pursue jobs in manufacturing and tested "top technical students" from across the state in operating equipment in nine categories
"As a leader in the construction equipment industry, it is very important for Volvo CE to support future generations of skilled workers," says Chuck Wood, vice president, Human Resource Management and Administration for Volvo CE. "Competitions like this not only help students get excited about a future in our industry, but also help bridge the current skills gap."
Wood says roughly 600,000 manufacturing jobs went unfilled in the U.S. in 2011, with the figure is expected to increase to more than two million in the next two years. "That's a large gap and as a company, we are working hard to do our part to shrink that gap."
SkillsUSA hosted the competition as part of the 2017 SkillsUSA Pennsylvania State Championships, with nine high school students participating in the heavy equipment competition. Students were given tasks to complete such as identifying components and controls, inspecting machines, writing a service summary and operating virtual bulldozers and excavators.
Central Pennsylvania Institute of Science and Technology student MacKenzie Stine scored gold, and Ethan Snyder and Sean McCabe from Lancaster County Career and Technology Center came in second and third place, respectively.
"I was raised on a farm and have always worked around equipment since childhood," Stine says. "I think my strongest contest area was digging the trench with a backhoe and I plan to get a job as an excavator operator after graduation."

Representatives from Volvo CE, Highway Equipment and Supply, and Allan Myers served as judges and donated equipment for the competition.
"There is a high demand for talented equipment operators in the mid-Atlantic Region, and the demand will continue to grow at an alarming pace over the next 10 years," says Nathan Brenneman, senior human resource manager at Allan Myers. "To help our employees better understand the skillsets needed as an equipment operator, our company offers an in-house operator training program and we serve on several occupational advisory committees at local career schools."
Jim Wabals, instructor at Lehigh Career and Technical Institute and co-chair of the competition, says the partnership with local manufacturers and companies are crucial for skills education.
"Many students have expressed their interest in the heavy equipment industry but because of the high cost for equipment and training expenses, currently only three high schools in Pennsylvania are able to offer heavy equipment operating curriculums," Wabals says. "To provide more educational resources in the field, we need support from an engaged advisory committee that includes local industry employers, equipment dealers and manufacturers."
During the competition, Allan Myers also displayed a gold-painted A40G articulated hauler, which was custom-painted to celebrate the 50th anniversary of Volvo CE introducing the articulated hauler. Throughout 2016, the golden hauler travelled across North America to dealer-sponsored events that connected local technical students with professionals in the field. In February, Allan Myers purchased the golden hauler at an auction, where proceeds went to benefit several skills organizations including SkillsUSA and Skills Compétences Canada.
"We are proud to support the next generation of skilled craft professionals, because they will be a vital part of supporting the growth of Allan Myers and the construction industry," Brenneman said.