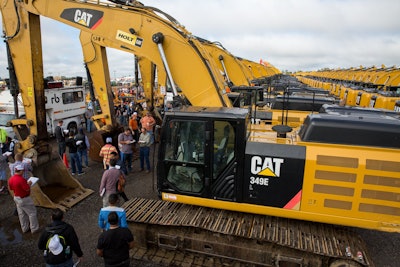 The U.S. Department of Justice's Antitrust Division has cleared Ritchie Bros.' proposed purchase of IronPlanet announced last August. The estimated $758.5 million purchase sets the stage for potential combined online sales of $3 billion annually.
The acquisition could close "in the next few weeks" with a new organization structure announced following. Ritchie Bros. CEO Ravi Saligram will lead the combined companies.
"The management team and employees of IronPlanet are enthusiastic about joining forces with Ritchie Bros.—the possibilities are endless when you merge brand strength with technology," says IronPlanet Chairman and CEO Greg Owens. "We are inspired by the vision of leading a digital transformation in the industry."
Saligram says the purchase is part of the Ritchie Bros. effort over the last three years to diversify through a multi-channel effort to keep the company "relevant and strong" in the fast paced equipment auction space. "This is our journey from being a brick-and-mortar live auctions company to really being a multi-channel technology company," Saligram explains.
And while the move is clearly an acquisition, he says it's being treated as a merger.
"Not all the senior level positions will be at Ritchie Bros.," he says. "There will be some senior positions occupied by IronPlanet people, some by Ritchie Bros. people and it will be unique."
"A big part of this acquisition was not just for the IronPlanet brand or the technology or for their model, but as importantly was for its people. Greg has assembled a terrific management team. Just like the brands, they're complementary to each other, bringing different skill sets. In fact, that was a condition of the deal that if I could not get the people we wanted from the management team, that we would not move forward. We signed employment agreements, conditional on the closing. We're getting six senior executives from their management team. Each one of these people will have very meaningful and responsible roles."
Besides the people, Saligram says a key meshing of abilities will be with Ritchie Bros. EquipmentOne and the IronPlanet Daily Marketplace.
"We're going to fuse the two together," he explains. "Together they will actually become one. It will take some time to technologically achieve it, but that's our aim, so there is one offering in the Daily Marketplace-EquipmentOne combination."
Part of that effort will be to incorporate IronPlanet's inspection system and the IronClad Assurance equipment condition certification. "They have a very good systematic way of doing it," Saligram says. "They have inspectors around the globe and it's all done on iPads."
Caterpillar alliance
The purchase also will make Ritchie Bros. Caterpillar's preferred global partner for live onsite and online auctions of used equipment through a long-term strategic alliance with the manufacturer.
"When we did the strategic alliance with Caterpillar there were a lot of aspects to it, and having a strong association with the Caterpillar brand is a positive thing," Saligram says. "We have very strong relationships with many Cat dealers around the world and we think that there are ways that the Cat Auction Services can be used very effectively in conjunction with our live Ritchie Brothers Auctions (RBA) brands."
He adds the two aren't viewed as mutually exclusive and they can complement each other.
"We think there will be things that they'll want to do which is focused on dealer business," Saligram adds. "We also think it will be a great way for us to enter new countries without having to create new sites where Caterpillar dealers have their yards. We will figure out ways, whether dealers want to, when it's appropriate, to use the (Cat Auction Services) brand and when to use RBA. We think there is a place for both and we're very comfortable with that going forward."
Overall impact
Saligram refers to the acquisition as a "marriage made in heaven" of two well-known brands in the auction industry that bring different things to the table.
"It's a way for us to combine their digital expertise and their online prowess with our unique business model, our financial strength and the customer relationships that we're known for," he says. "Bringing the two together, these portfolio of brands, I think we're becoming a one stop shop. To me this is about transformation of not only the company, but transformation of the industry itself."