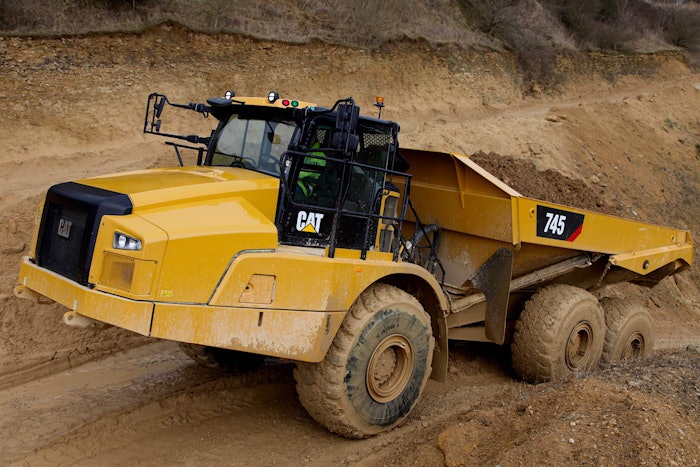 The 45.2-ton Cat 745 articulated truck unveiled last week at the company's ConExpo booth is visibly different from its predecessors, and features a new external "spinal" ROPS that uses bonded rear quarter glass, thus eliminating the structural rear pillar. The result: what Cat calls a "dramatic improvement in visibility from the cab." The 745 is also the first Cat machine that will no longer carry a suffix; instead, Cat will note changes by model year.
"Our focus has been on the operator with the 745," says Scott Thomas, Cat applications specialist, articulated trucks. "It's a completely new cab, with 20 percent more interior space than the previous model."
Operators can now flip a ground-level switch to illuminate the steps and hitch areas for increased safety when entering the cab.  A "wake up" cab feature initiates machine displays as soon as an operator opens the door and a lighter, stronger cab door has shut assist for improved sealing against dust infiltration. Inside sound levels have been reduced 5 decibels at the operator's ear.  "It's now similar to driving a mid-size sedan," Thomas says.
Manitowoc marked its first ConExpo since establishing itself as a standalone crane company in a big way: according to president and chief executive officer Barry Pennypacker, of the company's 12 cranes on display at the show, eight were developed in the last six months.
"The remaining four, were developed in the last year," Pennypacker added. "We're a different crane company and we plan to treat our customers that way."
Pennypacker said it was in a conference room in February 2016 that the company began in earnest shrinking its crane development time from three years to six months.
One machine generating a significant amount of buzz on the ConExpo 2017 show floor is JCB's Teleskid, after the company did a series of teaser videos before the show. The half telescopic handler/half skid steer (it also comes in a compact track loader version) is what Randy Tinley with JCB calls "a natural progression from our unique side door/single-side boom set up on skid steers and CTLs."
The Teleskid can reach 60 percent further forward than a typical skid steer—up to 13 feet 3 inches—and is the only skid steer that can dig below its chassis to a depth of 3 feet, JCB says.
A forward reach of 8 feet gives the machine the ability to reach through and over obstacles. The machine comes in two versions: the 3TS-8W wheeled model and the 3TS-8T tracked version. "It can sit on the top of a hill and mow down to a pond and the operator never has to move the machine," Tinley says.
GOMACO launched the GP4, a slipform paver capable of paving up to 40 feet wide, at ConExpo 2017 in Las Vegas.
The GP4 follows the launch of the 30-foot-wide capacity GP3 at the 2016 World of Concrete.
The new paver features a dual-telescoping roller frame with Smart Cylinders and Smart Telescoping for accurate frame widening and automatic width reference for accurate and easy steering setup, the company reports.
The roller frame telescopes up to 7 feet on each side for 14 feet total telescoping ability. It features Smart Pivot Arms for leg positioning and Smart Track Steering technology.
Sany launched its SSR120C-8 roller compactor for the North American market at the 2017 ConExpo show in Las Vegas.
"This is Sany America's first model in the compaction market and further proves Sany's commitment to providing the best value proposition in the industry," says Eric Teague, general manager Sany America.
The SSR120C-8 features a Cummins Tier 4 Final 160 horsepower engine and has electronically controlled travel and vibratory functions. It comes standard with a rear view camera and a heated, air suspension seat.