Manitowoc is marking its first ConExpo since establishing itself as a standalone crane company in a big way: according to president and chief executive officer Barry Pennypacker, of the company's 12 cranes on display at the show, eight were developed in the last six months.
"The remaining four, were developed in the last year," Pennypacker added. "We're a different crane company and we plan to treat our customers that way."
Pennypacker said it was in a conference room in February 2016 that the company began in earnest shrinking its crane development time from three years to six months.
At the show, Manitowoc introduced two new rough-terrain cranes, a crawler crane, a new telescopic crawler crane and two new truck cranes—one of which also incorporates boom truck features.
GRT880 and GRT655 rough-terrain cranes
Manitowoc says the latest GRT880 rough-terrain crane is a generational update boasting better reliability, increased capacity and mid-range and maximum radii than previous generations. The crane is rated at 16 percent greater capacity at full radius, 13 percent greater capacity in mid-range applications and 27 percent greater capacity at close radii.
The GRT880 is an 80-metric-ton (t) crane with a 135-foot boom. The boom has a reach of 200 feet and a maximum tip height of 223 feet. The boom is lighter and longer than its predecessor but can lift heavier loads across its load chart. Hoist line pull is rated at 17,380 pounds on both the main and auxiliary hoists and results in fewer parts of line being needed to lift loads.
Primarily aimed at rental customers, the lightweight, small-footprint GRT655 is a 50 t crane with a 114.3-foot-, four-section greaseless boom. A long-boom (141.2-foot, five-section boom) configuration is available. The longer boom gives the crane a maximum working radius of 120 feet along with a 3-percent boost in chart capacities. Line pull on the GRT655 is 16,658 pounds.
Manitowoc says the GRT655 is the only 50 t crane on the market with a 20-degree tilting cab.
Both the GRT880 and GRT655 come equipped with Manitowoc's Crane Control System (CCS), which provides intuitive controls and displays, standard.
NTC55 "evolved' truck crane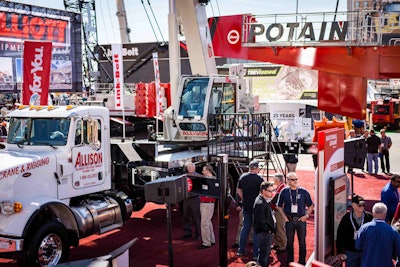 With Pennypacker calling it "the ultimate combo crane," the NT55 is a 50 t truck crane replacement that easily maneuvers into tight working conditions while also boasting the capabilities of a boom truck.
Manitowoc says it heard from many companies asking for a "transportable 36.3 t capacity truck crane that could also take on the jobs of higher capacity boom trucks that require a larger area for outrigger setup."
The NTC55 can be setup with a reduced 20-foot outrigger span, exceeding lifting requirements for the 40 t truck crane configuration with a main boom that's between 18 and 34 feet longer than competing truck cranes. When there's enough room, the crane's outriggers cam extend to 24 feet, greatly boosting reach and capacity.
A hydraulically self-removable counterweight system is standard on the NTC55 and consists of one 3,000-pound counterweight slab and two smaller 1,250-pound counterweights, giving the crane greater flexibility when roading, Manitowoc says. If axle weight limits in a given area are particularly stringent, or an end user can't road the crane at full weight, counterweight can be hydraulically removed or stowed on the vehicle itself for transport.
Two jib options are available: a 26-foot fixed-length, offsettable jib, and a two-section, manually telescopic offsettable jib that can be adjusted from 26 feet to 45 feet.
The NTC55 is also the first National Crane to have a 20-degree hydraulically tilting operator's cab.
MLC300 crawler crane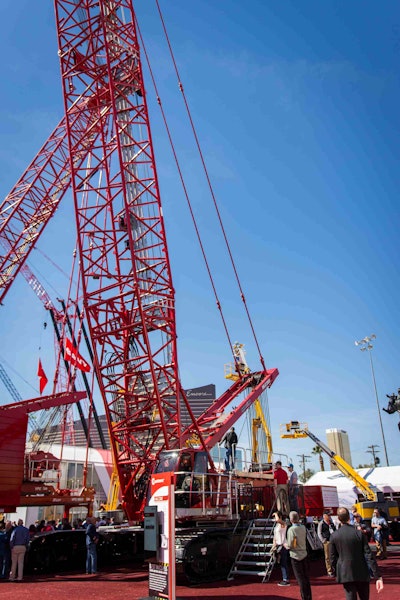 Manitowoc has introduced a new version of the MLC300 with a fixed-position counterweight and without its Variable Position Counterweight (VPC) technology as a more economical option for customers who want a 300 t crane without the added cost that VPC adds to a crane. The company notes that the MLC300 can be retrofitted with VPC at any time.
Pennypacker says this new budget-minded MLC300 "will allow us to compete with a lot of the imports we're up against."
The MLC300 has a 315-foot boom with the option of an additional 98-foot fixed jib. A 315-foot luffing jib can be added to extend reach to 492 feet.
"Manitowoc saw a growing need in the crawler crane market for enhanced versatility in a capacity class that was above the Manitowoc 2250 for a variety of applications,"explains Harley Smith, Manitowoc's global product director for crawler cranes. "Equipment owners that focus on duty cycle applications, such as clamshell operation, bulk material handling or pile driving, for example, didn't need the features and high-capacity performance associated with VPC technology and preferred to invest in a crane that meets their unique job site requirements."
GHC30 telescopic crawler crane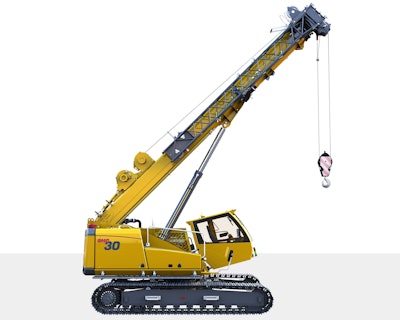 This new 30 t crane is the smallest offered in the Grove GHC lineup, giving it high maneuverability, Manitowoc says. It joins the GHC50, GHC55, GHC75 and GHC130, all of which are produced as part of a partnership with Sennebogen.
The GHC30 came about in response to customers doing utility, energy, construction and barge-mounted work who asked for a crane with a smaller footprint. The crane measures 34.7 x 9.8 x 10 feet with a tail swing of only 10.8 feet. It can pick-and-carry at 100 percent of its load chart on inclines up to 4 degrees and can swing loads a full 360 degrees.
The machine features a three-section, 83-foot telescoping boom and can be outfitted with one of two engine options: a 4.5-liter, Tier 4 Final, 173-horsepower Cummins QSB or a Tier 3 160-horsepower engine.
The following attachments are available for the GHC30:
♦ Offsettable, swingaway boom extension available in lengths from 21.3 feet to 42.7 feet
♦ Two-person work platform
♦ Boom-mounted hydraulic auger attachment
♦ Pole claw
TMS9000-2 truck crane
Manitowoc says the mantra behind the development of the TMS9000-2—the crane that established the company's new six-month development cycle—was "lighter, longer, stronger."
This 100 t truck crane is approximately 800 pounds lighter than its predecessor, the TMS9000E, enabling a wider range of flexibility carrying counterweight, cribbing and other items, Manitowoc says.
Boom length and capacity have increased with a 169.3-foot, six-section, greaseless boom with Grove's Twin-Lock pinning system.
At 100 t capacity, Manitowoc says the TMS9000-2 is the strongest four-axle truck crane on the market with load charts with maximum counterweight increasing by 5 percent over its predecessor.
The TMS9000-2 is powered by a Cummins ISX powertrain rated at 450 horsepower and 1,550 lb.-ft. The crane features four outrigger configurations: 0, 33, 66 and 100 percent.