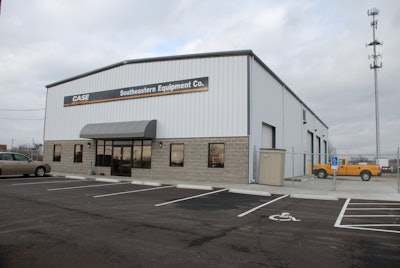 Ohio-based Southeastern Equipment celebrates 60 years in business in 2017 and is setting a strong goal of becoming the top Case dealer in the U.S. this year.
According to Heath Watton, vice president at Southeastern, the company is consistently a top five dealer for the manufacturer, but it is setting its sights higher.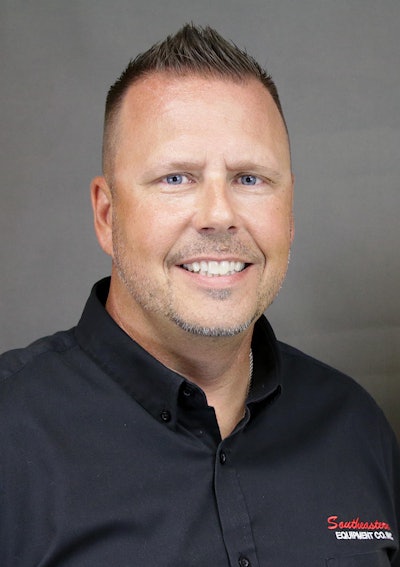 "We have committed ourselves to a specific market share goal for the Case product line we'd like to hit," Watton says. "If we get there from here in our market in Ohio, we will be the top Case dealer in the country bar none. It will be without question."
So what's the plan for hitting this target?
Watton, Southeastern President Charlie Patterson and Vice President Mickey Gourley are visiting all 18 of the company's locations to discuss responsibility goals at each store level as a first step.
"We're going to touch all our stores, see all our people and discuss our game plans," Watton explains.
But it takes more than just talk with such a goal, so Southeastern has hired a new director of service to revamp its service departments across the company's locations.
Watton says one of the tough things about a 60-year-old business is the loss of continuity from store to store during the expansion process.
"Sixty years ago we had two stores, then you from two stores to 10, from 10 to 12, then all of a sudden you go from 12 to 18," Watton says. "Obviously process and procedure does not change, but when you have 18 standalone locations, sometimes those locations 'do it how they do it.' And in our service department, that's really tough because even though services are forever changing, we need to establish some norms."
With the new director of service, Watton says the company is establishing those norms and baseline procedures.
"So if a service manager from Store A picks up and goes to Store F, it ought to be plug and play in the sense of how we're filing things, how we're communicating warranties, etc.," he explains. "It's kind of some of those low hanging fruit type of issues we have to deal with. Our number one goal on the service side is getting some of those things established with some consistencies, in part because it's such a feeder for the business."
As part of this service effort, Southeastern is turning inward to get a feel for what their people believe should be done.
"We're going to listen to our people," Watton says. "It's not that we haven't in the past. Sometimes when you have 18 locations it can actually be a detriment. And that's where it has hurt us with that size. So we're going to turn the tide, if you will, and we're going to use 18 locations as a benefit. We're going to listen to the guys who have run some of our big stores who have fantastically functioning service departments and we're going to see how they do it."
Those employees will then share their best practices with the director of service, the company's regional service managers and other stores.
"We're going to do more communicating amongst ourselves, because it's great to listen to your customers, and we do that quite a bit," Watton adds. "However, I think a company can benefit itself by listening to its people. If we have good people that want to be here, our customers won't have any complaints."
Technicians
What's a service department without skilled technicians? Southeastern faces the same issues other dealerships do with finding and keeping these folks. And it's also a challenge, Watton says, in working cross-generationally with those skilled with the "nuts and bolts" aspect and those who excel on the computer side.
"When I started in the business 20 years ago, everyone used to say, 'Well, we got a couple of wrenches out in the shop.' That was your technician, that was your wrench," he says. "Then when you wanted to hire, you wanted to find a mechanic—you didn't want to get a wrench/parts changer, you wanted a mechanic. Today you have to have a technician. With the professionalism of technicians today, I don't even know if somebody at my level actually is as important to a business as they are."
That's because it has become more difficult for customers, with the exception of large contractors who have their own technicians, to work on their equipment, Watton adds.
"The reality is everything's done with a computer," he says. "Those working on the equipment have got to be able to talk to the machine, understand how the machine is built, why it does what it does, and it's all got to be understood through a computer."
And there's the rub.
"There are guys that are 30-year mechanics that can't become technicians," he states. "And you have young people who don't have the experience as the mechanics, but who are better technicians."
To combat this issue, Southeastern is conducting peer training by using their veteran mechanics who have embraced technology to not only teach their peers in years of service, but to teach and work with the young people who might not know the mechanical aspects as much as they do the "technician" part.
"This initiative has really started here this past year because every manufacturer expects you to do some sort of training or they want to come in and train," Watton says. "The reality is, a four-day school, three or four or five hours a day doesn't get it. You have to constantly touch, see and do, and we think with our peer training it's going to allow us to maintain and grow what we need in house. In our business, the biggest problem is not the equipment—it's people and retention of people. Everybody in the world wants great people. This is a wonderful place I think today to be looking for a career or to change jobs because the one thing good companies are doing is they're recognizing great people."
Southeastern also works with local colleges on the front end of this training. For example, Watton says nearby Zane State College is in the process of developing a diesel technician/equipment technician training program.
"We are literally on ground floor working with them to the point where I worked with their staff on engineering the building that's being built to do it, to what attendees are going to be taught," he explains.
Company founder Bill Baker, who still comes into the office like clockwork, has also donated items, such as welding equipment, to the program.
"We've also stepped clear into the high school level," Watton says. "I'm on a board here locally with Mid-East Career and Technology Centers. I'm proud to say today the group I work with has recognized we've lost a lot of blue collar work in our country and they are addressing that with young people and giving them some wonderful opportunities."
"I have a service manager here in the corporate office that came from vocation, that two to four times a year is over going over any additional training that he can add to what they do," he adds. "We spend time in the classroom with them trying to help them."
Reaching younger students is key, Watton says, in making sure there is a continuous flow of talent coming in at the technician level.
"If young people have work ethic, there actually is an 'end all be all.' Not that they can slide through, but if they have work ethic and they do want to do something with their hands, there's so much opportunity for young people right now who can actually take pride in actually working."
---
Southeastern Equipment Company is headquartered in Cambridge, Ohio, and carries equipment from Case Construction, Kobelco, BOMAG, Gradall, Kubota Construction, Hyundai Construction, Etnyre, Vacall, Terex, Schwarze, Alamo Industrial, Eager Beaver Trailers, Superior Broom, Midland Machinery, Fecon, Genie, Skytrak, JLG and Sullair.