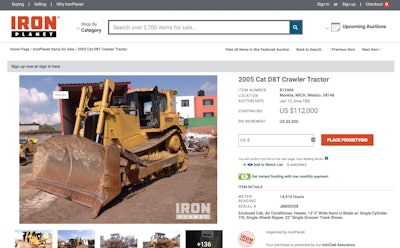 IronPlanet has introduced a new method for selling heavy equipment online that places a bit more power in the hands of seller.
Designed with larger-scale equipment sellers in mind, IronPlanet says its new Marketplace Direct platform gives sellers more control over the assets they list for sale on the site and gives them direct control over the process of managing listings.
Much of IronPlanet's appeal has been an eBay-like approach to selling used equipment online coupled with a few added incentives designed to ease the process of such large transactions. Typically IronPlanet is much more hands-on with its customers, assisting them with pricing and managing more aspects of the listing and marketing process.
Marketplace Direct is being released in order to cater to larger equipment sellers who would like to handle more of the process on their own, while providing them with a cloud-based platform that will assist these sellers in increasing sell-thru, improve price performance and reach more buyers through specific channels.
"Marketplace Direct enables sellers to market equipment to their current client base in a private setting or publicly to IronPlanet's 1.7 million registered users worldwide,"says Matt Ackley, IronPlanet's chief marketing officer. "Through the process, we provide sellers with more control and choice over timing, price, and formats than they would receive in a typical live auctions-only setting."
Marketplace Direct allows sellers to list inventory in a custom storefront or in their own private marketplace where they select the buyers who are able to see and bid on listings. The new platform provides reporting on a listing's performance, traffic analysis and user activity.
Equipment can be listed in fixed price and "Make Offer" formats, or in online auctions (as long as those auctions are not IronPlanet featured events). The platform also lets sellers handle their own pricing and scheduling and gives them the option to set payment, invoicing and shipping terms themselves. Additionally, sellers can manage the transaction process themselves or have IronPlanet do it.
Sellers also have the ability to automatically initiate IronPlanet's inspections process and either manually or automatically "cascade" items into IronPlanet featured events.