While Ritchie Bros. was reaching records for total number of bidders and sellers at its annual February Orlando auction last week, company management provided a few trade press members some behind-the-scenes view of how they make it function and future enhancements.
First, some stats. The total bidders surpassed a record 10,400, including a record 5,950 registered online bidders. More than 1,000 sellers, another record, brought in more than 10,000 pieces of equipment that raked in greater than $188 million. This was nine percent more than the auction in 2016.
Thirty-eight percent of these sales went to online buyers, with 79 percent of the equipment was purchased by buyers in the United States.
Equipment at the auction included 610 excavators, 425 compactors, 300 loaders, 300 skid steers, 175 dozers, 140 loader backhoes, 110 cranes, 440 aerial work platforms, 210 dump trucks and 490 truck tractors.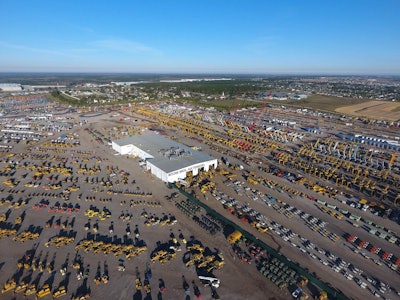 Following the equipment
As part of the trade press tour, we were driven across the 232-acre property following the route equipment makes as it is brought in, through the check-in area and on to the body shop where repairs and paint work is completed by a third party. The company says it is one of the largest of its kind in the state.
We meandered through the maze of iron in just a few minutes, having the advantage over bidders who must walk or take golf cart shuttles to various points. To make this process easier for attendees, Ritchie Bros. added a way finding feature to its app, which helps track equipment relative to a users position.
After taking the tour of the equipment, we sat in on some of the bidding processes. The onsite bidding room, which holds 720 people, is positioned in front of a view ramp over which workers parade the equipment currently on bid. A large overhead monitor displays still photos and the current bid price.
The virtual room, which holds 500 people, allows both onsite bidding and online bidding. The screen here is much larger than the onsite room, as it is the only view available of the machinery up for bid there.
Customer experience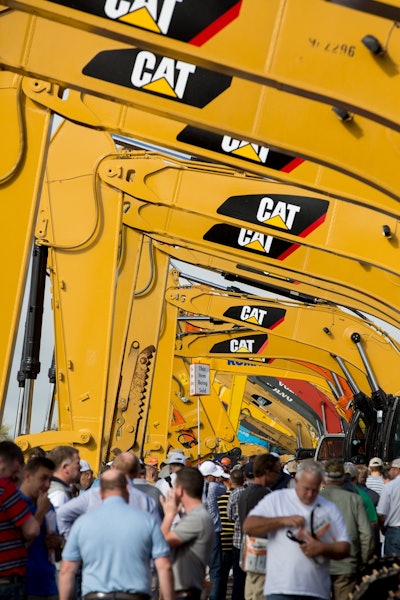 Joseph Schuler, equipment manager for Tallahassee, Florida-based roadway construction contractor Roberts & Roberts, was made available for discussion on his perspective of the auction. He says much of the heavy lifting for when he bids on the equipment is done well in advance, and in conjunction with his Ritchie Bros. territory manager.
"You've got to work with the territory managers you have a relationship with," he says. "They assist us with information that we require to make the determination about selling and or buying certain items we see for current and coming projects."
"We prepare a list of what we'd like to sell, and then based on what see, based upon what Brian Tice, our territory manager, will do for us. He'll tell us what he expects to see coming in, and we make decisions based on the needs we have and what's coming up. When the auction comes around, we'll make a decision to attend, especially if we're very interested in items that are here. We come to put our hands on them, make sure everything is as represented. Then we'll put a number on it we fell comfortable with, and then go from there."
Schuler says there have been times when guys from his company come prior to an auction if a piece of equipment has already been showing up in the brochure and meets their criteria.
"We'll send down a mechanic to look it over, scope it out and make certain that it meets the needs mechanically that we'd hope it would be, based upon the age and hours of the piece of equipment," he says. "We want to look at the age and the hours the machine is represented at, and then look over the major components, such as the motor, undercarriage, any of the functional items that you know would be costly to repair or replace."
What Schuler likes best about working with Ritchie Bros. is the ability to conduct business online, where he's at a site or just being able to view what is coming on site.
"The information that you can find there as well as now even the new app for this auction itself," he says. "I can watch through what is rolling across the ramp, as well as be out in the yard itself at the same time. It helps me to be able to understand what values are of the current machinery we have in place, and what it's going for, as well as take the time to know and understand what the market flow is."
Online purchasing, customer lifecycle
This synchronicity preference plays into the increased effort by the company to provide additional access and ability to purchase online, an effort that will be enhanced by the company's IronPlanet purchase that is expected to be closed sometime in the second quarter this year.
Jim Barr, group president, emerging business, brand innovation and IT, provided an overview of emerging trends for equipment remarketing, stressing the importance of online purchasing.
He says of the $4.3 billion in sales for the company last year, $2.1 billion was sold online. "This is a business that when you see stats like this, its going to be technologically disruptive," Barr says.
"IronPlanet is $1 billion on top of our sales," he adds. "They're a fast growing Internet version of us and have the biggest business weekly unreserved auction closing every Thursday."
"We're rooting for them, which is odd, because we've always rooted against them. The integration planning has been so refreshing. We finish each others sentences, which I didn't expect."
The integration of IronPlanet has already prompted a sea change in the Ritchie Bros. effort to better service OEM dealers. Barr says the company recently negotiated with Caterpillar to start supplying data on equipment buyers purchasing equipment at auction so dealers can market their services to them, something Ritchie Bros. hasn't done before.
"If the first owner of a piece of equipment sold it at a Ritchie Bros. auction, the dealer wouldn't know who that person was anymore," Barr says. "They would lose that information. A buyer might move into a different territory and they'd lose the parts and service flow for that."
"What we're actually doing for dealers is enabling that back, so we're going to provide, with consent, a sort warm welcome to someone who had bought equipment at a Ritchie Bros. auction," he says. "That is worth everything to Caterpillar and its network. So now they'll have a view of that customer, they'll know who owns the equipment, so if it transfers territories, the dealer will then send a welcome package."
"That doesn't cost us anything. We don't do parts and service. So that's an example of a win-win situation, and as long as they continue to give us business, these Cat dealers we'll continue to give them the data."
"There's a lot of puts and takes in the agreement, it happened very fast," Barr adds. "It's great to be partners again with Caterpillar in a way we haven't in a long period of time."